Cleaning
WASHING THE EXTERIOR
Wash your vehicle regularly with cool or lukewarm water and a neutral Ph shampoo, such as Motorcraft Detail Wash (ZC-3-A), which is available from your dealer.
Never use strong household detergents or soap, such as dish washing or laundry liquid. These products can discolor and spot painted surfaces.
Never wash a vehicle that is "hot to the touch" or during exposure to strong, direct sunlight.
Always use a clean sponge or carwash mitt with plenty of water for best results.
Dry the vehicle with a chamois or soft terry cloth towel in order to eliminate water spotting.
It is especially important to wash the vehicle regularly during the winter months, as dirt and road salt are difficult to remove and cause damage to the vehicle.
Immediately remove items such as gasoline, diesel fuel, bird droppings and insect deposits because they can cause damage to the vehicle's paintwork and trim over time.
Remove any exterior accessories, such as antennas, before entering a car wash.
Suntan lotions and insect repellents can damage any painted surface; if these substances come in contact with your vehicle, wash off as soon as possible.
WAXING
Applying a polymer paint sealant to your vehicle every six months will assist in reducing minor scratches and paint damage.
Wash the vehicle first.
Do not use waxes that contain abrasives.
Do not allow paint sealant to come in contact with any non-body (low-gloss black) colored trim, such as grained door handles, roof racks, bumpers, side moldings, mirror housings or the windshield cowl area. The paint sealant will "gray" or stain the parts over time.
PAINT CHIPS
Your dealer has touch-up paint and sprays to match your vehicle's color.
Take your color code (printed on a sticker in the driver's door jam) to your dealer to ensure you get the correct color.
Remove particles such as bird droppings, tree sap, insect deposits, tar spots, road salt and industrial fallout before repairing paint chips.
Always read the instructions before using the products.
ALUMINUM WHEELS AND WHEEL COVERS
Aluminum wheels and wheel covers are coated with a clearcoat paint finish. In order to maintain their shine:
Clean weekly with Motorcraft Wheel and Tire Cleaner (ZC-37-A), which is available from your dealer. Heavy dirt and brake dust accumulation may require agitation with a sponge. Rinse thoroughly with a strong stream of water.
Never apply any cleaning chemical to hot or warm wheel rims or covers.
Some automatic car washes may cause damage to the finish on your wheel rims or covers. Chemical-strength cleaners, or cleaning chemicals, in combination with brush agitation to remove brake dust and dirt, could wear away the clearcoat finish over time.
Do not use hydrofluoric acid-based or high caustic-based wheel cleaners, steel wool, fuels or strong household detergent.
To remove tar and grease, use Ford Extra Strength Tar and Road Oil Removal (B7A-19520-AA), available from your dealer.
ENGINE
Engines are more efficient when they are clean because grease and dirt buildup keep the engine warmer than normal. When washing:
Take care when using a power washer to clean the engine. The high-pressure fluid could penetrate the sealed parts and cause damage.
Do not spray a hot engine with cold water to avoid cracking the engine block or other engine components.
Spray Motorcraft Engine Shampoo and Degreaser (ZC-20) on all parts that require cleaning and pressure rinse clean.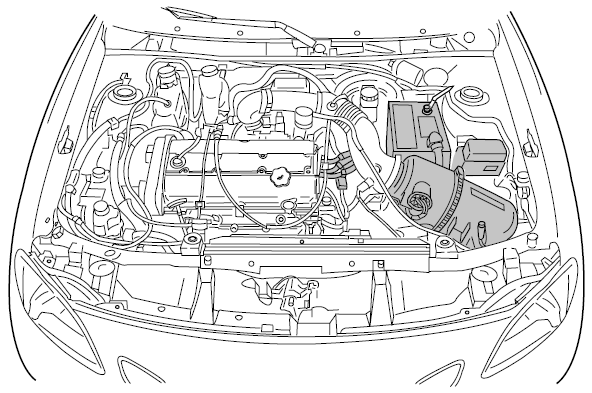 Cover the highlighted areas to prevent water damage when cleaning the engine.
Never wash or rinse the engine while it is running; water in the running engine may cause internal damage.
PLASTIC (NON-PAINTED) EXTERIOR PARTS
Use only approved products to clean plastic parts. These products are available from your dealer.
For routine cleaning, use Motorcraft Detail Wash (ZC-3-A).
If tar or grease spots are present, use Ford Extra Strength Tar and Road Oil Removal (B7A-19520-AA).
WINDOWS AND WIPER BLADES
The windshield, rear window and wiper blades should be cleaned regularly. If the wiper does not wipe properly, substances on the windshield, rear window or the wiper blades may be the cause. These may include hot wax treatments used by commercial car washes, tree sap, or other organic contamination. To clean these items, please follow these tips:
The windshield or rear window may be cleaned with a non-abrasive cleaner such as Motorcraft Ultra Clear Spray Glass Cleaner (ZC-23), available from your dealer.
Do not use abrasives, as they may cause scratches.
Do not use fuel, kerosene, or paint thinner to clean any parts.
Wiper blades can be cleaned with isopropyl (rubbing) alcohol or windshield washer solution. Be sure to replace wiper blades when they appear worn or do not function properly.
INSTRUMENT PANEL AND CLUSTER LENS
Clean the instrument panel with a damp cloth, then dry with a dry cloth.
Avoid cleaners or polish that increase the gloss of the upper portion of the instrument panel. The dull finish in this area helps protect the driver from undesirable windshield reflection.
Do not use chemical solvents or strong detergents when cleaning the steering wheel or instrument panel to avoid contamination of the air bag system.
Be certain to wash or wipe your hands clean if you have been in contact with certain products such as insect repellent and suntan lotion in order to avoid possible damage to the painted surfaces.
INTERIOR
For fabric, carpets, cloth seats and safety belts:
Remove dust and loose dirt with a vacuum cleaner.
Remove light stains and soil with Ford Extra Strength Upholstery Cleaner (E8AZ-19523-AA).
If grease or tar is present on the material, spot-clean the area first with Motorcraft Spot and Stain Remover (ZC-14).
Never saturate the seat covers with cleaning solution.
Do not use household cleaning products or glass cleaners, which can stain and discolor the fabric and affect the flame retardant abilities of the seat materials.
Do not use cleaning solvents, bleach or dye on the vehicle's seatbelts, as these actions may weaken the belt webbing.
LEATHER SEATS (IF EQUIPPED)
Your leather seating surfaces have a clear, protective coating over the leather.
To clean, use a soft cloth with Motorcraft Deluxe Leather and Vinyl Cleaner (ZC-11-A). Dry the area with a soft cloth.
To help maintain its resiliency and color, use the Motorcraft Deluxe Leather Care Kit (ZC-11-D), available from your authorized dealer.
Do not use household cleaning products, alcohol solutions, solvents or cleaners intended for rubber, vinyl and plastics, or oil/petroleum-based leather conditioners. These products may cause premature wearing of the clear, protective coating.
UNDERBODY
Flush the complete underside of your vehicle frequently. Keep body and door drain holes free from packed dirt.
FORD, LINCOLN AND MERCURY CAR CARE PRODUCTS
Your Ford, Lincoln or Mercury dealer has many quality products available to clean your vehicle and protect its finishes. These quality products have been specifically engineered to fulfill your automotive needs; they are custom designed to complement the style and appearance of your vehicle. Each product is made from high quality materials that meet or exceed rigid specifications. For best results, use the following products or products of equivalent quality:
Motorcraft Custom Clearcoat Polish (ZC-8-A) Ford Custom Vinyl Protectant* (not available in Canada) (F2AZ-19530-A)
Motorcraft Vinyl Cleaner (Canada only) (CXC-93) Motorcraft Vinyl Conditioner (Canada only) (CXC-94) Motorcraft Deluxe Leather and Vinyl Cleaner (not available in Canada) (ZC-11-A)
Ford Extra Strength Tar and Road Oil Remover* (not available in Canada) (B7A-19520-AA)
Ford Extra Strength Upholstery Cleaner (not available in Canada) (E8AZ-19523-AA)
Motorcraft Custom Bright Metal Cleaner (ZC-15) Motorcraft Wheel and Tire Cleaner (ZC-37-A) Motorcraft Dash and Vinyl Cleaner (ZC-38-A) Motorcraft Car Care Kit (ZC-26) Ford Premium Car Wash Concentrate (F2SZ-19523-WC) Motorcraft Carlite Glass Cleaner (Canada only) (CXC-100) Motorcraft Spot and Stain Remover (ZC-14) Motorcraft Detail Wash (ZC-3-A) Motorcraft Tire Detailer (ZC-28) Motorcraft Triple Clean (ZC-13) Motorcraft Ultra-Clear Spray Glass Cleaner (not available in Canada) (ZC-23)
Motorcraft Engine Shampoo and Degreaser (ZC-20)
* May be sold with the Motorcraft name