Front brake disc pad check (Every 6000 miles or 6 months)
1 Place a mirror between the roadwheel and the caliper and check the thickness of the friction material of the disc pads (see illustration). If the material has worn down to the specified minimum or less, the pads must be renewed as an axle set (four pads).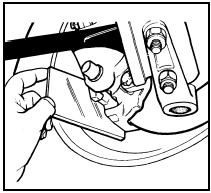 16.1 Checking the front disc pad wear using a mirror
2 For a comprehensive check, the brake pads should be removed and cleaned. This will permit the operation of the caliper to be checked, and the condition of the brake disc itself to be examined on both sides. Refer to Chapter 9 for further information.
See also:
Fuel-injection control module - removal and refitting
Removal 1 The fuel-injection control module is only used on KE-Jetronic systems and is located in the engine compartment behind the heater plenum chamber and fan motor. 2 Disconnect the battery n ...
Bulbs (interior lamps) - renewal
Pre-1986 models Glove compartment lamp 1 This is simply a matter of gently pulling the bulb from its holder. Heater control illumination lamp 2 Slide the heater control levers to the top of thei ...
Suspension and steering check (Every 6000 miles or 6 months)
Front suspension and steering check 1 Raise the front of the vehicle, and securely support it on axle stands (see "Jacking and Vehicle Support"). 2 Visually inspect the balljoint dust covers and ...