Front brake disc pad check (Every 6000 miles or 6 months)
1 Place a mirror between the roadwheel and the caliper and check the thickness of the friction material of the disc pads (see illustration). If the material has worn down to the specified minimum or less, the pads must be renewed as an axle set (four pads).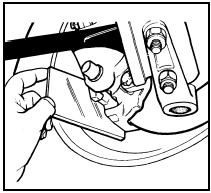 16.1 Checking the front disc pad wear using a mirror
2 For a comprehensive check, the brake pads should be removed and cleaned. This will permit the operation of the caliper to be checked, and the condition of the brake disc itself to be examined on both sides. Refer to Chapter 9 for further information.
See also:
Auxiliary warning system components - location, testing, removal and refitting
Location 1 The AWS control unit, and (when fitted) the bulb failure monitor, are located behind the glovebox on models up to 1987. 2 On models from 1987, the control and bulb failure modules are ...
Seats - removal and refitting
Front seat 1 Slide the seat fully forwards, and on seats with height adjustment unhook the tension spring from the rear crosstube. Where applicable, disconnect the wiring from the seat heating pa ...
Cylinder head - inspection and renovation
Note: On engines fitted with hardened valve seats for use with unleaded petrol, valve and valve seat grinding and recutting cannot be carried out without the use of specialist equipment. Consult a ...