Front brake disc pad check (Every 6000 miles or 6 months)
1 Place a mirror between the roadwheel and the caliper and check the thickness of the friction material of the disc pads (see illustration). If the material has worn down to the specified minimum or less, the pads must be renewed as an axle set (four pads).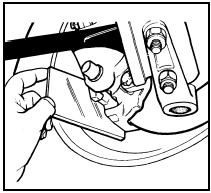 16.1 Checking the front disc pad wear using a mirror
2 For a comprehensive check, the brake pads should be removed and cleaned. This will permit the operation of the caliper to be checked, and the condition of the brake disc itself to be examined on both sides. Refer to Chapter 9 for further information.
See also:
Heater unit - overhaul
1 With the heater unit removed from the vehicle, remove the two securing screws and withdraw the heater matrix from the casing (see illustrations). 19.1a Remove the securing screws . . . 19.1 ...
Fuel pump - removal and refitting
Note: Refer to the precautions at the end of Section 1 before proceeding. Removal 1 The fuel pump is bolted to the underside of the car just to the rear of the fuel tank. For access raise and sup ...
Condenser (contact breaker system) - testing, removal and refitting
Note: Refer to the precautions given in Section 1 before proceeding. Testing 1 The purpose of the condenser is to prevent excessive arcing of the contact breaker points, and to ensure that a rapi ...