Front brake disc pad check (Every 6000 miles or 6 months)
1 Place a mirror between the roadwheel and the caliper and check the thickness of the friction material of the disc pads (see illustration). If the material has worn down to the specified minimum or less, the pads must be renewed as an axle set (four pads).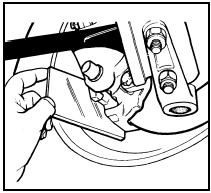 16.1 Checking the front disc pad wear using a mirror
2 For a comprehensive check, the brake pads should be removed and cleaned. This will permit the operation of the caliper to be checked, and the condition of the brake disc itself to be examined on both sides. Refer to Chapter 9 for further information.
See also:
Bodywork and fittings
General information The model range includes 4-door Saloon, 3 and 5-door Hatchback, 5-door Estate, and 2- door Pick-up body styles. Each body is of all-steel welded energyabsorbing monocoque cons ...
Crankshaft and main bearings - removal and refitting
Note: A new crankshaft rear oil seal and a new rear oil seal housing gasket should be used on refitting. Removal 1 With the engine removed from the vehicle, remove the timing chain and crankshaft ...
Brake components check (Every 36 000 miles or 3 years)
1 Inspect the thickness of the friction linings on the disc pads and brake shoes (as described earlier in this Chapter) at the intervals specified. 2 The rigid and flexible hydraulic pipes and ho ...