Exhaust system check (Every 12 000 miles or 12 months)
With the vehicle raised on a hoist or supported on axle stands (see "Jacking and Vehicle Support"), check the exhaust system for signs of leaks, corrosion or damage and check the rubber mountings for condition and security (see illustration). Where damage or corrosion are evident, renew the system complete or in sections, as applicable, using the information given in Chapter 4, Part E.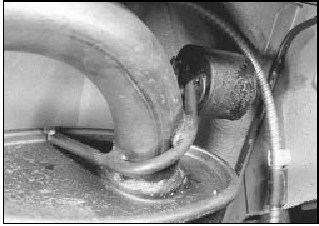 22.1 Exhaust silencer mounting
See also:
Fuel accumulator - removal and refitting
Note: Refer to the precautions at the end of Section 1 before proceeding. Pre-1986 models Removal 1 The fuel accumulator is mounted adjacent to the fuel pump, above the rear left-hand suspension ...
Temperature gauge sender unit - removal and refitting
Note: Suitable jointing compound will be required on refitting. Removal 1 With the engine cold unscrew the pressure cap on the thermostat housing or expansion tank as applicable, then refit it. T ...
Heater controls - removal and refitting
Pre-1986 models Removal 1 Working inside the vehicle, remove the dash lower trim panel from the right-hand side. The panel is secured by two metal tags and two clips. 2 Detach the air ducts from ...