Fuel injectors and injector delivery pipes - removal and refitting
Note: Refer to the precautions at the end of Section 1 before proceeding. It is important to note that each injection supply pipe connection in the distributor head has a screw adjacent to it. These four screws are not for adjustment and must not be removed or have their settings altered. New O-ring seals must be used on refitting.
Removal
1 Disconnect the battery earth lead.
2 Detach the four supply pipes from the injectors, and use a rag to collect any spilled fuel.
3 Unscrew and remove the respective injector retaining bracket bolts, then withdraw the injectors and their O-ring seals (see illustration).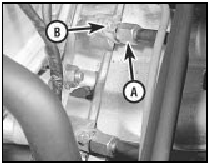 8.3 Injector fuel pipe union (A) and retaining bracket bolt (B)
4 The injector fuel delivery pipes can be removed by unscrewing and removing the four banjo bolts at the distributor head. Note the respective pipe connections as they are detached and remove the pipes complete with the plastic hoses and the injector harness. Do not separate the pipes or hoses from the injector harness.
5 Before reassembling the fuel delivery pipes, or the injectors, clean all pipe connections thoroughly and use new O-ring seals on the injectors. Use new seal washers on the banjo connections fitting two washers (one each side) per union. Do not overtighten the banjo bolts, or the washers may fracture.
Refitting
6 Refitting of the injectors and the fuel delivery pipes is otherwise a reversal of the removal procedure. On completion check that the pipes and hoses are not distorted and when the engine is restarted check for any signs of leaks.
See also:
Maintenance - bodywork and underframe
The general condition of a vehicle's bodywork is the one thing that significantly affects its value. Maintenance is easy but needs to be regular. Neglect, particularly after minor damage, can lead ...
Engine/transmission - reconnection and installation
1 This is a direct reversal of removal and separation from the transmission. Take care not to damage the radiator or front wings during installation. Reconnection 2 Reconnection of the engine and ...
Minor body damage - repair
Repair of minor scratches in bodywork If the scratch is very superficial, and does not penetrate to the metal of the bodywork, repair is very simple. Lightly rub the area of the scratch with a pa ...