Fuel pump - removal and refitting
Removal
1 The fuel pump is integral with the fuel level sender unit in the fuel tank (see illustration).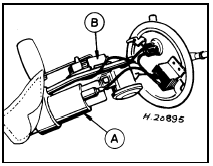 7.1 Integral fuel level sender unit/fuel pump - 1.4 CFI engine
A Fuel pump B Sender unit
2 Chock the front wheels, then jack up the rear of the vehicle and support it securely on axle stands (see "Jacking and Vehicle Support").
3 Disconnect the battery negative lead.
4 Depressurise the fuel system (Section 6).
5 Remove the fuel tank, then proceed as described for fuel level sender unit removal and refitting. This is described as part of the fuel tank removal and refitting procedure in Part A of this Chapter.
Refitting
6 Refitting is a reversal of removal.
See also:
Heater unit - removal and refitting
Removal 1 Disconnect the battery negative lead. 2 If the coolant is still hot, release the pressure in the system by slowly unscrewing the expansion tank cap. Place a thick rag over the cap to pr ...
Facia panel switches - removal and refitting
1 Disconnect the battery negative lead. Rocker switches and push button switches 2 Using a thin-bladed screwdriver, carefully prise the switch from the facia panel. 3 Disconnect the wiring plug a ...
Manual heating and air conditioning system (if equipped)
Fan speed control Controls the volume of air circulated in the vehicle. Temperature control knob Controls the temperature of the airflow inside the vehicle. Mode Selector Control Control ...