Fuel pump - removal and refitting
Removal
1 The fuel pump is integral with the fuel level sender unit in the fuel tank (see illustration).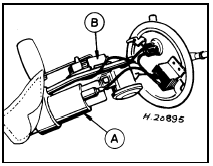 7.1 Integral fuel level sender unit/fuel pump - 1.4 CFI engine
A Fuel pump B Sender unit
2 Chock the front wheels, then jack up the rear of the vehicle and support it securely on axle stands (see "Jacking and Vehicle Support").
3 Disconnect the battery negative lead.
4 Depressurise the fuel system (Section 6).
5 Remove the fuel tank, then proceed as described for fuel level sender unit removal and refitting. This is described as part of the fuel tank removal and refitting procedure in Part A of this Chapter.
Refitting
6 Refitting is a reversal of removal.
See also:
Heater motor/fan - removal and refitting
Removal 1 Open the bonnet, disconnect the battery and pull off the rubber seal which seals the air inlet duct to the bonnet lid when the lid is closed. 2 Prise off the five spring clips from the ...
Heater matrix - removal and refitting
Removal 1 With the heater removed from the vehicle as previously described, extract the two securing screws and slide the matrix out of the heater casing. 2 If further dismantling is necessary, c ...
La notice d'emploi en ligne - Citroen Service
La marque acquit une forte image sur le plan publicitaire. Andre Citroen etait un des premiers dirigeants d'entreprise a attacher beaucoup d'importance a la communication. Selon lui, la marque dev ...