Fuel pump - removal and refitting
Removal
1 The fuel pump is integral with the fuel level sender unit in the fuel tank (see illustration).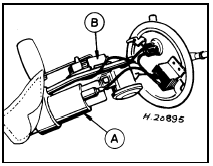 7.1 Integral fuel level sender unit/fuel pump - 1.4 CFI engine
A Fuel pump B Sender unit
2 Chock the front wheels, then jack up the rear of the vehicle and support it securely on axle stands (see "Jacking and Vehicle Support").
3 Disconnect the battery negative lead.
4 Depressurise the fuel system (Section 6).
5 Remove the fuel tank, then proceed as described for fuel level sender unit removal and refitting. This is described as part of the fuel tank removal and refitting procedure in Part A of this Chapter.
Refitting
6 Refitting is a reversal of removal.
See also:
General description
The body is of welded steel construction available in 3 or 5-door Hatchback, 3 or 5- door Estate, soft-top Cabriolet, or Van configurations. The body is of monocoque construction and is of energy ...
Instrument panel - removal and refitting
Pre-1986 models Removal 1 Disconnect the battery negative terminal. 2 Extract the screws and pull the instrument panel bezel from the panel. The two clips at the base of the bezel will release by ...
Hydraulic unit pump and motor (ABS) - removal and refitting
Note: New sealing washers must be used on the high pressure fluid hose banjo union, and a new O-ring must be used between the accumulator and the hydraulic unit on refitting. Caution: Refer to the ...