Fuel pump - removal and refitting
Removal
1 The fuel pump is integral with the fuel level sender unit in the fuel tank (see illustration).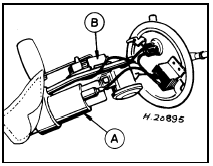 7.1 Integral fuel level sender unit/fuel pump - 1.4 CFI engine
A Fuel pump B Sender unit
2 Chock the front wheels, then jack up the rear of the vehicle and support it securely on axle stands (see "Jacking and Vehicle Support").
3 Disconnect the battery negative lead.
4 Depressurise the fuel system (Section 6).
5 Remove the fuel tank, then proceed as described for fuel level sender unit removal and refitting. This is described as part of the fuel tank removal and refitting procedure in Part A of this Chapter.
Refitting
6 Refitting is a reversal of removal.
See also:
Final drive oil level check (Every 12 000 miles (20 000 km) or 12 months)
1 Check the final drive oil level as follows. 2 Position the vehicle over a pit, or raise it at front and rear on ramps or axle stands. The vehicle must be level. 3 Wipe clean around the final dri ...
Fuel accumulator - removal and refitting
Note: Refer to the precautions at the end of Section 1 before proceeding. Pre-1986 models Removal 1 The fuel accumulator is mounted adjacent to the fuel pump, above the rear left-hand suspension ...
Examination and renovation
Crankshaft, bearings, cylinder bores and pistons 1 Refer to Section 13 in Part A of this Chapter. The information applies equally to the CVH engine, except that standard sized crankshafts are unm ...