Fuel pump - removal and refitting
Removal
1 The fuel pump is integral with the fuel level sender unit in the fuel tank (see illustration).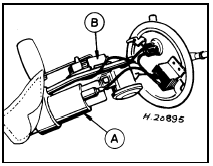 7.1 Integral fuel level sender unit/fuel pump - 1.4 CFI engine
A Fuel pump B Sender unit
2 Chock the front wheels, then jack up the rear of the vehicle and support it securely on axle stands (see "Jacking and Vehicle Support").
3 Disconnect the battery negative lead.
4 Depressurise the fuel system (Section 6).
5 Remove the fuel tank, then proceed as described for fuel level sender unit removal and refitting. This is described as part of the fuel tank removal and refitting procedure in Part A of this Chapter.
Refitting
6 Refitting is a reversal of removal.
See also:
Major operations possible with the engine in the car
The following work can be carried out without having to remove the engine: a) Timing belt - renewal. b) Camshaft oil seal - renewal. c) Camshaft - removal and refitting. d) Cylinder head - remova ...
Technical specifications
Vehicle fluids 1 Providing it meets the specification defined by WSS-M2C913-C, you can also use Ford Engine Oil or an alternative engine oil. 2 On vehicles with a 2.5L Duratec-RS engine, use on ...
Electric seats
Electric seats ...