Central Fuel Injection (CFI) unit - removal and refitting
Note: Refer to the precautions at the end of Section 1 before proceeding.
Removal
1 Disconnect the battery negative lead.
2 Remove the air cleaner assembly.
3 Depressurise the fuel system as described in Section 6, and disconnect the fuel inlet pipe from the CFI unit.
4 Disconnect the fuel return pipe from the CFI unit.
5 Disconnect the throttle cable from the linkage on the CFI unit.
6 Either drain the cooling system as described in Chapter 1, or clamp the coolant hoses as close as possible to the CFI unit to minimise coolant loss, then disconnect the hoses from the unit.
7 Disconnect the air charge temperature sensor, throttle position sensor, and throttle valve control motor wiring plugs.
8 Disconnect the vacuum pipe from the CFI unit.
9 Unscrew the four securing bolts, and lift the CFI unit from the inlet manifold (see illustration).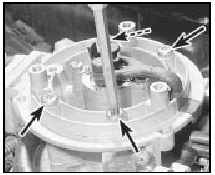 8.9 Unscrewing the CFI unit securing bolts (arrowed)
Refitting 10 Refitting is a reversal of removal, but on completion, refill or top-up the cooling system (as applicable) as described in Chapter 1, and check for fuel leaks with the engine running.
See also:
Exterior mirrors
WARNING: Do not overestimate the distance of the objects that you see in the convex mirror. Objects seen in convex mirrors will appear smaller and further away than they actually are. Manual fol ...
Important ventilating information
If the engine is idling while the vehicle is stopped for a long period of time, open the windows at least 1 inch (2.5 cm) or adjust the heating or air conditioning to bring in fresh air. ...
Using snow chains
WARNINGS: Do not exceed 50 km/h (30 mph). Do not use snow chains on snow-free roads. Only fit snow chains to 14 x 5.5 inch steel wheels with 185/60 R 14 winter tyres. CAUTION: If your vehicle ...