Central Fuel Injection (CFI) unit - removal and refitting
Note: Refer to the precautions at the end of Section 1 before proceeding.
Removal
1 Disconnect the battery negative lead.
2 Remove the air cleaner assembly.
3 Depressurise the fuel system as described in Section 6, and disconnect the fuel inlet pipe from the CFI unit.
4 Disconnect the fuel return pipe from the CFI unit.
5 Disconnect the throttle cable from the linkage on the CFI unit.
6 Either drain the cooling system as described in Chapter 1, or clamp the coolant hoses as close as possible to the CFI unit to minimise coolant loss, then disconnect the hoses from the unit.
7 Disconnect the air charge temperature sensor, throttle position sensor, and throttle valve control motor wiring plugs.
8 Disconnect the vacuum pipe from the CFI unit.
9 Unscrew the four securing bolts, and lift the CFI unit from the inlet manifold (see illustration).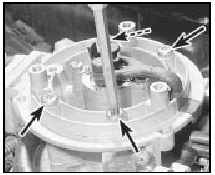 8.9 Unscrewing the CFI unit securing bolts (arrowed)
Refitting 10 Refitting is a reversal of removal, but on completion, refill or top-up the cooling system (as applicable) as described in Chapter 1, and check for fuel leaks with the engine running.
See also:
Front suspension strut - removal, overhaul and refitting
Removal 1 Slacken the roadwheel bolts, raise the front of the vehicle and support it securely on stands (see "Jacking and Vehicle Support"), then remove the roadwheel. 2 Support the underside of ...
Child seats
WARNINGS: Secure children that are less than 150 centimetres tall or less than 12 years of age in a suitable, approved child restraint, in the rear seat. Original text according to ECE R94.01: ...
Safety belt pretensioner
Your vehicle is equipped with safety belt pretensioners at the driver and front passenger seating positions. The safety belt pretensioners activate during frontal collisions, and in side collisio ...