Central Fuel Injection (CFI) unit - removal and refitting
Note: Refer to the precautions at the end of Section 1 before proceeding.
Removal
1 Disconnect the battery negative lead.
2 Remove the air cleaner assembly.
3 Depressurise the fuel system as described in Section 6, and disconnect the fuel inlet pipe from the CFI unit.
4 Disconnect the fuel return pipe from the CFI unit.
5 Disconnect the throttle cable from the linkage on the CFI unit.
6 Either drain the cooling system as described in Chapter 1, or clamp the coolant hoses as close as possible to the CFI unit to minimise coolant loss, then disconnect the hoses from the unit.
7 Disconnect the air charge temperature sensor, throttle position sensor, and throttle valve control motor wiring plugs.
8 Disconnect the vacuum pipe from the CFI unit.
9 Unscrew the four securing bolts, and lift the CFI unit from the inlet manifold (see illustration).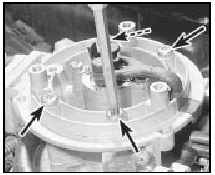 8.9 Unscrewing the CFI unit securing bolts (arrowed)
Refitting 10 Refitting is a reversal of removal, but on completion, refill or top-up the cooling system (as applicable) as described in Chapter 1, and check for fuel leaks with the engine running.
See also:
Easy Fuel Уno capФ fuel system
Your fuel tank is equipped with an Easy Fuel Уno capФ fuel filler system. This allows you to simply open the fuel filler door and insert the fuel filler nozzle into the fuel system. The Easy Fuel ...
General information
Have your vehicle serviced regularly to help maintain its roadworthiness and resale value. There is a large network of Ford Authorised Repairers that are there to help you with their professional ...
Under the Hood
The Fusion's 2.3-liter four-cylinder develops 160 horsepower at 6,500 rpm. The available 3.0-liter V-6 produces 221 hp at 6,250 rpm. The four-cylinder can team with either a five-speed manual ...