Central Fuel Injection (CFI) unit - removal and refitting
Note: Refer to the precautions at the end of Section 1 before proceeding.
Removal
1 Disconnect the battery negative lead.
2 Remove the air cleaner assembly.
3 Depressurise the fuel system as described in Section 6, and disconnect the fuel inlet pipe from the CFI unit.
4 Disconnect the fuel return pipe from the CFI unit.
5 Disconnect the throttle cable from the linkage on the CFI unit.
6 Either drain the cooling system as described in Chapter 1, or clamp the coolant hoses as close as possible to the CFI unit to minimise coolant loss, then disconnect the hoses from the unit.
7 Disconnect the air charge temperature sensor, throttle position sensor, and throttle valve control motor wiring plugs.
8 Disconnect the vacuum pipe from the CFI unit.
9 Unscrew the four securing bolts, and lift the CFI unit from the inlet manifold (see illustration).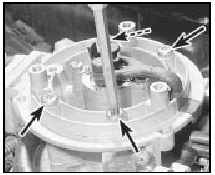 8.9 Unscrewing the CFI unit securing bolts (arrowed)
Refitting 10 Refitting is a reversal of removal, but on completion, refill or top-up the cooling system (as applicable) as described in Chapter 1, and check for fuel leaks with the engine running.
See also:
Heated windows and mirrors
Heated windows Use the heated windows to defrost or demist the windscreen or rear window. Note: The heated windows operate only when the engine is running. Heated windscreen Heated rear wind ...
Brake pipe and hose check (Every 12 000 miles (20 000 km) or 12 months)
Periodically inspect the rigid brake pipes for rust and other damage, and the flexible hoses for cracks, splits or "ballooning". Have an assistant depress the brake pedal (ignition on) and inspect ...
Climate control commands
Climate The climate voice commands supports the functionality of the fan speed, temperature and mode settings. Not all functions are available on all vehicles. Overview The overview below shows ...