Central Fuel Injection (CFI) unit - removal and refitting
Note: Refer to the precautions at the end of Section 1 before proceeding.
Removal
1 Disconnect the battery negative lead.
2 Remove the air cleaner assembly.
3 Depressurise the fuel system as described in Section 6, and disconnect the fuel inlet pipe from the CFI unit.
4 Disconnect the fuel return pipe from the CFI unit.
5 Disconnect the throttle cable from the linkage on the CFI unit.
6 Either drain the cooling system as described in Chapter 1, or clamp the coolant hoses as close as possible to the CFI unit to minimise coolant loss, then disconnect the hoses from the unit.
7 Disconnect the air charge temperature sensor, throttle position sensor, and throttle valve control motor wiring plugs.
8 Disconnect the vacuum pipe from the CFI unit.
9 Unscrew the four securing bolts, and lift the CFI unit from the inlet manifold (see illustration).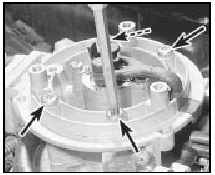 8.9 Unscrewing the CFI unit securing bolts (arrowed)
Refitting 10 Refitting is a reversal of removal, but on completion, refill or top-up the cooling system (as applicable) as described in Chapter 1, and check for fuel leaks with the engine running.
See also:
Major operations requiring engine removal
a) Removal of the sump b) Removal of the oil pump c) Removal of the pistons/connecting rods d) Removal of the big-end bearings e) Removal of the crankshaft main bearings f) Removal of the cranksh ...
Cadillac owners manuals
Owned by General Motors, Cadillac is America's most prestigious domestic luxury automaker. For most of its existence, the company was known exclusively for its cushy, senior-friendly sedans, but in ...
Disabling the passenger airbag
WARNING: Make sure that the passenger airbag is disabled when using a rearward facing child restraint on the front passenger seat. Fitting the passenger airbag deactivation switch WARNING: I ...