Central Fuel Injection (CFI) unit - removal and refitting
Note: Refer to the precautions at the end of Section 1 before proceeding.
Removal
1 Disconnect the battery negative lead.
2 Remove the air cleaner assembly.
3 Depressurise the fuel system as described in Section 6, and disconnect the fuel inlet pipe from the CFI unit.
4 Disconnect the fuel return pipe from the CFI unit.
5 Disconnect the throttle cable from the linkage on the CFI unit.
6 Either drain the cooling system as described in Chapter 1, or clamp the coolant hoses as close as possible to the CFI unit to minimise coolant loss, then disconnect the hoses from the unit.
7 Disconnect the air charge temperature sensor, throttle position sensor, and throttle valve control motor wiring plugs.
8 Disconnect the vacuum pipe from the CFI unit.
9 Unscrew the four securing bolts, and lift the CFI unit from the inlet manifold (see illustration).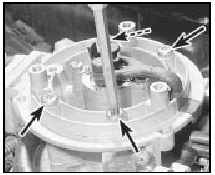 8.9 Unscrewing the CFI unit securing bolts (arrowed)
Refitting 10 Refitting is a reversal of removal, but on completion, refill or top-up the cooling system (as applicable) as described in Chapter 1, and check for fuel leaks with the engine running.
See also:
Arming the alarm
To arm the alarm, lock the vehicle. See Locks. ...
Nissan SUV's
On this day in 1934, the Tokyo-based Jidosha-Seizo Kabushiki-Kaisha (Automobile Manufacturing Co., Ltd. in English) takes on a new name: Nissan Motor Company. The Nissan Rogue is a compact crossove ...
Exterior
At 168.5 inches long overall, Focus hatchbacks are nearly 7 inches shorter than the Honda Civic sedan and 10 inches shorter than Toyota's Corolla. Focus sedans measure 175.2 inches from stem t ...