Central Fuel Injection (CFI) unit - removal and refitting
Note: Refer to the precautions at the end of Section 1 before proceeding.
Removal
1 Disconnect the battery negative lead.
2 Remove the air cleaner assembly.
3 Depressurise the fuel system as described in Section 6, and disconnect the fuel inlet pipe from the CFI unit.
4 Disconnect the fuel return pipe from the CFI unit.
5 Disconnect the throttle cable from the linkage on the CFI unit.
6 Either drain the cooling system as described in Chapter 1, or clamp the coolant hoses as close as possible to the CFI unit to minimise coolant loss, then disconnect the hoses from the unit.
7 Disconnect the air charge temperature sensor, throttle position sensor, and throttle valve control motor wiring plugs.
8 Disconnect the vacuum pipe from the CFI unit.
9 Unscrew the four securing bolts, and lift the CFI unit from the inlet manifold (see illustration).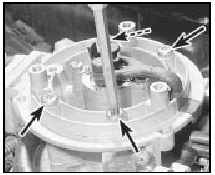 8.9 Unscrewing the CFI unit securing bolts (arrowed)
Refitting 10 Refitting is a reversal of removal, but on completion, refill or top-up the cooling system (as applicable) as described in Chapter 1, and check for fuel leaks with the engine running.
See also:
Octane recommendations
"Regular" unleaded gasoline with a pump (R+M)/2 octane rating of 87 is recommended. Some stations offer fuels posted as "Regular" with an octane rating below 87, particularly in high altitude areas. ...
Rear brake backplate (drum brakes) - removal and refitting
Caution: Refer to the precautions in Section 1. Saloon, Hatchback and Estate models 1 Remove the rear brake shoes. 2 Disconnect the handbrake cable from the backplate by extracting the U-clip. ...
Brake over accelerator
This vehicle is equipped with a brake over accelerator feature. In the event the accelerator pedal becomes stuck or entrapped, applying steady and firm pressure to the brake pedal will both slow the ...