Central Fuel Injection (CFI) unit - removal and refitting
Note: Refer to the precautions at the end of Section 1 before proceeding.
Removal
1 Disconnect the battery negative lead.
2 Remove the air cleaner assembly.
3 Depressurise the fuel system as described in Section 6, and disconnect the fuel inlet pipe from the CFI unit.
4 Disconnect the fuel return pipe from the CFI unit.
5 Disconnect the throttle cable from the linkage on the CFI unit.
6 Either drain the cooling system as described in Chapter 1, or clamp the coolant hoses as close as possible to the CFI unit to minimise coolant loss, then disconnect the hoses from the unit.
7 Disconnect the air charge temperature sensor, throttle position sensor, and throttle valve control motor wiring plugs.
8 Disconnect the vacuum pipe from the CFI unit.
9 Unscrew the four securing bolts, and lift the CFI unit from the inlet manifold (see illustration).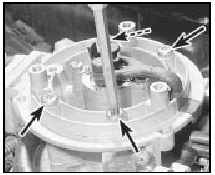 8.9 Unscrewing the CFI unit securing bolts (arrowed)
Refitting 10 Refitting is a reversal of removal, but on completion, refill or top-up the cooling system (as applicable) as described in Chapter 1, and check for fuel leaks with the engine running.
See also:
Cylinder head - dismantling and reassembly
Note: A valve spring compressor will be required during this procedure. New valve stem oil seals should be used on reassembly. 1.8 litre (R2A type) Dismantling 1 With the cylinder head removed, ...
General information
CAUTIONS: Take care when handling external devices with exposed electrical connectors (such as the USB plug). Always replace the protective cap/shield when possible. There may be a risk of elect ...
Conversion factors
Length (distance) Inches (in) x 25.4 = Millimetres (mm) x 0.0394 = Inches (in) Feet (ft) x 0.305 = Metres (m) x 3.281 = Feet (ft) Miles x 1.609 = Kilometres (km) x 0.621 = Miles Volume (capacity) ...