Knock sensor - removal and refitting
Removal
1 The knock sensor is screwed into the cylinder block, near the oil filter (see illustration).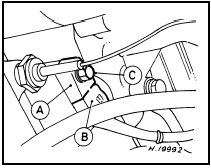 15.1 Knock sensor location - 1.4 CFI engine
A Knock sensor
B Wiring plug
C Securing bolt
2 Disconnect the battery negative lead.
3 Disconnect the sensor wiring plug by depressing the plug locking lugs and pulling the plug from the sensor. Do not pull on the wiring.
4 Unscrew the securing bolt and withdraw the sensor from the cylinder block.
Refitting
5 Refitting is a reversal of removal, but ensure that the mating faces of the sensor and cylinder block are clean.
See also:
Ignition system component check (Every 6000 miles or 6 months)
1 Where applicable, remove the distributor cap and thoroughly clean it inside and out with a dry lint-free cloth. Examine the four HT lead segments inside the cap. If the segments appear badly bur ...
Steering wheel - alignment
1 Owing to the fact that the steering wheel is located on a hexagon shaped steering shaft, it may be difficult to obtain perfect steering wheel alignment due to lack of fine adjustment. 2 It is th ...
Fuel injectors - removal and refitting
Note: Refer to the precautions at the end of Section 1 before proceeding. New injector seals will be required on refitting. Removal 1 Disconnect the battery negative lead. 2 Depressurise the fuel ...