Knock sensor - removal and refitting
Removal
1 The knock sensor is screwed into the cylinder block, near the oil filter (see illustration).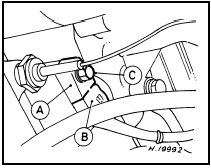 15.1 Knock sensor location - 1.4 CFI engine
A Knock sensor
B Wiring plug
C Securing bolt
2 Disconnect the battery negative lead.
3 Disconnect the sensor wiring plug by depressing the plug locking lugs and pulling the plug from the sensor. Do not pull on the wiring.
4 Unscrew the securing bolt and withdraw the sensor from the cylinder block.
Refitting
5 Refitting is a reversal of removal, but ensure that the mating faces of the sensor and cylinder block are clean.
See also:
Washer nozzles - removal and refitting
Windscreen and rear window washers 1 To remove a nozzle, carefully prise it from its location using a thin-bladed screwdriver. Disconnect the washer hose and withdraw the nozzle. 2 To refit, rec ...
Rear lamp unit - removal and refitting
1 Disconnect the battery negative lead. Saloon and Hatchback models 2 Working inside the luggage compartment, press the plastic retaining tab and remove the bulbholder assembly. 3 Disconnect the ...
Cylinder head - removal and refitting (engine removed)
Note: New cylinder head bolts, a new cylinder head gasket, a new timing chain tensioner plunger assembly, a new upper timing chain cover gasket, and a new camshaft cover gasket and reinforcing sle ...