Knock sensor - removal and refitting
Removal
1 The knock sensor is screwed into the cylinder block, near the oil filter (see illustration).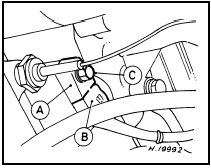 15.1 Knock sensor location - 1.4 CFI engine
A Knock sensor
B Wiring plug
C Securing bolt
2 Disconnect the battery negative lead.
3 Disconnect the sensor wiring plug by depressing the plug locking lugs and pulling the plug from the sensor. Do not pull on the wiring.
4 Unscrew the securing bolt and withdraw the sensor from the cylinder block.
Refitting
5 Refitting is a reversal of removal, but ensure that the mating faces of the sensor and cylinder block are clean.
See also:
Towing a trailer
WARNINGS: Do not exceed 100 km/h (62 mph). The rear tyre pressures must be increased by 0.2 bar (3 psi) above specification. See Technical specifications. Do not exceed the maximum gross train ...
Road Safety
WARNINGS: The system provides you with information designed to help you reach your destination quickly and safely. For reasons of safety, the driver should only program the system when the vehi ...
C-MAX Technologies
Among the new technologies being introduced to Ford of Europe in the Ford C-MAX range are a host of features which will improve practicality and safety for family users. These innovations include ...