Exhaust system - renewal
1 The layout of the exhaust system varies considerably according to model and engine.
All except the RS Turbo versions can be renewed in sections; coupling sleeves are supplied, enabling an old section to be cut out and a new one inserted without the need to renew the entire system all at once.
2 It is recommended when working on an exhaust system that the complete assembly be removed from under the vehicle by releasing the downpipe from the manifold and unhooking the flexible suspension hangers (see illustrations).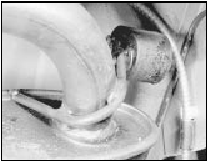 4.2a Exhaust silencer mounting . . .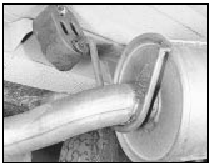 4.2b . . . and expansion box mounting
3 Assemble the complete system, but do not fully tighten the joint clips until the system is back in the vehicle. Use a new exhaust manifold/flange gasket and check that the flexible mountings are in good order, also check the connecting flange joint.
4 Set the silencer and expansion box in their correct attitudes in relation to the rest of the system before finally tightening the joint clips.
5 Check that with reasonable deflection in either direction, the exhaust does not knock against any adjacent components.
See also:
Preparing your vehicle
When the battery is disconnected or a new battery is installed, the automatic transmission must relearn its shift strategy. As a result, the transmission may have firm and/or soft shifts. This opera ...
Air filter
Refer to scheduled maintenance information for the appropriate intervals for changing the air filter element. When changing the air filter element, use only the air filter element listed. Refer t ...
Toll reader
On vehicles with an anti-heat windscreen, toll readers should be placed in the area as shown (all measurements shown in millimetres), otherwise communication performance with toll stations may b ...