Exhaust system - renewal
1 The layout of the exhaust system varies considerably according to model and engine.
All except the RS Turbo versions can be renewed in sections; coupling sleeves are supplied, enabling an old section to be cut out and a new one inserted without the need to renew the entire system all at once.
2 It is recommended when working on an exhaust system that the complete assembly be removed from under the vehicle by releasing the downpipe from the manifold and unhooking the flexible suspension hangers (see illustrations).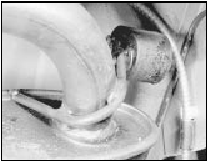 4.2a Exhaust silencer mounting . . .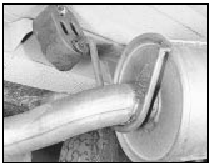 4.2b . . . and expansion box mounting
3 Assemble the complete system, but do not fully tighten the joint clips until the system is back in the vehicle. Use a new exhaust manifold/flange gasket and check that the flexible mountings are in good order, also check the connecting flange joint.
4 Set the silencer and expansion box in their correct attitudes in relation to the rest of the system before finally tightening the joint clips.
5 Check that with reasonable deflection in either direction, the exhaust does not knock against any adjacent components.
See also:
Cylinder head and pistons - decarbonising
OHV engines 1 With the cylinder head removed (Section 4), the carbon deposits should be removed from the combustion spaces using a scraper and a wire brush fitted into an electric drill. Take care ...
Vehicle Identification Numbers
Modifications are a continuing and unpublicised process in vehicle manufacture, quite apart from major model changes. Spare parts manuals and lists are compiled upon a numerical basis, the individ ...
Radio aerial (exteriormounted) - removal and refitting
1 On models fitted with an electric aerial, disconnect the battery negative lead. Saloon and Estate models 2 Remove the right-hand side trim panel from the luggage compartment. 3 Working outside ...