Front suspension lower arm (pressed steel type) - removal, overhaul and refitting
1 The pressed steel type suspension is only fitted to pre-May 1983 1.1 litre models (see illustration).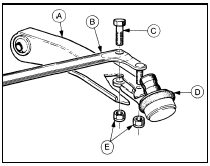 4.1 Pressed steel type lower arm components
A Lower arm
B Tie-bar
C Retaining bolt
D Balljoint
E Retaining nuts
Removal
2 Jack up the front of the car and support it on stands (see "Jacking and Vehicle Support").
3 Undo the nut and remove the pivot bolt securing the lower arm at its inboard end.
4 Undo the two nuts which secure the tie-bar and lower arm balljoint to the lower arm.
Separate the arm from the tie-bar and remove it from under the car.
Overhaul
5 Renewal of the pivot bush is carried out in the same way as described in Section 3.
6 If the balljoint is worn it can be renewed after removing it from the hub carrier as described in Section 3.
Refitting
7 Refitting is the reverse sequence to removal. Tighten all nuts and bolts to the specified torque with the weight of the car on its roadwheels. If the balljoint has been removed, refit the Torx pinch-bolt with its head towards the rear of the car.
See also:
Front hub carrier - removal and refitting
Note: A balljoint separator tool will be required for this operation. Removal 1 Loosen the relevant front roadwheel nuts, apply the handbrake, jack up the front of the vehicle and support on axle ...
Crankshaft and main bearings - removal and refitting
Note: A new crankshaft rear oil seal and a new rear oil seal housing gasket should be used on refitting. Removal 1 With the engine removed from the vehicle, remove the timing chain and crankshaft ...
Brakes
Your service brakes are self-adjusting. Refer to the scheduled maintenance guide for scheduled maintenance. Occasional brake noise is normal and often does not indicate a performance concern with ...