Front suspension lower arm (pressed steel type) - removal, overhaul and refitting
1 The pressed steel type suspension is only fitted to pre-May 1983 1.1 litre models (see illustration).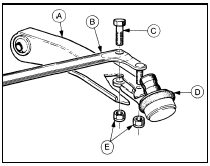 4.1 Pressed steel type lower arm components
A Lower arm
B Tie-bar
C Retaining bolt
D Balljoint
E Retaining nuts
Removal
2 Jack up the front of the car and support it on stands (see "Jacking and Vehicle Support").
3 Undo the nut and remove the pivot bolt securing the lower arm at its inboard end.
4 Undo the two nuts which secure the tie-bar and lower arm balljoint to the lower arm.
Separate the arm from the tie-bar and remove it from under the car.
Overhaul
5 Renewal of the pivot bush is carried out in the same way as described in Section 3.
6 If the balljoint is worn it can be renewed after removing it from the hub carrier as described in Section 3.
Refitting
7 Refitting is the reverse sequence to removal. Tighten all nuts and bolts to the specified torque with the weight of the car on its roadwheels. If the balljoint has been removed, refit the Torx pinch-bolt with its head towards the rear of the car.
See also:
Steering wheel - removal and refitting
Removal 1 According to model, either pull off the steering wheel trim, prise out the insert which carries the Ford motif at the centre, or carefully prise up and lift off the horn push followed by ...
Bonnet - removal and refitting
Removal 1 Support the bonnet in its open position, and place protective covers (old rags or cardboard) beneath the corners of the bonnet, and over the front wings to prevent damage to the paintwo ...
Oil pump - removal and refitting
Note: New oil pump and oil pick-up tube gaskets should be used when refitting. Removal 1 With the engine removed, proceed as follows. 2 Remove the timing belt, crankshaft sprocket and thrustwash ...