Rear tie-bar (Saloon and Estate models) - removal and refitting
Removal
1 Before attempting to remove a tie-bar, note the location of all washers and bushes. These control the rear wheel alignment and they must be returned to their original locations.
2 Raise the rear of the vehicle and support it with stands (see "Jacking and Vehicle Support").
3 Unscrew and remove the pivot bolt from the eye at the front end of the tie-bar (see illustration).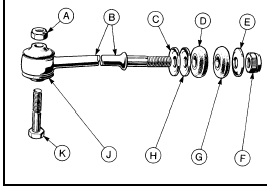 12.3 Exploded view of the rear tie-bar mountings - Saloon and Estate models
A Nut
B Tie-bar
C Washer (additionalwashers may be fitted)
D Bush
E Washer
F Nut
G Bush
H Washer (additional washers may be fitted)
J Bush
K Pivot bolt
4 Unscrew the nut from the rear end of the tie-bar, take off the washers and bushes as the tie-bar is withdrawn and keep them in strict sequence for refitting (see illustration).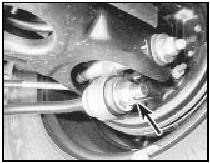 12.4 Tie-bar-to-stub axle carrier retaining nut (arrowed) - Saloon and Estate models
Refitting 5 Renewal of the tie-bar flexible bush is quite easily carried out using sockets or distance pieces and applying pressure in the jaws of a vice.
6 Refit the tie-bar by reversing the removal operations.
See also:
Bluetooth setup
Before you can use your telephone with your vehicle it must be bonded to the vehicle telephone system. Handling of phones A phone can be connected to the vehicle system by using either a cradle ...
Fuel system (1.6 and 1.8 litre (R6A type) CVH) - depressurisation
Remember to depressurise the fuel system before loosening any connections. Refer to the precautions in Section 1 before proceeding. The fuel system will remain pressurised after the engine is sw ...
Idle speed linkage clean (Every 12 000 miles (20 000 km) or 12 months)
On carburettor models which incorporate a stepper motor (ie. Weber 2V from 1985), good electrical contact between the motor plunger and the adjusting screw is essential to maintain a regular idle ...