Rear tie-bar (Saloon and Estate models) - removal and refitting
Removal
1 Before attempting to remove a tie-bar, note the location of all washers and bushes. These control the rear wheel alignment and they must be returned to their original locations.
2 Raise the rear of the vehicle and support it with stands (see "Jacking and Vehicle Support").
3 Unscrew and remove the pivot bolt from the eye at the front end of the tie-bar (see illustration).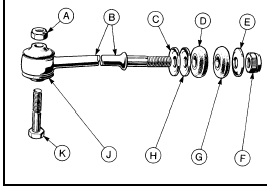 12.3 Exploded view of the rear tie-bar mountings - Saloon and Estate models
A Nut
B Tie-bar
C Washer (additionalwashers may be fitted)
D Bush
E Washer
F Nut
G Bush
H Washer (additional washers may be fitted)
J Bush
K Pivot bolt
4 Unscrew the nut from the rear end of the tie-bar, take off the washers and bushes as the tie-bar is withdrawn and keep them in strict sequence for refitting (see illustration).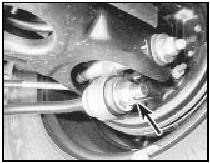 12.4 Tie-bar-to-stub axle carrier retaining nut (arrowed) - Saloon and Estate models
Refitting 5 Renewal of the tie-bar flexible bush is quite easily carried out using sockets or distance pieces and applying pressure in the jaws of a vice.
6 Refit the tie-bar by reversing the removal operations.
See also:
Safety restraints
Safety restraints precautions Always drive and ride with your seatback upright and the lap belt snug and low across the hips. To reduce the risk of injury, make sure children sit where they can ...
Engine electrical systems
General information and precautions General information The electrical system is of the 12 volt negative earth type, and consists of a 12 volt battery, alternator with integral voltage regulator, ...
Radio/cassette player and graphic equaliser - removal and refitting
Note: The information in this Section applies to Ford original equipment fitment components. Radio Early models Removal 1 Disconnect the battery. 2 Pull off the control knobs, the tuning knob s ...