Rear stub axle carrier Saloon and Estate models) - removal and refitting
Removal
1 Raise and support the rear of the car on stands (see "Jacking and Vehicle Support").
Remove the roadwheel.
2 Remove the rear hub as described in Section 9.
3 Remove the rear brake shoe assembly, as described in Chapter 9. You will also need to disconnect the brake fluid pipe at its connection to the wheel cylinder. Plug the pipe and cylinder connections to prevent fluid loss and the ingress of dirt.
4 Extract the handbrake cable through the backplate, then unscrew the four backplate retaining bolts and withdraw the backplate.
5 Position a jack under the lower arm and support it.
6 Undo the two nuts and remove the bolts securing the shock absorber to the stub axle carrier (see illustration).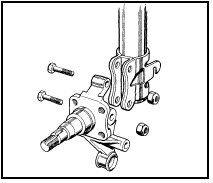 16.6 Rear stub axle and shock absorber attachment - Saloon and Estate models
7 Undo the nut and remove the lower arm outboard pivot through-bolt.
8 Accurately record the location and number of washers at the tie-bar attachment then undo the nut and withdraw the stub axle carrier.
Refitting
9 If the stub axle is damaged or worn excessively then it must be renewed.
10 Refitting is a reversal of the removal procedure, but note the following: a) When reassembling the tie-bar to the stub axle ensure that the spacers, washers and bushes are correctly located (as noted during removal).
b) Do not fully tighten the suspension retaining nuts and bolts to their specified torque settings until the vehicle is lowered and standing on its roadwheels.
c) Refit and connect the brake assembly components, as given in Chapter 9. Leave bleeding the hydraulic circuit until after the hub and brake drum are refitted.
d) Adjust the hub bearings, as detailed in Section 8.
See also:
Steering angles and wheel alignment
1 Accurate front wheel alignment is essential to good steering and for even tyre wear. Before considering the steering angles, check that the tyres are correctly inflated, that the roadwheels are ...
Windscreen and fixed window glass - removal and refitting
Windscreen Note: The average DIY mechanic is advised to leave windscreen removal and refitting to an expert. For the owner who insists on doing it himself, the following paragraphs are given. Rem ...
Doors - removal and refitting
Front door Pre-1986 models Removal 1 Open the door fully and support its lower edge on a jack or blocks covered with a pad of cloth to prevent scratching. 2 Unscrew the two bolts which hold the ...