Body exterior fittings - removal and refitting
Spoilers and wheel arch deflectors
Removal
1 The spoilers and wheel arch deflectors fitted to XR3, XR3i, Cabriolet and RS Turbo models are secured by screws, rivets and clips, or a combination of all three.
2 The screw and rivet fasteners are concealed under blanking plugs which are prised out to gain access to the screw or rivet as applicable (see illustrations). These can then be drilled out or unscrewed and the spoiler or wheel arch deflector withdrawn.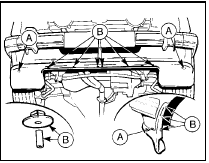 25.2a Front spoiler attachments - XR3 models
A Retaining screws B Retaining pegs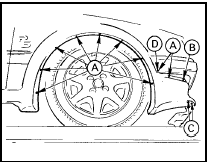 25.2b Front wheel arch extension attachments - RS Turbo models
A and B Rivets
C Screws
D Screw cap
Refitting 3 Refitting is a reversal of removal.
Body adhesive emblems and mouldings
Removal
4 The radiator grille emblem, the front wing motif, the tailgate emblems and the body side mouldings are all of the self-adhesive type.
5 To remove these devices, it is recommended that a length of nylon cord is used to separate them from their mounting surfaces (see illustration).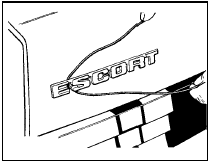 25.5 Removing tailgate adhesive badge
Refitting 6 New emblems have adhesive already applied and a protective backing. Before sticking them into position, clean off all the old adhesive from the mounting surface of the vehicle.
See also:
Opening rear quarter window - removal and refitting
Removal 1 Remove the rear pillar interior trim panel. 2 Remove the two screws securing the window catch to the body (see illustration). 26.2 Opening the rear quarter window catch A Cap B Retai ...
Minor body damage - repair
Note: For more detailed information about bodywork repair, Haynes Publishing produce a book by Lindsay Porter called "The Car Bodywork Repair Manual". This incorporates information on such aspects ...
Tailgate lock (Hatchback and Estate models) - removal and refitting
Removal 1 Open the tailgate and prise out the trim panel using a wide-bladed screwdriver (see illustration). 12.1 Tailgate trim panel fixings - Hatchback and Estate models 2 Remove the lock bar ...