Vehicle Identification Numbers
Modifications are a continuing and unpublicised process in vehicle manufacture, quite apart from major model changes. Spare parts manuals and lists are compiled upon a numerical basis, the individual vehicle identification numbers being essential to correct identification of the component concerned.
When ordering spare parts, always give as much information as possible. Quote the vehicle model, year of manufacture, body and engine numbers as appropriate.
The Vehicle Identification Number is located on the plate found under the bonnet above the radiator. The plate also carries information concerning paint colour, final drive ratio etc.
The engine number is located in one of the following places, according to engine type: Front right-hand side of engine block Front face of cylinder block Front left-hand side of engine block Cylinder block above clutch bellhousing A tuning decal will also be found under the bonnet. This illustrates graphically the basic tuning functions, typically plug gap, ignition timing, idle speed and CO level, and (where applicable) valve clearances, points gap and dwell angle.
Additionally, on later models a chassis number is stamped on the floor panel between the driver's seat and door, and is covered by a fold back plastic flap.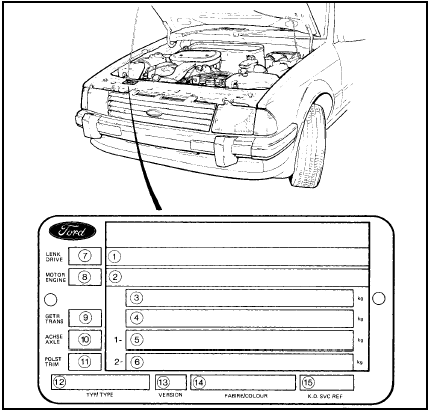 Vehicle identification plate location
1 Type Approval Number 2 Vehicle Identification Number 3 Gross vehicle weight
4 Gross train weight
5 Permitted front axle loading 6 Permitted rear axle loading 7 Steering (LHD/RHD)
8 Engine
9 Transmission
10 Axle (final drive ratio) 11 Trim (interior)
12 Body type
13 Special territory version 14 Body colour
15 KD reference (usually blank) or exhaust emission level
See also:
Dimensions and Weights
Note: All figures are approximate, and may vary according to model. Refer to manufacturer's data for exact figures. Dimensions Overall length: Pre-1986 models: Saloon and Cabriolet . . . . . . . ...
Alternator brushes - removal, inspection and refitting
1 Remove the alternator. Bosch type 2 Remove the two securing screws and withdraw the regulator/brush box assembly from the rear of the alternator (see illustration). 7.2 Withdrawing the regul ...
Air cleaner assembly - removal and refitting
Removal 1 Disconnect the battery negative terminal. 2 Disconnect the crankcase ventilation hoses which are accessible from above, from the air cleaner body (see illustration). 2.2 Disconnecting ...