Hydraulic unit pressure switch (ABS) - removal and refitting
Note: To remove the pressure switch from the hydraulic unit in situ, Ford tool No 12-008 or a locally made equivalent will be required. The switch may be removed without special tools after removing the hydraulic unit complete or the pump above. A new O-ring must be used when refitting the switch.
Caution: Refer to the
precautions in Section 1.
Removal
1 Disconnect the battery negative lead.
2 Depressurise the hydraulic system by pumping the brake pedal at least 20 times, or until it becomes hard.
3 Disconnect the multi-plug from the switch, then unscrew and remove the switch.
Refitting
4 Refit the switch using a new O-ring.
Position the plastic sleeve so that the drain hole faces the pump motor, then tighten the switch (see illustration).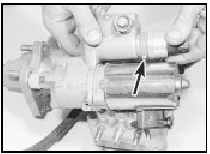 19.4 Refit the pressure switch with the drain hole (arrowed) in the plastic sleeve facing the pump motor - ABS
5 Reconnect the multi-plug and the battery.
6 On completion, bleed the complete hydraulic system and check for leaks around all disturbed components.
See also:
Headlamps and auxiliary lamps - beam alignment
The headlamps are adjustable individually for both horizontal and vertical alignment from within the engine compartment. The auxiliary lamp adjustment is carried out by slackening the lamp mountin ...
Bonnet - removal and refitting
Removal 1 Open the bonnet and support it on its stay. 2 Disconnect the screen washer pipe on the underside of the bonnet lid (see illustration). 7.2 Disconnecting the windscreen washer fluid pip ...
Fuel tank - removal and refitting
Note: Refer to the warning at the end of Section 1 before proceeding. Removal 1 The fuel tank will normally only need to be removed if it is severely contaminated with sediment or other substance ...