Hydraulic unit pressure switch (ABS) - removal and refitting
Note: To remove the pressure switch from the hydraulic unit in situ, Ford tool No 12-008 or a locally made equivalent will be required. The switch may be removed without special tools after removing the hydraulic unit complete or the pump above. A new O-ring must be used when refitting the switch.
Caution: Refer to the
precautions in Section 1.
Removal
1 Disconnect the battery negative lead.
2 Depressurise the hydraulic system by pumping the brake pedal at least 20 times, or until it becomes hard.
3 Disconnect the multi-plug from the switch, then unscrew and remove the switch.
Refitting
4 Refit the switch using a new O-ring.
Position the plastic sleeve so that the drain hole faces the pump motor, then tighten the switch (see illustration).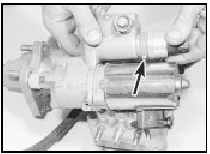 19.4 Refit the pressure switch with the drain hole (arrowed) in the plastic sleeve facing the pump motor - ABS
5 Reconnect the multi-plug and the battery.
6 On completion, bleed the complete hydraulic system and check for leaks around all disturbed components.
See also:
Rear lamp unit - removal and refitting
1 Disconnect the battery negative lead. Saloon and Hatchback models 2 Working inside the luggage compartment, press the plastic retaining tab and remove the bulbholder assembly. 3 Disconnect the ...
Driveshaft check (Every 12 000 miles or 12 months)
1 Carry out a thorough inspection of the driveshafts and joints as follows. 2 Jack up the front of the car and support it securely on axle stands (see "Jacking and Vehicle Support"). 3 Slowly rot ...
Cylinder head - removal and refitting
Removal Note: On HCS engines, cylinder head bolts may be used a total of three times (including initial fit) and must be suitably marked to indicate each removal operation. A new cylinder head ga ...