Opening rear quarter window - removal and refitting
Removal
1 Remove the rear pillar interior trim panel.
2 Remove the two screws securing the window catch to the body (see illustration).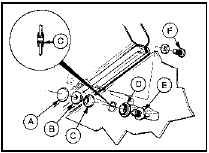 26.2 Opening the rear quarter window catch
A Cap
B Retainer
C Grommet
D Spacer
E Catch
F Screw (one of two)
3 Prise the two screw covers from the hinges.
Support the glass, and remove the two hinge screws, then lift out the glass (see illustration).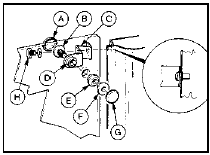 26.3 Opening the rear quarter window hinge
A Cap
B Screw
C Hinge
D Spacer
E Grommet
F Retainer
G Cap
H Screw
4 If a new window is to be fitted, transfer the catch to it.
Refitting
5 Refitting is a reversal of removal.
See also:
Fuel pump - removal and refitting
The fuel pump is integral with the fuel level sender unit in the fuel tank. Removal and refitting are as described in Part C of this Chapter for models with the CFI system. ...
Bumper - removal and refitting
Front bumper Models up to 1987 1 Remove the radiator grille panel. 2 Disconnect the battery negative lead, then disconnect the wiring plugs from the indicators, and where applicable the foglamps ...
Brake pedal - removal, refitting and adjustment
Removal 1 Working within the vehicle, remove the under-dash cover panel. 2 Extract the spring clip which connects the pushrod to the arm of the brake pedal. 3 Extract the circlip from the end of ...