Door window regulator - removal and refitting
Removal
1 Remove the door inner trim panel.
2 Where necessary for improved access, peel back the waterproof plastic sheet from the door.
3 Lower the window until the lower support channel is visible through the lower door aperture. Prise the regulator arms from the sockets in the support channel, then lower the window to the bottom of the door (see illustration).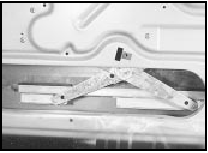 28.3 Front door window lower support channel and regulator arms
4 Drill out the four rivets securing the regulator assembly to the inner door skin, and if working on a front door, drill out the two rivets securing the regulator guide (see illustration).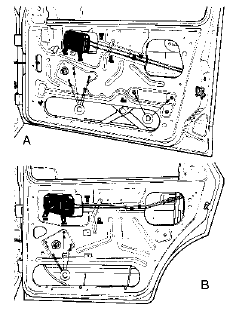 28.4 Door window regulator fixings
A Front door
B Rear door
C Regulator assembly securing rivets D Regulator guide rivets
5 On models with electric windows, disconnect the motor wiring plug after disconnecting the battery negative lead.
Removal and refitting of the motor is described in Chapter 13.
6 Withdraw the regulator assembly through the lower door aperture.
Refitting
7 Refitting is a reversal of removal, but fit new rivets, using a hand riveter.
See also:
Front suspension lower arm inner pivot bush - renewal
1 To improve access, raise the front of the vehicle on ramps. Apply the handbrake. 2 Unscrew and remove the nut, washer and pivot bolt securing the relevant lower arm to the crossmember. 3 Remove ...
Anti-theft alarm - location, removal and refitting
Note: The alarm system has a self-diagnosis function, which allows a Ford dealer to carry out fault diagnosis, using suitable specialist equipment. In the event of a problem with the alarm system, ...
Steering column lock - removal and refitting
Note: For ignition switch removal see Chapter 5. A new shear-bolt will be required on refitting. Removal 1 To remove the ignition switch/column lock, the shear-head bolt must be drilled out. 2 A ...