Fuel filler flap - removal and refitting
Removal
1 Open the filler flap and the tailgate or boot lid, as applicable.
2 Remove the fuel filler cap and then remove the screw securing the filler housing to the fuel tank neck (see illustration).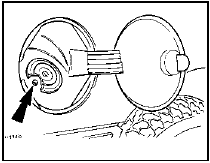 37.2 Fuel filler housing securing screw (arrowed)
3 Working inside the luggage compartment, depress the filler housing retaining tangs, and push the assembly out through the body panel. Recover the gasket.
4 Immerse the housing assembly in a container of hot water for approximately ten minutes, then prise the hinge cover from the housing, and using a screwdriver, prise the filler flap hinge legs out of the sockets in the housing.
Refitting
5 Commence refitting by warming the filler flap and housing, as during removal, then push the flap hinge legs into the housing.
6 Further refitting is a reversal of removal, ensuring that the housing gasket and retaining tangs are correctly located.
See also:
Rear suspension lower arm (Saloon and Estate models) - removal and refitting
Removal 1 Raise the rear of the car and support it on stands (see "Jacking and Vehicle Support"). 2 On cars equipped with the anti-lock braking system, refer to Chapter 9 and remove the load appo ...
General information and precautions
Contact breaker ignition system The ignition system is divided into two circuits, low tension (primary) and high tension (secondary). The low tension circuit consists of the battery, ignition swit ...
Door trim panel - removal and refitting
Pre-1986 models Removal 1 On Ghia versions only, remove the panel capping by carefully prising out the retaining clips using a forked tool. This can easily be made from a piece of scrap metal. 2 ...