Fuel filler flap - removal and refitting
Removal
1 Open the filler flap and the tailgate or boot lid, as applicable.
2 Remove the fuel filler cap and then remove the screw securing the filler housing to the fuel tank neck (see illustration).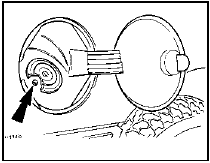 37.2 Fuel filler housing securing screw (arrowed)
3 Working inside the luggage compartment, depress the filler housing retaining tangs, and push the assembly out through the body panel. Recover the gasket.
4 Immerse the housing assembly in a container of hot water for approximately ten minutes, then prise the hinge cover from the housing, and using a screwdriver, prise the filler flap hinge legs out of the sockets in the housing.
Refitting
5 Commence refitting by warming the filler flap and housing, as during removal, then push the flap hinge legs into the housing.
6 Further refitting is a reversal of removal, ensuring that the housing gasket and retaining tangs are correctly located.
See also:
EEC IV module - removal and refitting
The procedure is as described in Part C of this Chapter for models with the CFI system. ...
Rear axle tube (Van models) - removal and refitting
Removal 1 Raise the rear of the vehicle and support it on stands (see "Jacking and Vehicle Support"). Remove the rear roadwheels. 2 Support the axle tube on a jack preferably of trolley type. 3 ...
Fuel pump - removal and refitting
Note: Refer to the precautions at the end of Section 1 before proceeding. Removal 1 The fuel pump is bolted to the underside of the car just to the rear of the fuel tank. For access raise and sup ...