Fuel filler flap - removal and refitting
Removal
1 Open the filler flap and the tailgate or boot lid, as applicable.
2 Remove the fuel filler cap and then remove the screw securing the filler housing to the fuel tank neck (see illustration).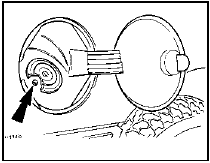 37.2 Fuel filler housing securing screw (arrowed)
3 Working inside the luggage compartment, depress the filler housing retaining tangs, and push the assembly out through the body panel. Recover the gasket.
4 Immerse the housing assembly in a container of hot water for approximately ten minutes, then prise the hinge cover from the housing, and using a screwdriver, prise the filler flap hinge legs out of the sockets in the housing.
Refitting
5 Commence refitting by warming the filler flap and housing, as during removal, then push the flap hinge legs into the housing.
6 Further refitting is a reversal of removal, ensuring that the housing gasket and retaining tangs are correctly located.
See also:
Conversion factors
Length (distance) Inches (in) x 25.4 = Millimetres (mm) x 0.0394 = Inches (in) Feet (ft) x 0.305 = Metres (m) x 3.281 = Feet (ft) Miles x 1.609 = Kilometres (km) x 0.621 = Miles Volume (capacity) ...
Hinge and lock check and lubrication (Every 12 000 miles or 12 months)
1 Work around the vehicle, and lubricate the bonnet, door and tailgate hinges with a light machine oil such as Duckhams Home Oil. 2 Lightly lubricate the bonnet release mechanism and exposed secti ...
Cooling, heating and ventilation systems
The cooling system is of the pressurised pump-assisted thermo-syphon type. The system consists of the radiator, water pump, thermostat, electric cooling fan, expansion tank and associated hoses. ...