Heater controls - adjustment
1 On heaters with lever control, set both control levers approximately 2.0 mm up from their lowest setting. On heaters with rotary controls set the controls just off the COLD and CLOSED positions.
2 Release the securing bolts on the cable clamps and pull the temperature control and air direction flap valve arms to the COLD and CLOSED positions respectively (see illustration). Check to see that the setting of the levers or rotary knobs on the control panel has not changed and retighten the cable clamps.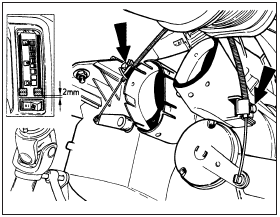 9.2 Heater control cable connections (arrowed) - pre-1986 models
See also:
Washer nozzles - removal and refitting
Windscreen and rear window washers 1 To remove a nozzle, carefully prise it from its location using a thin-bladed screwdriver. Disconnect the washer hose and withdraw the nozzle. 2 To refit, rec ...
Fuel pressure regulator - removal and refitting
Caution: Refer to the precautions in Section 1 before proceeding. 2.0 litre SOHC models 1 Disconnect the battery negative lead. 2 Slowly loosen the fuel feed union to relieve the pressure in the ...
Light laden valve (Van models) - adjustment, removal and refitting
1 The light laden valve used on Van models is a pressure regulating valve which reacts to suspension height according to vehicle load. The valve is mounted on the underside of the vehicle above th ...