Heater controls - adjustment
1 On heaters with lever control, set both control levers approximately 2.0 mm up from their lowest setting. On heaters with rotary controls set the controls just off the COLD and CLOSED positions.
2 Release the securing bolts on the cable clamps and pull the temperature control and air direction flap valve arms to the COLD and CLOSED positions respectively (see illustration). Check to see that the setting of the levers or rotary knobs on the control panel has not changed and retighten the cable clamps.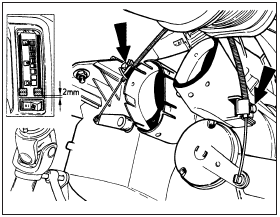 9.2 Heater control cable connections (arrowed) - pre-1986 models
See also:
Headlamps - alignment
1 It is recommended that the headlamp alignment is carried out by a Ford dealer using specialist beam setting equipment. However, in an emergency the following procedure will provide an acceptable ...
Camshaft and cam followers - removal, inspection and refitting
Note: A new camshaft oil seal should be used when refitting the camshaft. Removal 1 Remove the cylinder head. 2 Hold the camshaft stationary using a suitable spanner on the cast boss behind the ...
Crankshaft and bearings - examination and renovation
1.8 litre (R2A type) 1 Examine the bearing surfaces of the crankshaft for scratches or scoring and, using a micrometer, check each journal and crankpin for ovality. Where this is found to be in e ...