Heater controls - adjustment
1 On heaters with lever control, set both control levers approximately 2.0 mm up from their lowest setting. On heaters with rotary controls set the controls just off the COLD and CLOSED positions.
2 Release the securing bolts on the cable clamps and pull the temperature control and air direction flap valve arms to the COLD and CLOSED positions respectively (see illustration). Check to see that the setting of the levers or rotary knobs on the control panel has not changed and retighten the cable clamps.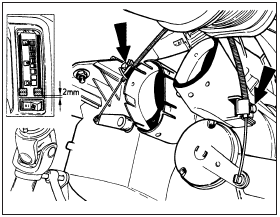 9.2 Heater control cable connections (arrowed) - pre-1986 models