Heater controls - adjustment
1 On heaters with lever control, set both control levers approximately 2.0 mm up from their lowest setting. On heaters with rotary controls set the controls just off the COLD and CLOSED positions.
2 Release the securing bolts on the cable clamps and pull the temperature control and air direction flap valve arms to the COLD and CLOSED positions respectively (see illustration). Check to see that the setting of the levers or rotary knobs on the control panel has not changed and retighten the cable clamps.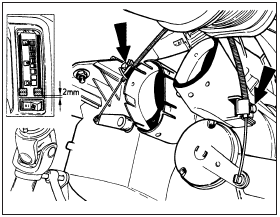 9.2 Heater control cable connections (arrowed) - pre-1986 models
See also:
Brake hydraulic system (conventional braking system) - bleeding
Caution: Refer to the precautions in Section 1. General 1 If any of the hydraulic components in the braking system have been removed or disconnected, or if the fluid level in the reservoir has b ...
CVH engines
CVH (Compound Valve angle, Hemispherical combustion chambers) engines are of four cylinder in-line overhead camshaft type, mounted transversely, together with the transmission, at the front of the ...
Fuel pressure regulator - removal and refitting
Note: Refer to the precautions at the end of Section 1 before proceeding. A new sealing ring will be required on refitting. Removal 1 Disconnect the battery negative lead. 2 Depressurise the fuel ...