Air cleaner - removal and refitting
K-Jetronic system Removal
1 Remove the air cleaner element as described in Chapter 1.
2 Detach the fuel filter from the side of the cleaner casing (leave the fuel lines attached to the filter) and the air inlet hose from the front end of the case.
3 Unscrew and remove the casing retaining nuts from the inner wing panel and lift out the casing.
Refitting
4 Refitting is the reversal of the removal procedure. Refit the air cleaner element as described in Chapter 1.
KE-Jetronic system
Removal
5 Undo the two bolts securing the air cleaner assembly to the air sensor plate unit and remove the air cleaner assembly (see illustration).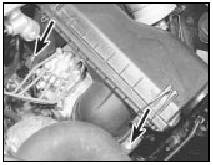 2.5 KE-Jetronic air cleaner retaining bolts (arrowed)
Refitting 6 Refit the unit to the air sensor plate and secure with the two bolts.
See also:
Fuel accumulator - removal and refitting
Note: Refer to the precautions at the end of Section 1 before proceeding. Pre-1986 models Removal 1 The fuel accumulator is mounted adjacent to the fuel pump, above the rear left-hand suspension ...
Jump starting your vehicle
The gases around the battery can explode if exposed to flames, sparks, or lit cigarettes. An explosion could result in injury or vehicle damage. Batteries contain sulfuric acid which can burn ski ...
Steering and suspension security check (Every 12 000 miles (20 000 km) or 12 months)
1 Check the shock absorbers by bouncing the vehicle up and down at each corner in turn. When released, it should come to rest within one complete oscillation. Continued movement, or squeaking and ...