Air cleaner - removal and refitting
K-Jetronic system Removal
1 Remove the air cleaner element as described in Chapter 1.
2 Detach the fuel filter from the side of the cleaner casing (leave the fuel lines attached to the filter) and the air inlet hose from the front end of the case.
3 Unscrew and remove the casing retaining nuts from the inner wing panel and lift out the casing.
Refitting
4 Refitting is the reversal of the removal procedure. Refit the air cleaner element as described in Chapter 1.
KE-Jetronic system
Removal
5 Undo the two bolts securing the air cleaner assembly to the air sensor plate unit and remove the air cleaner assembly (see illustration).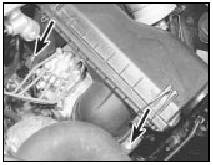 2.5 KE-Jetronic air cleaner retaining bolts (arrowed)
Refitting 6 Refit the unit to the air sensor plate and secure with the two bolts.
See also:
Exterior lamps - removal and refitting
Headlamp Removal 1 On pre-1986 models, remove the radiator grille as described in Chapter 11. 2 Working in the engine compartment, disconnect the headlamp wiring multi-plug and remove the sidela ...
Ignition HT coil - testing, removal and refitting
Note: Refer to the precautions given in Section 1 before proceeding. All except models with DIS ignition system Testing 1 Accurate checking of the coil output requires the use of special test eq ...
Ignition system component check (Every 6000 miles or 6 months)
1 Where applicable, remove the distributor cap and thoroughly clean it inside and out with a dry lint-free cloth. Examine the four HT lead segments inside the cap. If the segments appear badly bur ...