Electro-magnetic pressure actuator - removal and refitting
Note: Refer to the precautions at the end of Section 1 before proceeding. New O-rings must be used on refitting.
Removal
1 The electro-magnetic pressure actuator is only used on KE-Jetronic systems and is located on the side of the fuel distributor.
2 Disconnect the battery negative lead.
3 Remove the air cleaner as described in Section 2.
4 Relieve the system pressure by slowly loosening the cold start valve union on the top of the fuel distributor (see illustration 6.4).
Absorb fuel leakage in a cloth.
5 Disconnect the wiring multi-plug, then undo the two screws securing the actuator to the fuel distributor (see illustration). Remove the unit and the sealing O-rings.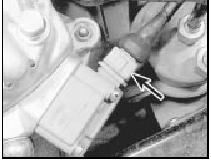 15.5 Pressure actuator wiring multi-plug (arrowed)
Refitting 6 Refitting is the reverse sequence to removal, but ensure both mating faces are clean. New O-rings must be used and care taken not to displace them when fitting. On completion check for fuel leaks with the engine running.
See also:
Emission control system
Your vehicle is equipped with various emission control components and a catalytic converter which will enable your vehicle to comply with applicable exhaust emission standards. To make sure that the ...
Doors - removal and refitting
Front door Pre-1986 models Removal 1 Open the door fully and support its lower edge on a jack or blocks covered with a pad of cloth to prevent scratching. 2 Unscrew the two bolts which hold the ...
Fuel system - depressurising
Warning: The fuel system will remain pressurised after the engine is switched off. Comply with relevant safety precautions during this operation and refer to the "Safety First" Section at the beg ...