Idle speed compensator - removal and refitting
Removal
1 The idle speed compensator is only fitted to K-Jetronic systems from 1986 onwards and is located in the centre of the engine compartment bulkhead (see illustration).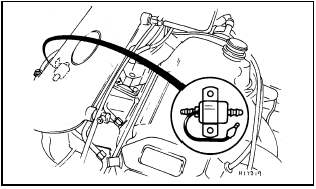 19.1 K-Jetronic system idle speed compensator location
2 Disconnect the battery negative lead.
3 Disconnect the electrical lead, undo the two screws and withdraw the unit. Detach the air hoses from each end and remove the compensator.
Refitting
4 Refitting is a reversal of removal. The air hoses can be connected to either end and the arrows on the unit can be ignored.
See also:
Bonnet release cable - removal and refitting
Removal 1 Working inside the vehicle, extract the three screws and remove the steering column shroud. Open the bonnet. If the cable is broken, the release latch must be operated using a suitably ...
Engine - refitting (automatic transmission in vehicle)
1 Reverse the procedure described in Section 10, noting the following points: 2 Check that the engine adapter plate is correctly positioned on its locating dowels. 3 As the torque converter is onl ...
Fuel injectors - removal and refitting
Caution: Refer to the precautions in Section 1 before proceeding. Note: A tachometer and an exhaust gas analyser will be required to check the idle mixture on completion. New seals and retaining ...