Idle speed compensator - removal and refitting
Removal
1 The idle speed compensator is only fitted to K-Jetronic systems from 1986 onwards and is located in the centre of the engine compartment bulkhead (see illustration).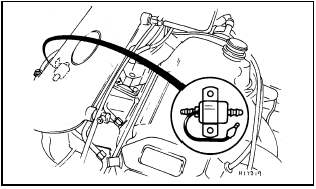 19.1 K-Jetronic system idle speed compensator location
2 Disconnect the battery negative lead.
3 Disconnect the electrical lead, undo the two screws and withdraw the unit. Detach the air hoses from each end and remove the compensator.
Refitting
4 Refitting is a reversal of removal. The air hoses can be connected to either end and the arrows on the unit can be ignored.