Idle speed compensator - removal and refitting
Removal
1 The idle speed compensator is only fitted to K-Jetronic systems from 1986 onwards and is located in the centre of the engine compartment bulkhead (see illustration).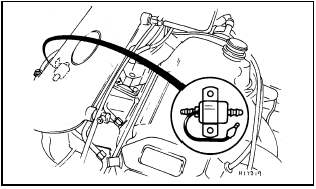 19.1 K-Jetronic system idle speed compensator location
2 Disconnect the battery negative lead.
3 Disconnect the electrical lead, undo the two screws and withdraw the unit. Detach the air hoses from each end and remove the compensator.
Refitting
4 Refitting is a reversal of removal. The air hoses can be connected to either end and the arrows on the unit can be ignored.
See also:
Engine/automatic transmission assembly - removal and separation
Note: A suitable hoist and lifting tackle will be required for this operation. Any suspected faults in the automatic transmission should be referred to a Ford dealer or automatic transmission spec ...
Rear parcel shelf - removal and refitting
Removal 1 Open the tailgate fully and disengage the parcel shelf lifting strap loops from the tailgate retaining knobs. 2 Lift out the parcel shelf pivot pins from their notches in the support br ...
Steering wheel - removal and refitting
Removal 1 Set the front wheels in the straight-ahead position. 2 Prise the trim insert from the centre of the steering wheel, and where applicable, disconnect the horn electrical lead(s) (see il ...