Throttle Position Sensor (TPS) - removal and refitting
Removal
1 Disconnect the battery negative lead.
2 Unclip and disconnect the sensor wiring plug.
3 Remove the two securing screws, and withdraw the sensor from the throttle valve shaft (see illustration).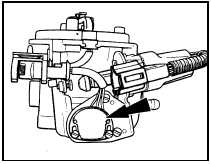 11.3 Throttle position sensor (TPS) location (arrowed) on side of CFI unit
Refitting 4 Refitting is a reversal of removal, but ensure that the sensor actuating arm is correctly located.