Knock sensor - removal and refitting
Removal
1 The knock sensor is screwed into the cylinder block, near the oil filter (see illustration).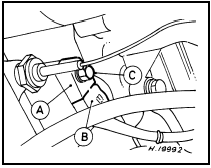 15.1 Knock sensor location - 1.4 CFI engine
A Knock sensor
B Wiring plug
C Securing bolt
2 Disconnect the battery negative lead.
3 Disconnect the sensor wiring plug by depressing the plug locking lugs and pulling the plug from the sensor. Do not pull on the wiring.
4 Unscrew the securing bolt and withdraw the sensor from the cylinder block.
Refitting
5 Refitting is a reversal of removal, but ensure that the mating faces of the sensor and cylinder block are clean.
See also:
Front direction indicator lamp unit - removal and refitting
1 Disconnect the battery negative lead. Models up to 1987 Low specification 2 Push the lamp unit rearwards into the bumper until the plastic retaining tang is heard to click in the locked positio ...
Speedometer cable - removal and refitting
Removal 1 On models fitted with a trip computer, remove the speed sender unit. 2 Remove the instrument panel. 3 Pull the cable through the bulkhead into the engine compartment, and where applicab ...
Maintenance - component location
Underbonnet view of a 1983 2.0 litre SOHC carburettor model (air cleaner removed) 1 Brake fluid reservoir 2 Windscreen wiper motor 3 Battery 4 Ignition coil 5 Carburettor 6 Distributor 7 Fu ...