Knock sensor - removal and refitting
Removal
1 The knock sensor is screwed into the cylinder block, near the oil filter (see illustration).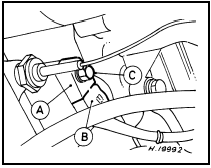 15.1 Knock sensor location - 1.4 CFI engine
A Knock sensor
B Wiring plug
C Securing bolt
2 Disconnect the battery negative lead.
3 Disconnect the sensor wiring plug by depressing the plug locking lugs and pulling the plug from the sensor. Do not pull on the wiring.
4 Unscrew the securing bolt and withdraw the sensor from the cylinder block.
Refitting
5 Refitting is a reversal of removal, but ensure that the mating faces of the sensor and cylinder block are clean.
See also:
Automatic transmission fluid level check (Every 12 000 miles or 12 months)
1 The automatic transmission fluid level must be checked when the engine and transmission are at normal operating temperature; preferably after a short journey. 2 Park the car on level ground, the ...
Ford VV carburettor - removal and refitting
Note: Refer to the warning at the end of Section 1 before proceeding. A new gasket must be used on refitting. Removal 1 Disconnect the battery negative lead. 2 Remove the air cleaner (Section 2). ...
Starter motor - brush renewal
Bosch long frame and JF, and Cajavec types 1 With the starter motor removed from the vehicle and cleaned, grip the unit in a vice fitted with soft jaw protectors. 2 Remove the two screws securing ...