Manifold Absolute Pressure (MAP) sensor - removal and refitting
Removal
1 Disconnect the battery negative lead.
2 Disconnect the sensor wiring plug (see illustration). Do not pull on the wiring.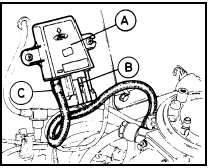 16.2 Manifold absolute pressure (MAP) sensor - 1.4 CFI engine
A MAP sensor
B Wiring plug
C Vacuum hose
3 Disconnect the vacuum pipe from the sensor.
4 Remove the two securing screws, and withdraw the sensor from the engine compartment bulkhead.
Refitting
5 Refitting is a reversal of removal.