Fuel cut-off (inertia) switch - removal and refitting
Removal
1 The fuel cut-off switch is located in the luggage compartment, under the spare wheel (see illustration).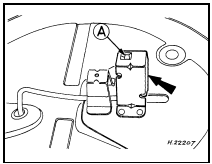 18.1 Fuel cut-off (inertia) switch location (arrowed) - 1.4 CFI engine
A Reset button
2 Disconnect the battery negative lead.
3 Remove the spare wheel and its cover to gain access to the switch.
4 Disconnect the switch wiring plug.
5 Remove the two screws securing the switch to its bracket, then withdraw the switch.
Refitting
6 Refitting is a reversal of removal, but before refitting the spare wheel, ensure that the switch is reset by pushing down the button on the top of the switch, and on completion start the engine and check that the switch operates correctly.