EEC IV module - removal and refitting
Removal
1 The EEC IV module is located behind the centre console, beneath the trim panel (see illustration).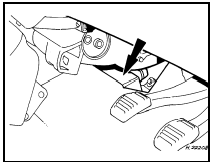 20.1 EEC IV module location (arrowed) 1.4 CFI engine
2 Disconnect the battery negative lead.
3 Remove the trim panel to expose the module, then pull the module from its bracket behind the centre console.
4 Loosen the screw securing the wiring plug, then disconnect the plug and withdraw the module.
Refitting
5 Refitting is a reversal of removal.
See also:
Facia panels - removal and refitting
Models up to 1992 1 Note the locations of the facia panel securing screws (see illustration). 43.1 Facia panel securing screw locations (arrowed) A Upper facia panel B Passenger side lower faci ...
Air cleaner assembly - removal and refitting
Removal 1 Disconnect the battery negative terminal. 2 Disconnect the crankcase ventilation hoses which are accessible from above, from the air cleaner body (see illustration). 2.2 Disconnecting ...
Radiator fan thermal switch - testing, removal and refitting
Testing 1 The thermal switch is located on the side of the thermostat housing on early OHV engine models and in the thermostat housing cover on later OHV versions. On all CVH engines, the switch ...