EEC IV module - removal and refitting
Removal
1 The EEC IV module is located behind the centre console, beneath the trim panel (see illustration).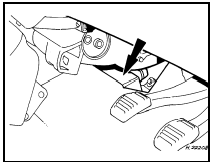 20.1 EEC IV module location (arrowed) 1.4 CFI engine
2 Disconnect the battery negative lead.
3 Remove the trim panel to expose the module, then pull the module from its bracket behind the centre console.
4 Loosen the screw securing the wiring plug, then disconnect the plug and withdraw the module.
Refitting
5 Refitting is a reversal of removal.
See also:
Anti-lock Braking System - description
1 From 1986 onward an anti-lock braking system is available as standard or optional equipment on certain Escort models. 2 The system comprises four main components: two modulators, one for each b ...
Battery
Your vehicle is equipped with a Motorcraft maintenance-free battery which normally does not require additional water during its life of service. However, for severe usage or in high temperature ...
Choke control cable - removal, refitting and adjustment
Pre-1986 models Removal 1 Disconnect the battery earth lead. 2 For improved access, remove the air cleaner unit (Section 2). 3 At the carburettor end of the cable, loosen the cable clamp bolt, d ...