EEC IV module - removal and refitting
Removal
1 The EEC IV module is located behind the centre console, beneath the trim panel (see illustration).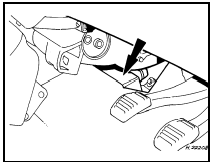 20.1 EEC IV module location (arrowed) 1.4 CFI engine
2 Disconnect the battery negative lead.
3 Remove the trim panel to expose the module, then pull the module from its bracket behind the centre console.
4 Loosen the screw securing the wiring plug, then disconnect the plug and withdraw the module.
Refitting
5 Refitting is a reversal of removal.
See also:
Sump - removal and refitting
Note: New gaskets and sealing strips will be required for refitting, and sealing compound will be required to coat the gasket faces. Removal 1 If the engine is in the vehicle, proceed as follows, ...
Engine mountings - renewal
1 The engine mountings incorporate hydraulic dampers and must be renewed if excessive engine movement is evident. 2 Working in the engine compartment, unscrew the central nuts securing the engine ...
Deceleratio sensitive valve (all models with conventional braking system) - removal and refitting
Caution: Refer to the precautions in Section 1. Removal 1 The deceleration sensitive valve is located on the left-hand side of the engine compartment (see illustrations). 23.1a Early type decele ...