EEC IV module - removal and refitting
Removal
1 The EEC IV module is located behind the centre console, beneath the trim panel (see illustration).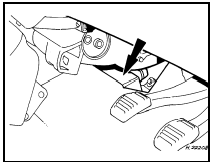 20.1 EEC IV module location (arrowed) 1.4 CFI engine
2 Disconnect the battery negative lead.
3 Remove the trim panel to expose the module, then pull the module from its bracket behind the centre console.
4 Loosen the screw securing the wiring plug, then disconnect the plug and withdraw the module.
Refitting
5 Refitting is a reversal of removal.