Throttle Position Sensor (TPS) - removal and refitting
Removal
Note: During this procedure, ensure that the sensor wiper is not rotated beyond its normal operating arc
1 Disconnect the battery negative lead.
2 Disconnect the wiring plug from the sensor (see illustration).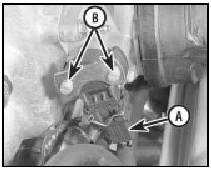 11.2 Throttle position sensor - 1.6 EFI engine
A Wiring plug B Securing screws
3 Remove the two securing screws, and withdraw the sensor from the throttle valve shaft.
Refitting
4 Refitting is a reversal of removal, ensuring that the moulded side of the sensor faces the throttle housing, and that the flat on the sensor wiper engages with the flat on the throttle shaft.