Throttle Position Sensor (TPS) - removal and refitting
Removal
Note: During this procedure, ensure that the sensor wiper is not rotated beyond its normal operating arc
1 Disconnect the battery negative lead.
2 Disconnect the wiring plug from the sensor (see illustration).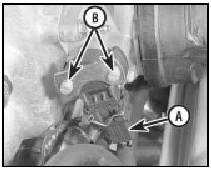 11.2 Throttle position sensor - 1.6 EFI engine
A Wiring plug B Securing screws
3 Remove the two securing screws, and withdraw the sensor from the throttle valve shaft.
Refitting
4 Refitting is a reversal of removal, ensuring that the moulded side of the sensor faces the throttle housing, and that the flat on the sensor wiper engages with the flat on the throttle shaft.
See also:
Getting roadside assistance
To fully assist you should you have a vehicle concern, Ford Motor Company offers a complimentary roadside assistance program. This program is separate from the New Vehicle Limited Warranty. The serv ...
Ford VV carburettor manual choke unit - removal, checking and refitting
Note: A new gasket will be required on refitting. Removal 1 Disconnect the battery negative lead. 2 Remove the air cleaner (Section 2). 3 Slacken the choke cable clamp bolt at the choke lever, d ...
Front anti-roll bar - removal and refitting
Removal 1 To improve access, raise the front of the vehicle on ramps. Do not jack the vehicle up at this stage. Apply the handbrake. 2 Where applicable bend back the locktabs, then unscrew the tw ...