Hydraulic pipes and hoses - renewal
Note: Before starting work, refer to the warning at the beginning of Section 3 concerning the dangers of hydraulic fluid.
1 Always disconnect a flexible hose by prising out the spring anchor clip from the support bracket and then, using two closefitting spanners, disconnect the rigid line from the flexible hose (see illustration).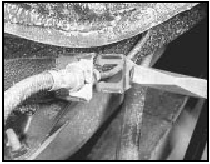 15.1 Removing a flexible hose spring anchor clip
2 Once disconnected from the rigid pipe, the flexible hose may be unscrewed from the caliper or wheel cylinder.
3 When reconnecting pipelines, or hose fittings, remember that all union threads are to metric sizes. No copper washers are used at unions and the seal is made at the swaged end of the pipe, so do not try to wind a union in if it is tight yet still stands proud of the surface into which it is screwed.
4 A flexible hose must never be installed twisted, but a slight "set" is permissible to give it clearance from an adjacent component. Do this by turning the hose slightly before inserting the bracket spring clip.
5 Rigid pipelines can be made to pattern by factors supplying brake components.
6 If you are making up a brake pipe yourself, observe the following essential requirements.
7 Before flaring the ends of the pipe, trim back the protective plastic coating by a distance of 5.0 mm.
8 Flare the end of the pipe as shown (see illustration).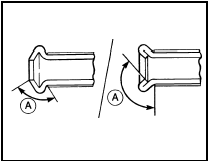 15.8 Brake pipe flare
A Protective coating removed before flaring
9 The minimum pipe bend radius is 12.0 mm, but bends of less than 20.0 mm should be avoided if possible.
See also:
Crankshaft front oil seal - renewal
1.8 litre (R2A type) 1 Remove the timing belt and the crankshaft sprocket and thrustwasher. 2 Withdraw the oil seal using an oil seal removal tool or by drilling the oil seal outer face and using ...
Sunroof components - removal, refitting and adjustment
Sunroof panel Removal 1 To remove this type of glass panel, pull the sun blind into the open position and have the sliding roof closed. 2 Wind the sliding roof handle in an anticlockwise directi ...
Ford VV carburettor - removal and refitting
Note: Refer to the warning at the end of Section 1 before proceeding. A new gasket must be used on refitting. Removal 1 Disconnect the battery negative lead. 2 Remove the air cleaner (Section 2). ...