Braking system warning lamps and electrical switches - removal and refitting
General
1 All models are fitted with a low fluid level warning switch in the master cylinder reservoir cap and a brake pedal stop-lamp switch.
2 Some versions have front disc pad wear sensors and a handbrake "ON" warning switch.
3 Warning indicator lamps are mounted on the instrument panel. Their renewal is covered in Chapter 12.
Handbrake "ON" warning lamp switch
4 The handbrake "ON" warning switch is attached to the handbrake lever and can be removed after disconnecting the wiring and undoing the retaining screw (see illustration).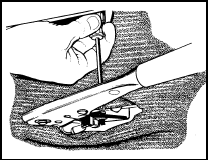 18.4 Removing handbrake warning switch
Stop-lamp switch 5 The stop-lamp switch can be removed by disconnecting the leads and unscrewing the locknut which holds the switch to its bracket under the facia (see illustration).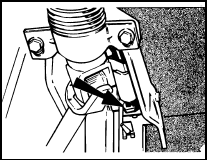 18.5 Brake stop-lamp switch locknut location (arrowed)
6 When fitting the switch, adjust its position by screwing it in or out so that it does not actuate during the first 5.0 mm of pedal travel.
See also:
Throttle body - removal and refitting
Note: A tachometer and an exhaust gas analyser will be required to check the idle mixture on completion. A new gasket must be used when refitting the throttle body. 2.0 litre SOHC models 1 Discon ...
Light laden valve (Van models) - adjustment, removal and refitting
1 The light laden valve used on Van models is a pressure regulating valve which reacts to suspension height according to vehicle load. The valve is mounted on the underside of the vehicle above th ...
Handbrake cables - renewal
1 Chock the front wheels, then fully release the handbrake. 2 Raise and support the vehicle at the rear with axle stands (see "Jacking and Vehicle Support"). Primary cable 3 Extract the spring c ...