Windscreen/tailgate wiper blades and arms - removal and refitting
Removal
1 Pull the wiper arm away from the glass until the arm locks.
2 Depress the small clip on the blade and slide the blade out of the hooked part of the arm (see illustration).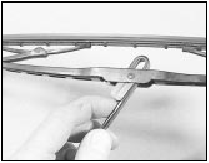 17.2 Disconnecting wiper blade from arm
3 Before removing the wiper arms it is worthwhile marking their parked position on the glass with a strip of masking tape as an aid to refitting. Raise the plastic nut cover.
4 Unscrew the nut which holds the arm to the pivot shaft and pull the arm from the splines.
Refitting
5 Refit by reversing the removal operations.
See also:
Auxiliary air device - removal and refitting
K-Jetronic system Removal 1 Disconnect the battery earth lead. 2 Disconnect the wiring multi-plug and the two air hoses from the device which is located beneath the cold start valve (see illustra ...
Oil pump - removal and refitting
Note: A suitable puller will be required to remove the crankshaft pulley. A new crankshaft pulley bolt, a new lower timing chain cover gasket, and a new oil pump gasket, must be used on refitting. ...
Front hub bearings - renewal
Note: A new driveshaft nut, and a new tie-rod balljoint split-pin must be used on refitting. 1 Remove the wheel trim and release the staking on the driveshaft retaining nut using a suitable punch. ...