Windscreen wiper motor and linkage - removal and refitting
Removal
1 Remove the wiper arms and blades as described in Section 17.
2 Disconnect the battery negative terminal.
3 Remove the nut covers, the fixing nuts, washers and spacers from the pivot shafts.
4 Disconnect the wiper motor wiring at the multi-pin plugs.
5 Unscrew the two fixing bolts and withdraw the motor complete with linkage from the engine compartment (see illustration).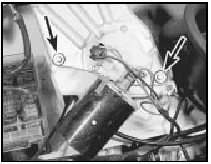 18.5 Windscreen wiper motor fixing bolts (arrowed)
6 Remove the spacers from the pivot shafts.
7 The motor can be separated from the linkage by removing the nut from the crankarm and then unbolting the motor from the mounting.
Refitting
8 Refitting is a reversal of removal, but connect the motor crankarm when the link is aligned with it as shown (see illustration).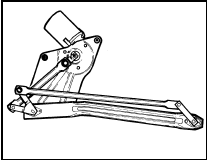 18.8 Windscreen wiper crankarm alignment for refitting
See also:
Oil seals - renewal
Camshaft oil seal Note: Thread locking compound will be required to coat the camshaft sprocket bolt on refitting. 1 Disconnect the battery negative lead. 2 Release the timing belt from the camsha ...
Spark plug renewal - RS Turbo models (Every 6000 miles or 6 months)
1 The correct functioning of the spark plugs is vital for the correct running and efficiency of the engine. It is essential that the plugs fitted are appropriate for the engine, and the suitable t ...
Anti-theft alarm - location, removal and refitting
Note: The alarm system has a self-diagnosis function, which allows a Ford dealer to carry out fault diagnosis, using suitable specialist equipment. In the event of a problem with the alarm system, ...