Windscreen wiper motor and linkage - removal and refitting
Removal
1 Remove the wiper arms and blades as described in Section 17.
2 Disconnect the battery negative terminal.
3 Remove the nut covers, the fixing nuts, washers and spacers from the pivot shafts.
4 Disconnect the wiper motor wiring at the multi-pin plugs.
5 Unscrew the two fixing bolts and withdraw the motor complete with linkage from the engine compartment (see illustration).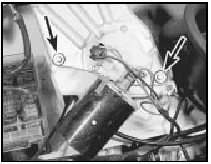 18.5 Windscreen wiper motor fixing bolts (arrowed)
6 Remove the spacers from the pivot shafts.
7 The motor can be separated from the linkage by removing the nut from the crankarm and then unbolting the motor from the mounting.
Refitting
8 Refitting is a reversal of removal, but connect the motor crankarm when the link is aligned with it as shown (see illustration).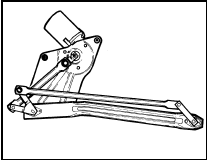 18.8 Windscreen wiper crankarm alignment for refitting
See also:
Bulbs
Replacing exterior bulbs Check the operation of all the bulbs frequently. Using the right bulbs Replacement bulbs are specified in the chart below. Headlamp bulbs must be marked with an authorized ...
Rear drum brake shoes - inspection and renewal
Caution: Refer to the precautions in Section 1 1 The shoe friction material can be inspected for wear without removing the roadwheels. Working beneath the vehicle, prise the plug from the brake b ...
Handbrake cable - adjustment
Note: Where fitted, the adjuster locking pin must be renewed on completion of adjustment. Conventional braking system (except P100 models) 1 The handbrake cable is normally self-adjusting in use ...