Windscreen wiper motor and linkage - removal and refitting
Removal
1 Remove the wiper arms and blades as described in Section 17.
2 Disconnect the battery negative terminal.
3 Remove the nut covers, the fixing nuts, washers and spacers from the pivot shafts.
4 Disconnect the wiper motor wiring at the multi-pin plugs.
5 Unscrew the two fixing bolts and withdraw the motor complete with linkage from the engine compartment (see illustration).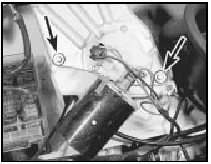 18.5 Windscreen wiper motor fixing bolts (arrowed)
6 Remove the spacers from the pivot shafts.
7 The motor can be separated from the linkage by removing the nut from the crankarm and then unbolting the motor from the mounting.
Refitting
8 Refitting is a reversal of removal, but connect the motor crankarm when the link is aligned with it as shown (see illustration).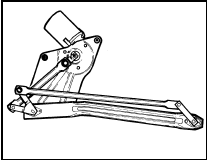 18.8 Windscreen wiper crankarm alignment for refitting
See also:
Manifold Absolute Pressure (MAP) sensor - removal and refitting
Removal 1 Disconnect the battery negative lead. 2 Disconnect the sensor wiring plug. Do not pull on the wiring. 3 Disconnect the vacuum hose from the sensor. 4 Remove the two securing screws and ...
Heater controls - adjustment
1 On heaters with lever control, set both control levers approximately 2.0 mm up from their lowest setting. On heaters with rotary controls set the controls just off the COLD and CLOSED positions. ...
Braking system
The braking system is of the dual circuit hydraulic type with disc brakes at the front and drum brakes at the rear. A diagonally split dual circuit hydraulic system is employed in which each circu ...