Pistons and connecting rods - removal and refitting
Note: New connecting rod bolts and a new oil pick-up pipe gasket must be used on refitting.
Removal
1 Remove the sump and the cylinder head.
2 Unscrew the two securing bolts, and remove the oil pick-up pipe (see illustration).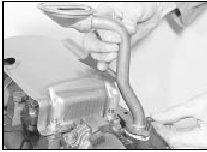 29.2 Removing the oil pick-up pipe
Recover the gasket.
3 Unscrew the four securing nuts, and withdraw the oil baffle from the studs on the main bearing caps (see illustration).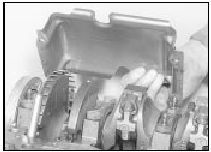 29.3 Withdrawing the oil baffle
4 Proceed as described in Chapter 2, Part A, Section 32, paragraphs 2 to 5.
Refitting
5 Proceed as described in Chapter 2, Part A, Section 32, paragraphs 6 to 13, noting the following points:
6 Take note of the orientation of the bearing shells during dismantling, and ensure that they are fitted correctly during reassembly.
7 When fitting the pistons, ensure that the arrow on the piston crown and the letter "F" on the face of the connecting rod are pointing towards the front of the engine.
8 Use new connecting rod bolts on reassembly, and before fitting, oil the threads and the contact faces of the bolts. Tighten the bolts in the three stages given in the Specifications at the beginning of this Chapter.
9 Refit the oil baffle, and tighten the securing nuts.
10 Clean the mating faces of the cylinder block and the oil pick-up pipe, and refit the pick-up pipe using a new gasket.
11 Refit the cylinder head and the sump.
See also:
Alternator brushes and regulator - renewal
Bosch alternator 1 With the alternator removed from the engine, clean the external surfaces free from dirt. 2 Extract the brush box/regulator screws from the rear cover and withdraw the brush bo ...
Carburettor overhaul - general information
Faults with the carburettor are usually associated with dirt entering the float chamber and blocking the jets, causing a weak mixture or power failure within a certain engine speed range. If this ...
Fuel-injection control module - removal and refitting
Removal 1 The fuel-injection control module is only used on KE-Jetronic systems and is located in the engine compartment behind the heater plenum chamber and fan motor. 2 Disconnect the battery n ...