Crankshaft rear oil seal - renewal
1 Remove the flywheel/driveplate.
2 Prise out the oil seal. If necessary, drill the outer face of the oil seal and use self-tapping screws and a pair of grips to withdraw the seal (see illustration).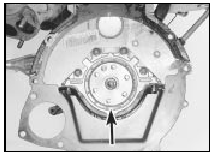 26.2 Crankshaft rear oil seal location (arrowed)
3 Clean the oil seal housing, then fit the new oil seal using two flywheel/driveplate securing bolts and a tool similar to that shown (see illustration).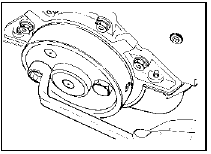 26.3 Using a special tool to fit the crankshaft rear oil seal - 1.8 litre (R2A)
A suitable tool can be improvised using a narrow strip of metal sheet bent to form a circle of the correct diameter, and a large metal disc with appropriate holes drilled to allow the flywheel/driveplate securing bolts to pass through. Make sure that the seal lip faces into the engine and lightly smear the lip with clean engine oil.
4 Refit the flywheel/driveplate.
See also:
Engine coolant renewal (Every 36 000 miles (60 000 km) or 3 years)
Caution: Before proceeding, note the precautions given in Chapter 3, Section 1. 1 Disconnect the battery negative lead. 2 It is preferable to drain the cooling system with the engine cold. If thi ...
OHV and HCS engines
The 1.1 litre and 1.3 litre OHV engines are of four-cylinder, in-line overhead valve type (hence OHV), mounted transversely together with the transmission, at the front of the car. The crankshaft ...
Front brake disc pad check (Every 6000 miles or 6 months)
1 Place a mirror between the roadwheel and the caliper and check the thickness of the friction material of the disc pads (see illustration). If the material has worn down to the specified minimum ...