Crankshaft rear oil seal - renewal
1 Remove the flywheel/driveplate.
2 Prise out the oil seal. If necessary, drill the outer face of the oil seal and use self-tapping screws and a pair of grips to withdraw the seal (see illustration).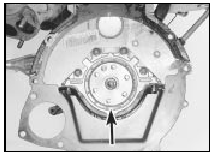 26.2 Crankshaft rear oil seal location (arrowed)
3 Clean the oil seal housing, then fit the new oil seal using two flywheel/driveplate securing bolts and a tool similar to that shown (see illustration).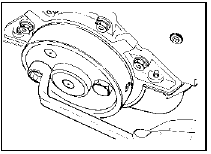 26.3 Using a special tool to fit the crankshaft rear oil seal - 1.8 litre (R2A)
A suitable tool can be improvised using a narrow strip of metal sheet bent to form a circle of the correct diameter, and a large metal disc with appropriate holes drilled to allow the flywheel/driveplate securing bolts to pass through. Make sure that the seal lip faces into the engine and lightly smear the lip with clean engine oil.
4 Refit the flywheel/driveplate.
See also:
Rear disc caliper - removal, overhaul and refitting
Note: Complete dismantling of the rear caliper should not be attempted unless Ford spring compressor (tool No 12-007) is available, or unless the problems likely to arise in the absence of the too ...
Door window regulator - removal and refitting
Removal 1 Remove the door inner trim panel. 2 Where necessary for improved access, peel back the waterproof plastic sheet from the door. 3 Lower the window until the lower support channel is vis ...
Rear disc splash shield - removal and refitting
Note: A suitable puller will be required to remove the drive flange, and a new rear hub nut must be used on reassembly. Caution: Refer to the precautions in Section 1. Removal 1 Loosen the rear ...