Coolant pump/alternator drivebelt tensioner (DOHC models with power steering) - removal and refitting
Removal
1 Remove the alternator drivebelt.
2 Loosen the alternator lower mounting through-bolt, then remove the alternator upper mounting bolt and swing the alternator away from the engine.
3 Unscrew the central securing bolt, and withdraw the drivebelt tensioner assembly (see illustration).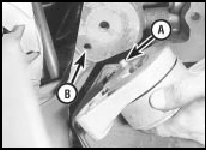 11.3 Withdrawing the coolant pump/alternator drivebelt tensioner assembly. Note lug (A) on tensioner which engages with hole (B) in mounting bracket
Refitting
4 Commence refitting by positioning the tensioner on the cylinder block, ensuring that the lug on the rear of the tensioner bracket engages with the corresponding hole in the cylinder block. Tighten the securing bolt.
5 Swing the alternator into position, to align the upper mounting bolt hole with the corresponding hole in the drivebelt tensioner assembly. Refit the upper mounting bolt, and tighten the upper bolt and lower through-bolt.
6 Fit the drivebelt by reversing the removal procedure, and release the tensioner to tension the drivebelt.
7 Observe the tensioner indicator, which should be central in its slot (see illustration).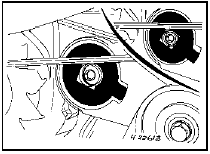 11.7 Alternator/coolant pump drivebelt tensioner indicator position Inset shows tensioner at maximum adjustment
See also:
Major body damage - repair
Where serious damage has occurred or large areas need renewal due to neglect, it means that completely new sections or panels will need welding in, and this is best left to professionals. If the d ...
Sump - removal and refitting
Note: New gaskets and sealing strips will be required for refitting, and sealing compound will be required to coat the gasket faces. Removal 1 If the engine is in the vehicle, proceed as follows, ...
Anti-lock Braking System - description
1 From 1986 onward an anti-lock braking system is available as standard or optional equipment on certain Escort models. 2 The system comprises four main components: two modulators, one for each b ...