Expansion tank and coolant level sensor - removal and refitting
Removal
1 With the engine cold, slowly unscrew the expansion tank cap to release any remaining pressure from the cooling system. Remove the cap.
2 Place a suitable container beneath the expansion tank.
3 Disconnect and plug the upper hose.
4 Where applicable, disconnect the coolant level sensor wiring plug.
5 Unscrew the expansion tank securing screws, and tilt the tank so that the coolant runs to the sealed end.
6 Disconnect and plug the lower hose.
7 Drain the expansion tank into the container and remove the tank.
8 Where applicable, the coolant level sensor can be removed from the tank by unscrewing the collar from the sensor, then withdrawing the spacer, sensor and seal (see illustration).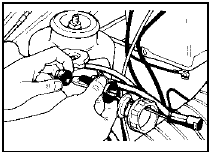 15.8a Removing the coolant level sensor from the expansion tank
Renew the seal if necessary. Note that the sensor can only be fitted in one position (see illustration).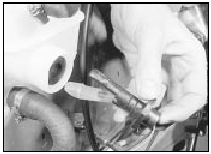 15.8b Fitting the coolant level sensor
Refitting
9 Refitting is a reversal of removal.
10 On completion, top-up the coolant level to the maximum mark, then refit the expansion tank cap and run the engine at a fast idling speed for several minutes. Check the expansion tank for leaks, then stop the engine and if necessary top-up the coolant level.
See also:
Final drive oil level check (Every 12 000 miles (20 000 km) or 12 months)
1 Check the final drive oil level as follows. 2 Position the vehicle over a pit, or raise it at front and rear on ramps or axle stands. The vehicle must be level. 3 Wipe clean around the final dri ...
Maintenance - bodywork, underside and fittings
The general condition of a vehicle's bodywork is the one thing that significantly affects its value. Maintenance is easy but needs to be regular. Neglect, particularly after minor damage, can lead ...
Rear suspension angles - general
The rear wheel toe and camber angles are set in production and do not require checking under normal service conditions. Of the two, only the toe setting can be adjusted, the camber angle being fix ...