Expansion tank and coolant level sensor - removal and refitting
Removal
1 With the engine cold, slowly unscrew the expansion tank cap to release any remaining pressure from the cooling system. Remove the cap.
2 Place a suitable container beneath the expansion tank.
3 Disconnect and plug the upper hose.
4 Where applicable, disconnect the coolant level sensor wiring plug.
5 Unscrew the expansion tank securing screws, and tilt the tank so that the coolant runs to the sealed end.
6 Disconnect and plug the lower hose.
7 Drain the expansion tank into the container and remove the tank.
8 Where applicable, the coolant level sensor can be removed from the tank by unscrewing the collar from the sensor, then withdrawing the spacer, sensor and seal (see illustration).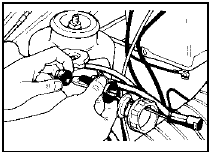 15.8a Removing the coolant level sensor from the expansion tank
Renew the seal if necessary. Note that the sensor can only be fitted in one position (see illustration).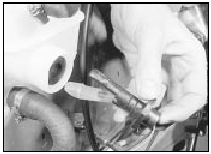 15.8b Fitting the coolant level sensor
Refitting
9 Refitting is a reversal of removal.
10 On completion, top-up the coolant level to the maximum mark, then refit the expansion tank cap and run the engine at a fast idling speed for several minutes. Check the expansion tank for leaks, then stop the engine and if necessary top-up the coolant level.
See also:
Throttle cable - removal, refitting and adjustment
Removal 1 Disconnect the battery negative lead. 2 Working inside the vehicle, remove the lower facia panel from the driverís side. 3 Prise off the securing clip and disconnect the end of the thro ...
Vehicle Identification Numbers
Modifications are a continuing and unpublicised process in vehicle manufacture, quite apart from major model changes. Spare parts manuals and lists are compiled upon a numerical basis, the individ ...
Auxiliary warning system components - removal and refitting
General 1 This system monitors the fluid levels and front brake pads for excessive wear. In the event of a fluid level dropping below the specified level, or the brake pads wearing down to the mi ...