Load apportioning valve P100 models) - removal and refitting
Caution: Refer to the precautions in Section 1.
Removal
1 Chock the front wheels, jack up the rear of the vehicle and support on axle stands (see "Jacking and Vehicle Support").
2 The load apportioning valve is located on the right-hand side of the vehicle underbody above the axle.
3 Remove the spring clip and clevis pin, and detach the spring from the valve operating lever (see illustration).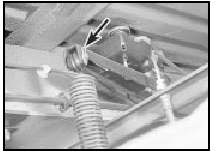 24.3 Remove the spring clip (arrowed) and clevis pin from the valve operating lever
4 Place a suitable container beneath the valve to catch spilt fluid, then unscrew the union nuts and disconnect the fluid pipes.
Plug the open ends of the pipes and valve to prevent fluid leakage and dirt ingress.
5 Unscrew the three securing nuts and bolts from the valve mounting bracket, and remove the valve assembly (see illustration).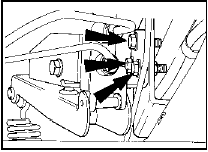 24.5 Load apportioning valve securing bolts (arrowed)
Refitting
6 Refitting is a reversal of removal, but note that the fluid inlet pipe from the master cylinder must be connected to the lower valve port, and the fluid outlet pipe to the rear brakes must be connected to the upper valve port.
7 On completion, bleed the rear hydraulic circuit and check the valve adjustment.
See also:
Fuel pressure regulator - removal and refitting
Removal 1 Remove the CFI unit as described in Section 8. 2 Remove the four screws securing the regulator housing to the CFI unit, then carefully lift off the housing and recover the ball, cup, la ...
Fuel filler flap - removal and refitting
Removal 1 Open the filler flap and the tailgate or boot lid, as applicable. 2 Remove the fuel filler cap and then remove the screw securing the filler housing to the fuel tank neck (see illustrat ...
Weber 2V carburettor automatic choke unit - adjustment
XR3 models 1 Remove the air cleaner as described in Section 2. 2 Disconnect the electrical lead to the automatic choke. 3 Unscrew and remove the three screws which hold the automatic choke housi ...