Rear anti-roll bar (Saloon, Hatchback and Estate models) - removal and refitting
Removal
1 Loosen the rear roadwheel nuts, chock the front wheels, jack up the rear of the vehicle and support on axle stands placed under the side members.
2 Prise off the straps which connect the anti-roll bar to the suspension lower arms (see illustration).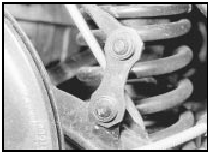 17.2 Anti-roll bar-to-lower arm connecting strap
3 Unbolt the two securing brackets from the underbody, and remove the anti-roll bar (see illustration).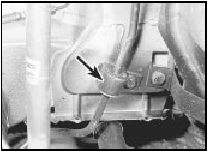 17.3 Anti-roll bar-to-underbody securing bracket
4 The connecting straps can be prised from the ends of the anti-roll bar, and the underbody mounting brackets and rubbers, which are of a split design, can be pulled off.
5 When fitting new mounting components, lubricate the rubber parts with soapy water to ease assembly.
Refitting
6 Refitting is a reversal of removal. Tighten the anti-roll bar-to-underbody securing bolts to the specified torque.
See also:
Anti-lock Braking System - description
1 From 1986 onward an anti-lock braking system is available as standard or optional equipment on certain Escort models. 2 The system comprises four main components: two modulators, one for each b ...
Crankshaft front oil seal - renewal
1.8 litre (R2A type) 1 Remove the timing belt and the crankshaft sprocket and thrustwasher. 2 Withdraw the oil seal using an oil seal removal tool or by drilling the oil seal outer face and using ...
Underbonnet lamp - removal, refitting and bulb renewal
1 Disconnect the battery negative lead. Removal and refitting 2 Detach the wiring connector at the left-hand bonnet hinge, and attach a length of string to the end of the wire running from the lam ...