Rear anti-roll bar (Saloon, Hatchback and Estate models) - removal and refitting
Removal
1 Loosen the rear roadwheel nuts, chock the front wheels, jack up the rear of the vehicle and support on axle stands placed under the side members.
2 Prise off the straps which connect the anti-roll bar to the suspension lower arms (see illustration).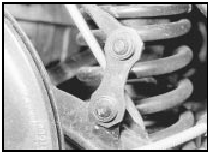 17.2 Anti-roll bar-to-lower arm connecting strap
3 Unbolt the two securing brackets from the underbody, and remove the anti-roll bar (see illustration).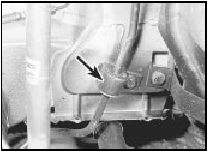 17.3 Anti-roll bar-to-underbody securing bracket
4 The connecting straps can be prised from the ends of the anti-roll bar, and the underbody mounting brackets and rubbers, which are of a split design, can be pulled off.
5 When fitting new mounting components, lubricate the rubber parts with soapy water to ease assembly.
Refitting
6 Refitting is a reversal of removal. Tighten the anti-roll bar-to-underbody securing bolts to the specified torque.
See also:
Inlet manifold - removal and refitting
Caution: Refer to the precautions in Section 1 before proceeding. Note: A tachometer and an exhaust gas analyser will be required to check the idle mixture on completion. A new gasket must be us ...
Cylinder head and pistons - decarbonising
OHV engines 1 With the cylinder head removed (Section 4), the carbon deposits should be removed from the combustion spaces using a scraper and a wire brush fitted into an electric drill. Take care ...
Headlamps and auxiliary lamps - beam alignment
The headlamps are adjustable individually for both horizontal and vertical alignment from within the engine compartment. The auxiliary lamp adjustment is carried out by slackening the lamp mountin ...