Door window regulator - removal and refitting
Removal
1 Remove the door inner trim panel.
2 Where necessary for improved access, peel back the waterproof plastic sheet from the door.
3 Lower the window until the lower support channel is visible through the lower door aperture. Prise the regulator arms from the sockets in the support channel, then lower the window to the bottom of the door (see illustration).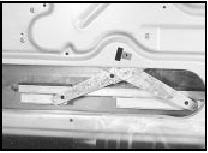 28.3 Front door window lower support channel and regulator arms
4 Drill out the four rivets securing the regulator assembly to the inner door skin, and if working on a front door, drill out the two rivets securing the regulator guide (see illustration).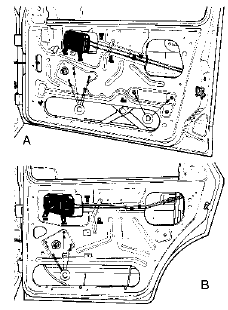 28.4 Door window regulator fixings
A Front door
B Rear door
C Regulator assembly securing rivets D Regulator guide rivets
5 On models with electric windows, disconnect the motor wiring plug after disconnecting the battery negative lead.
Removal and refitting of the motor is described in Chapter 13.
6 Withdraw the regulator assembly through the lower door aperture.
Refitting
7 Refitting is a reversal of removal, but fit new rivets, using a hand riveter.
See also:
Handbrake lever - removal and refitting
Removal 1 Chock the front wheels, raise and support the vehicle at the rear using stands (see "Jacking and Vehicle Support") then release the handbrake. 2 Working underneath, extract the spring c ...
Speedometer cable - removal and refitting
Removal 1 On models fitted with a trip computer, remove the speed sender unit. 2 Remove the instrument panel. 3 Pull the cable through the bulkhead into the engine compartment, and where applicab ...
Interior pillar trim panels - removal and refitting
Front pillar 1 Remove the two trim panel securing screws and withdraw the panel (see illustration).. 41.1 Interior pillar trim panel fixings - Hatchback models A Front pillar trim panel B1 Cent ...