Electric window components - removal and refitting
1 Disconnect the battery negative lead.
Switches
2 Prise the switch from its location using a thin-bladed screwdriver, and disconnect the wiring plug (see illustration).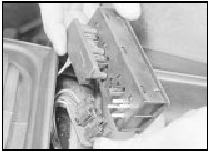 49.2 Disconnecting the wiring plug from a centre console-mounted electric window switch - models from 1987
3 Refitting is a reversal of removal.
Operating motors
4 Remove the window regulator.
5 Remove the three securing bolts, and withdraw the motor from the regulator assembly (see illustration).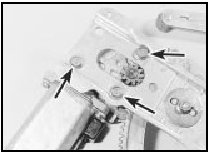 49.5 Electric window motor securing bolts (arrowed)
6 Refitting is a reversal of removal, but ensure that the drive gear is correctly meshed with the regulator.
See also:
Seating
Notes: Reclining the seatback can cause an occupant to slide under the seat's safety belt, resulting in severe personal injuries in the event of a collision. Do not pile cargo higher than the seat ...
Interior mirror - removal and refitting
Removal 1 The interior mirror is bonded to the windscreen glass. If it must be removed, grip the mirror firmly and push it forward to break the adhesive bond. 2 When refitting the mirror, the fol ...
Idle speed and mixture adjustment (Every 6000 miles or 6 months)
Caution: Certain adjustment points in the fuel system are protected by "tamperproof" caps, plugs or seals. In some EEC countries (though not yet in the UK) it is an offence to drive a vehicle wit ...