Electric window components - removal and refitting
1 Disconnect the battery negative lead.
Switches
2 Prise the switch from its location using a thin-bladed screwdriver, and disconnect the wiring plug (see illustration).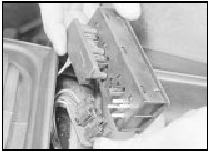 49.2 Disconnecting the wiring plug from a centre console-mounted electric window switch - models from 1987
3 Refitting is a reversal of removal.
Operating motors
4 Remove the window regulator.
5 Remove the three securing bolts, and withdraw the motor from the regulator assembly (see illustration).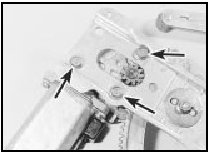 49.5 Electric window motor securing bolts (arrowed)
6 Refitting is a reversal of removal, but ensure that the drive gear is correctly meshed with the regulator.
See also:
Headlamps - alignment
1 It is recommended that the headlamp alignment is carried out by a Ford dealer using specialist beam setting equipment. However, in an emergency the following procedure will provide an acceptable ...
Tailgate/boot lid lock and cylinder - removal and refitting
Removal 1 Remove the trim panel as described in Section 32. 2 Extract the lock cylinder retaining clip, disconnect the control rods and remove the cylinder. 3 Undo the three screws and detach th ...
General information and precautions
The fuel system on all models with carburettor induction is composed of a centrally mounted fuel tank, a fuel pump, a carburettor and an air cleaner. The fuel tank is mounted under the floor pan ...