Wiring diagrams
Notes, tables, wire colours and key to wiring diagrams. Models up to 1987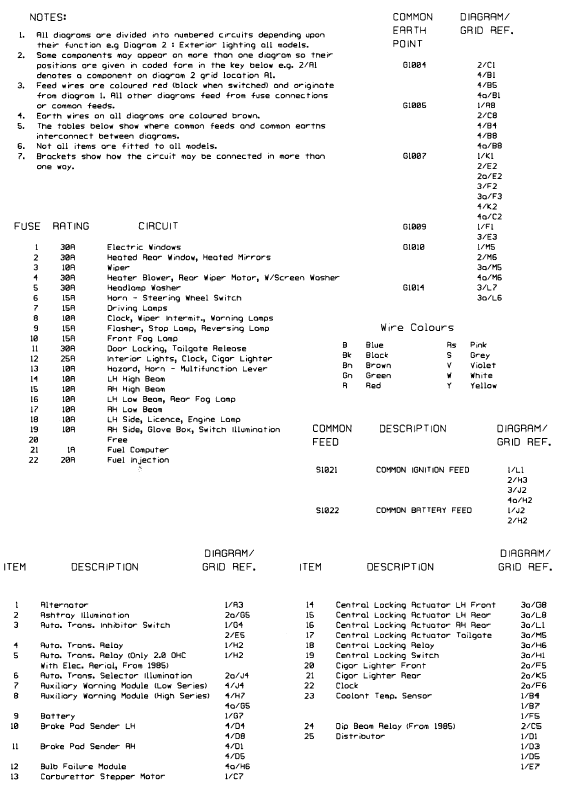 Notes, tables, wire colours and key to wiring diagrams. Models up to 1987
Key to wiring diagrams (continued). Models up to 1987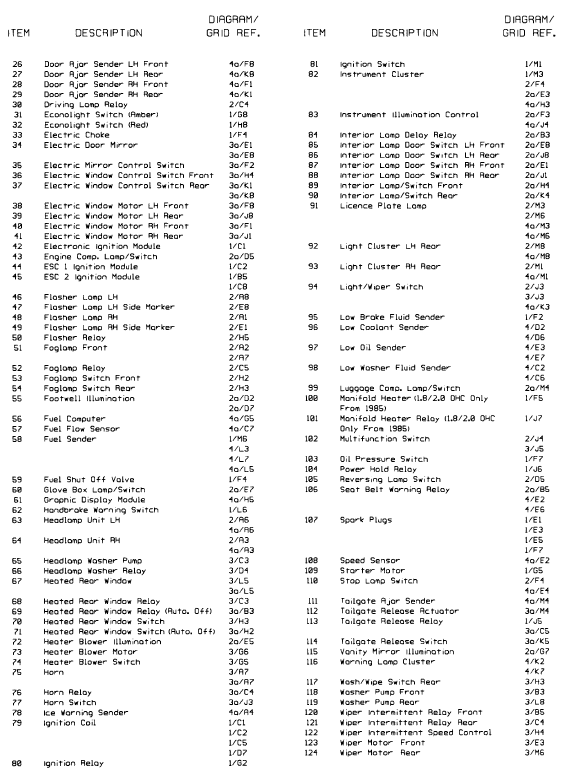 Key to wiring diagrams (continued). Models up to 1987
Internal connection details. Models up to 1987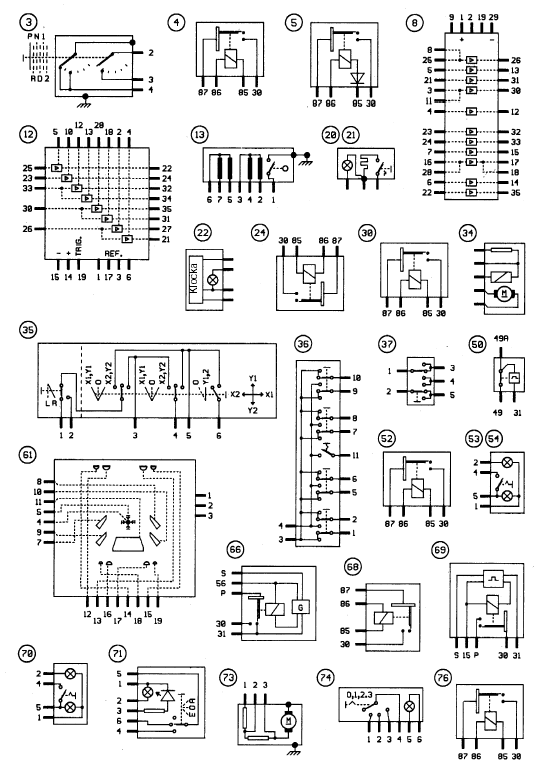 Internal connection details. Models up to 1987
Internal connection details (continued). Models up to 1987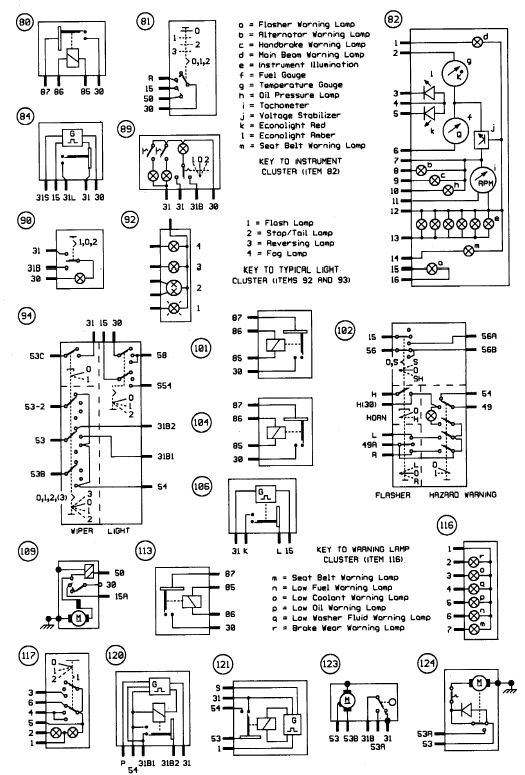 Internal connection details (continued). Models up to 1987
Diagram 1. Starting, charging and ignition (except fuel injection). Models up to 1987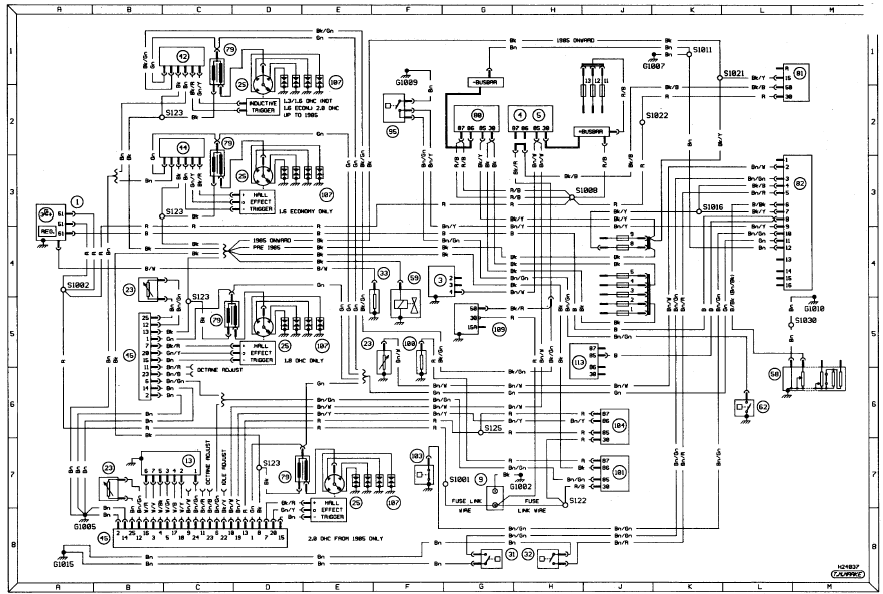 Diagram 1. Starting, charging and ignition (except fuel injection). Models up to 1987
Diagram 2. Exterior lighting. Models up to 1987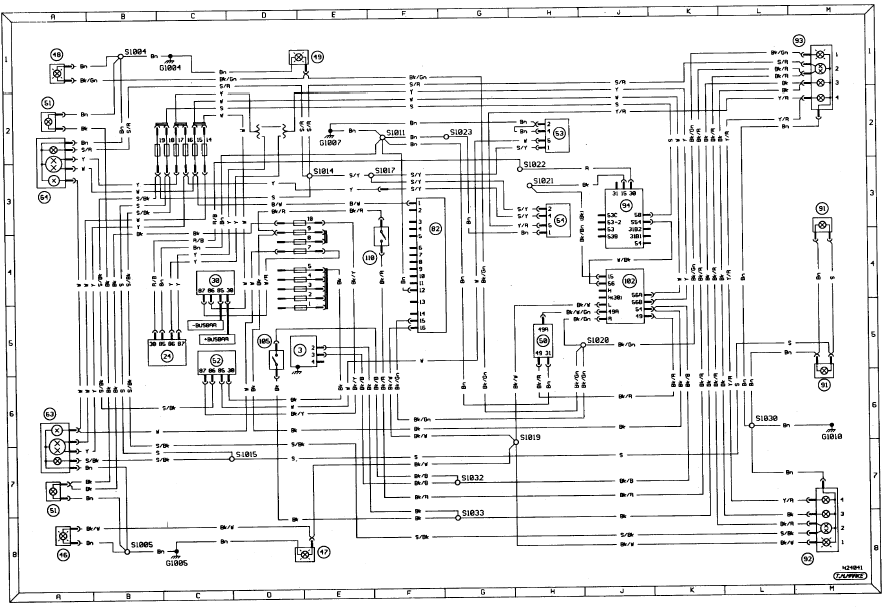 Diagram 2. Exterior lighting. Models up to 1987
Diagram 2a. Interior lighting. Models up to 1987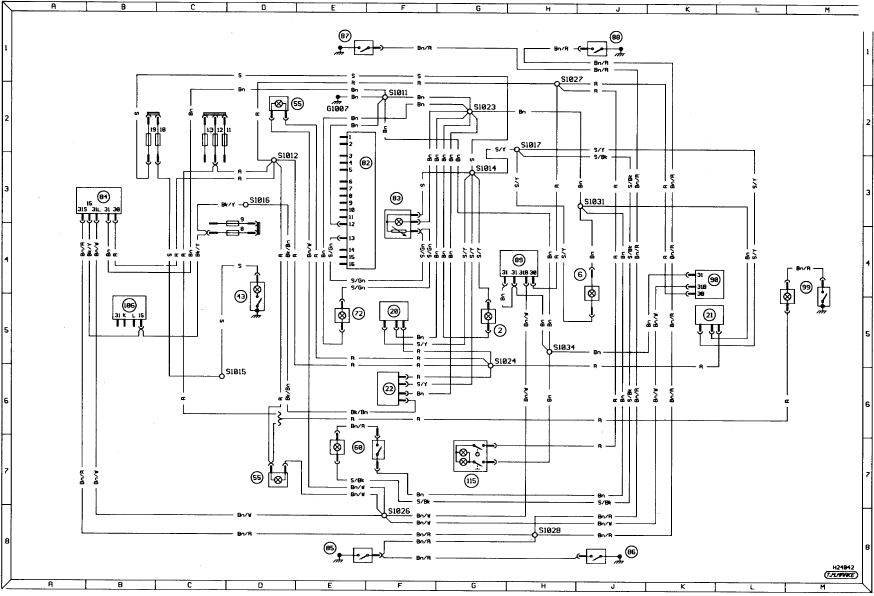 Diagram 2a. Interior lighting. Models up to 1987
Diagram 3. Ancillary circuits (low series). Models up to 1987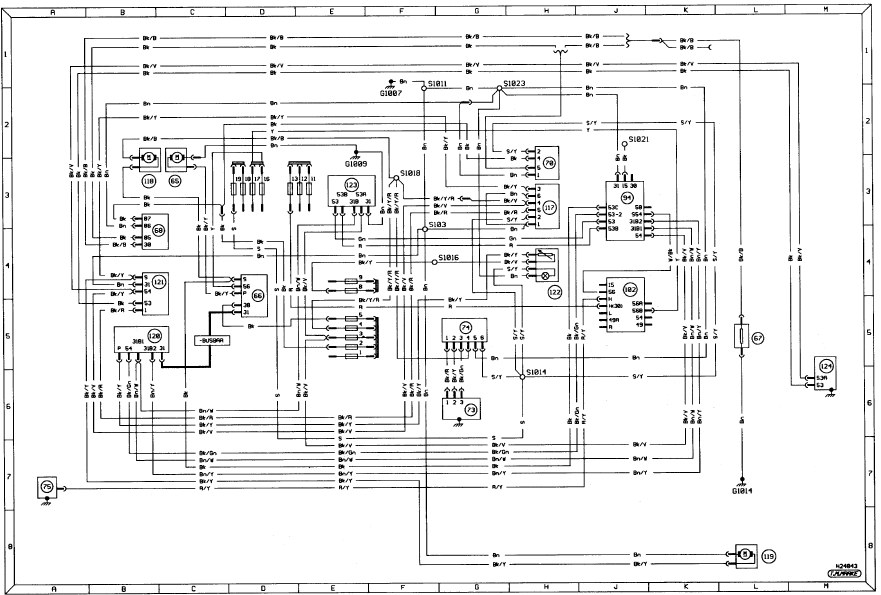 Diagram 3. Ancillary circuits (low series). Models up to 1987
Diagram 3a. Additional ancillary circuits (high series only). Models up to 1987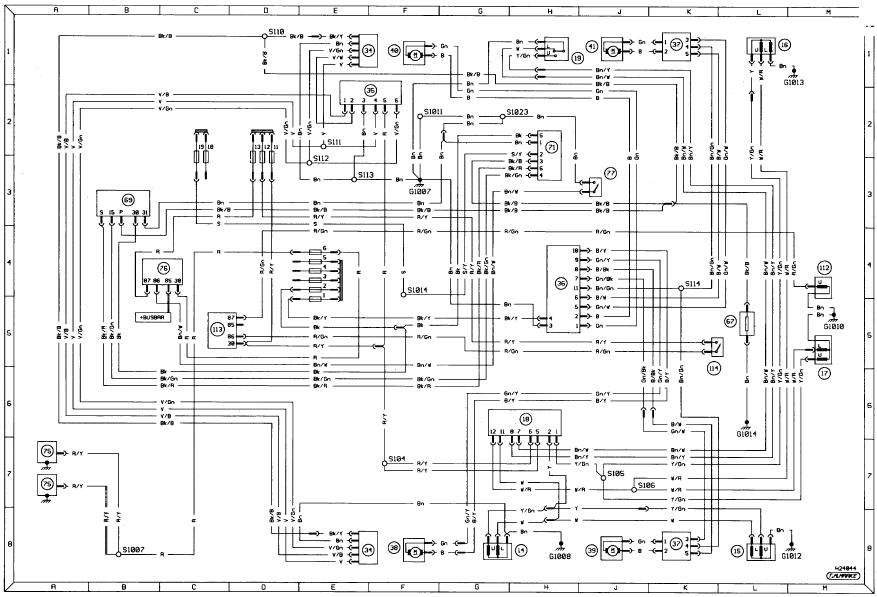 Diagram 3a. Additional ancillary circuits (high series only). Models up to 1987
Diagram 4. Auxiliary warning system. Models up to 1987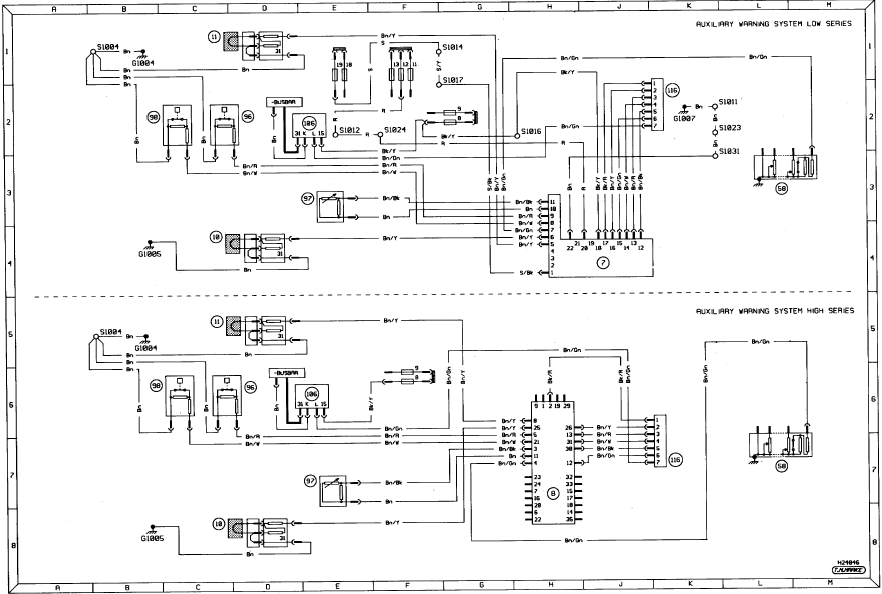 Diagram 4. Auxiliary warning system. Models up to 1987
Diagram 4a. Graphic display system and fuel computer. Models up to 1987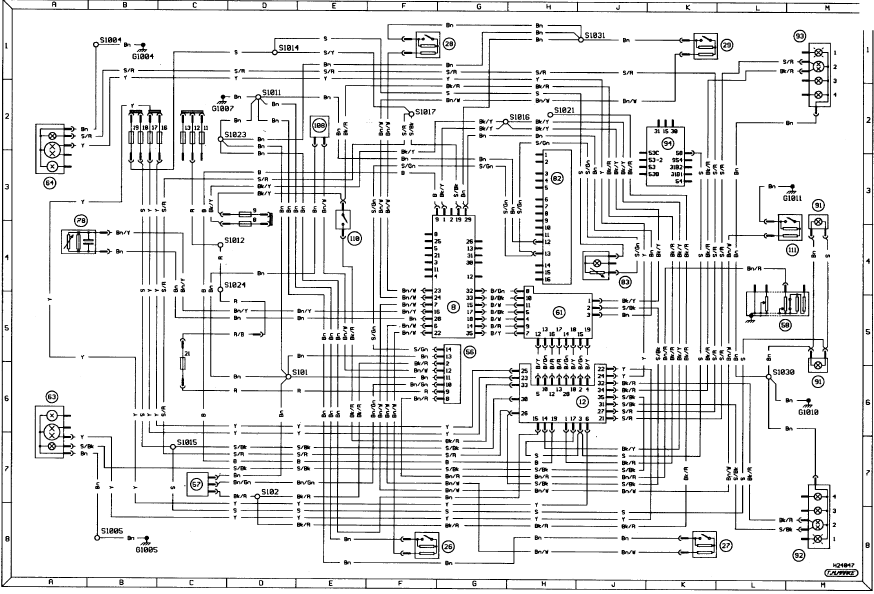 Diagram 4a. Graphic display system and fuel computer. Models up to 1987
Notes, tables, wire colours and key to symbols on wiring diagrams. Models from 1987 to May 1989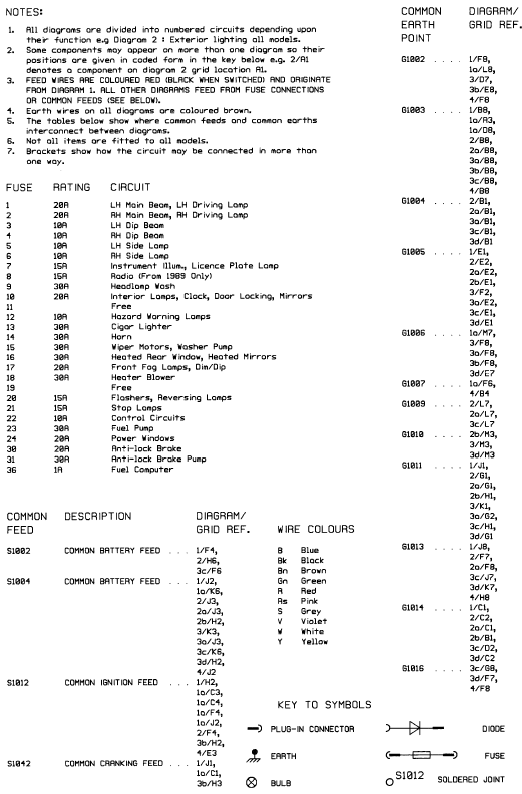 Notes, tables, wire colours and key to symbols on wiring diagrams. Models from 1987 to May 1989
Key to wiring diagrams. Models from 1987 to May 1989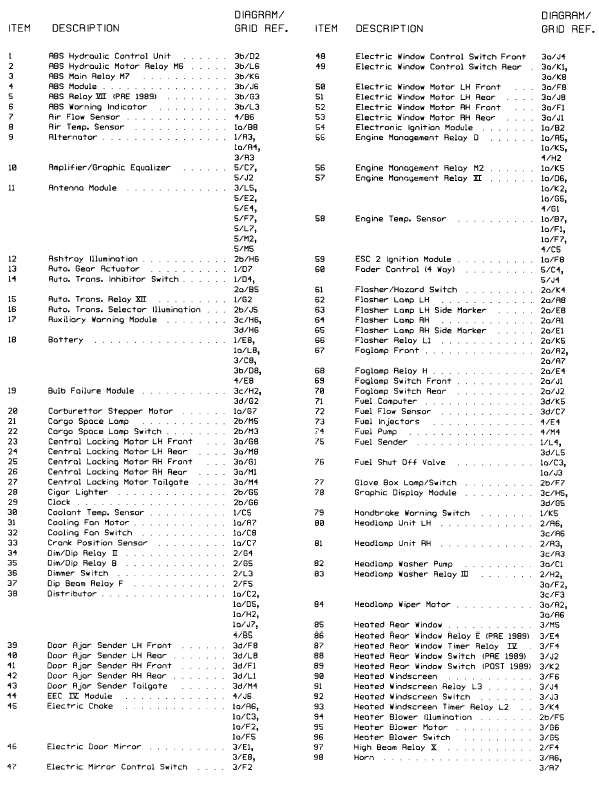 Key to wiring diagrams. Models from 1987 to May 1989
Key to wiring diagrams (continued). Models from 1987 to May 1989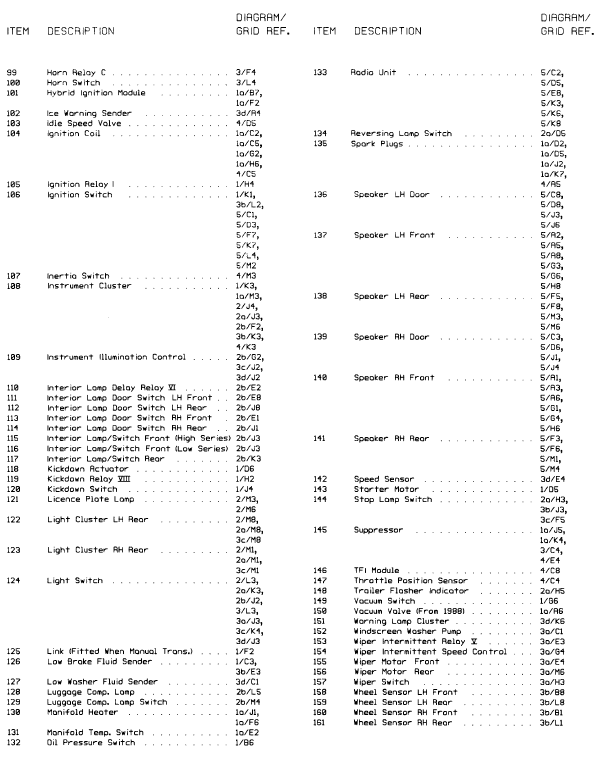 Key to wiring diagrams (continued). Models from 1987 to May 1989
Internal connection details. Models from 1987 to May 1989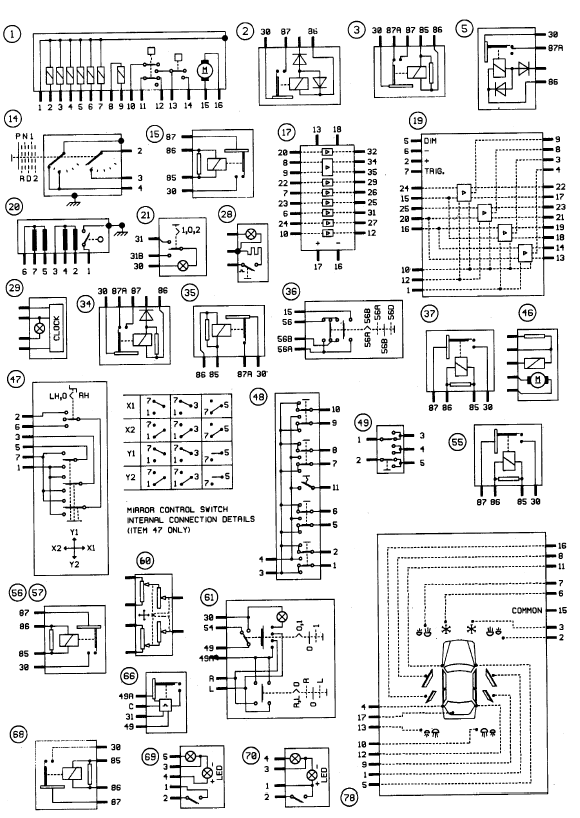 Internal connection details. Models from 1987 to May 1989
Internal connection details (continued). Models from 1987 to May 1989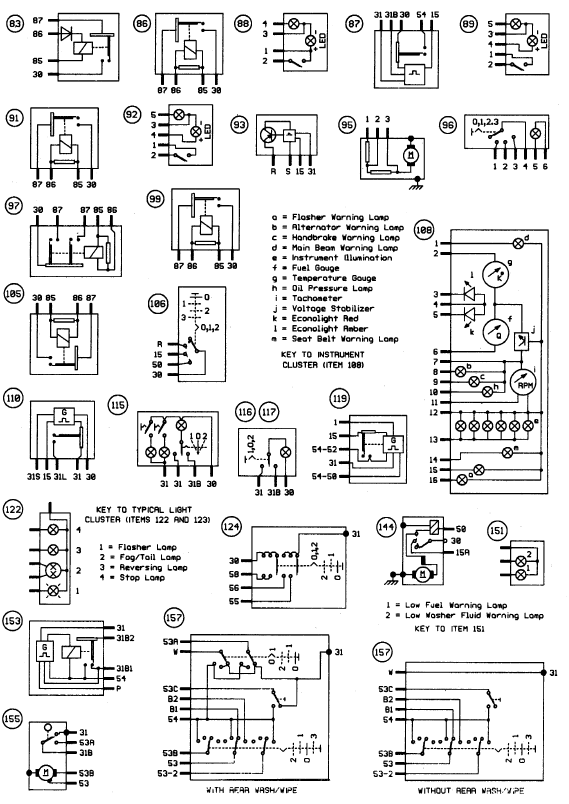 Internal connection details (continued). Models from 1987 to May 1989
Diagram 1. Starting, charging and warning lamps. Models from May 1987 to May 1989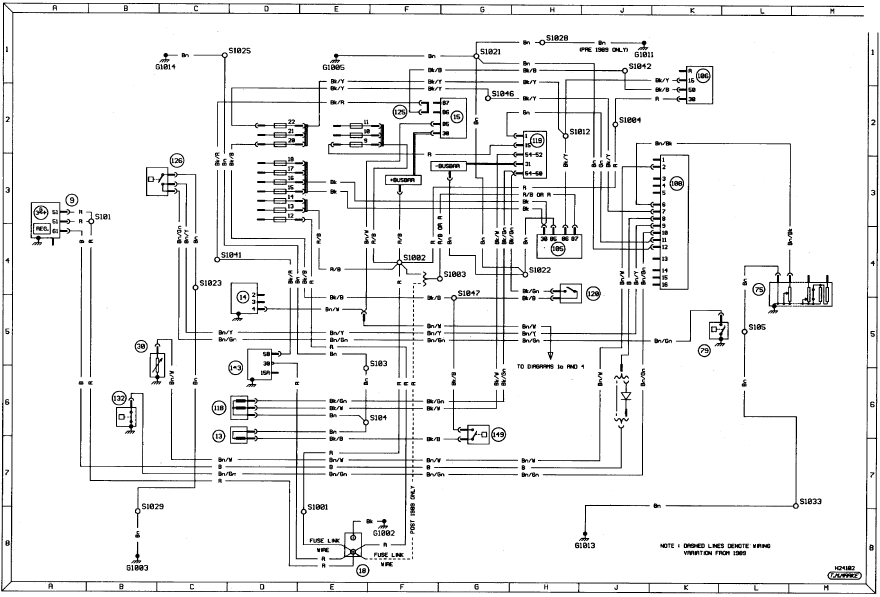 Diagram 1. Starting, charging and warning lamps. Models from May 1987 to May 1989
Diagram 1a. Ignition variations. Carburettor models from 1987 to May 1989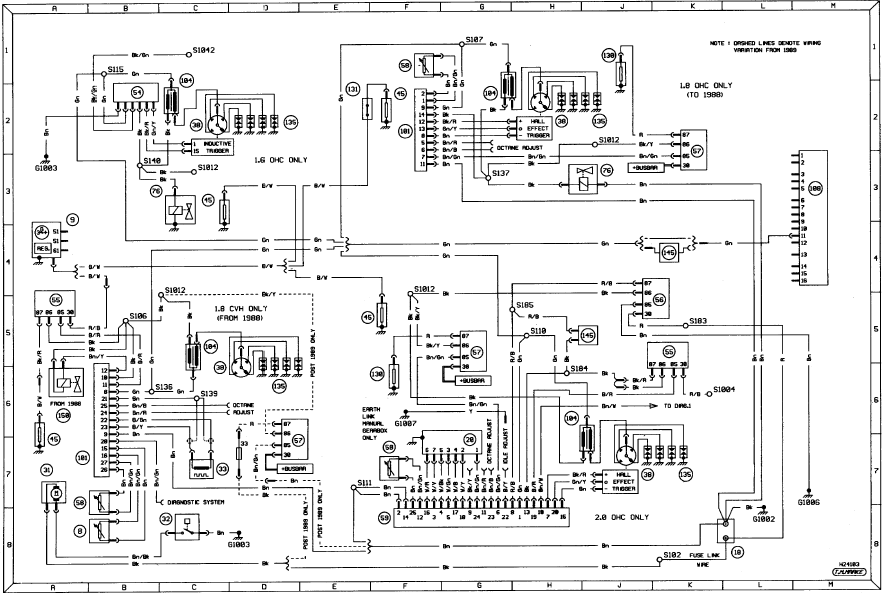 Diagram 1a. Ignition variations. Carburettor models from 1987 to May 1989
Diagram 2. Exterior lighting - head/sidelamps. Models from 1987 to May 1989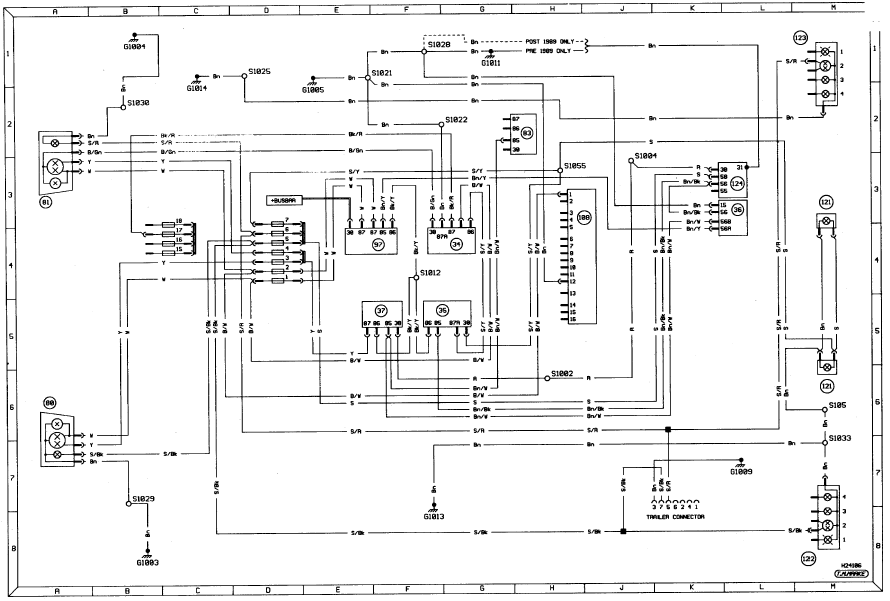 Diagram 2. Exterior lighting - head/sidelamps. Models from 1987 to May 1989
Diagram 2a. Exterior lighting - signal warning lamps. Models from 1987 to May 1989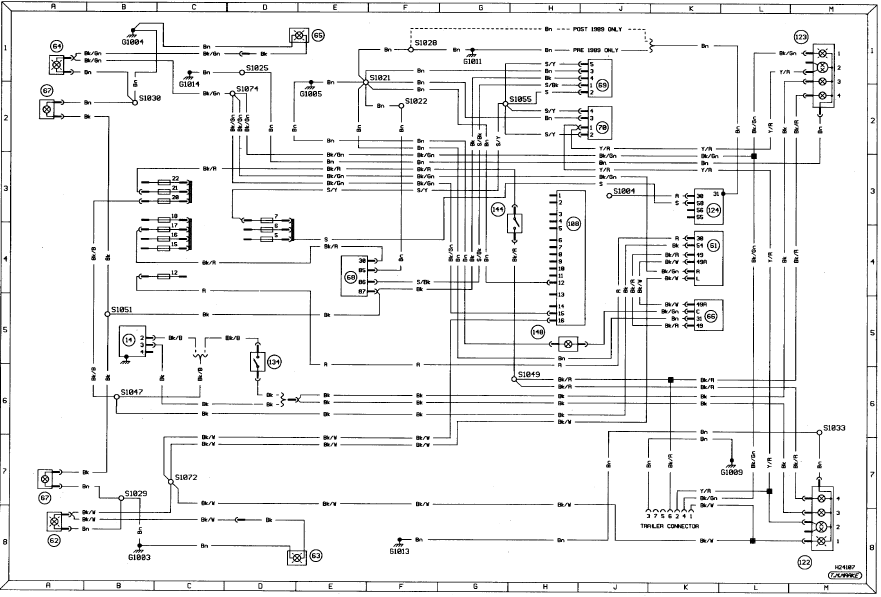 Diagram 2a. Exterior lighting - signal warning lamps. Models from 1987 to May 1989
Diagram 2b. Interior lighting. Models from 1987 to May 1989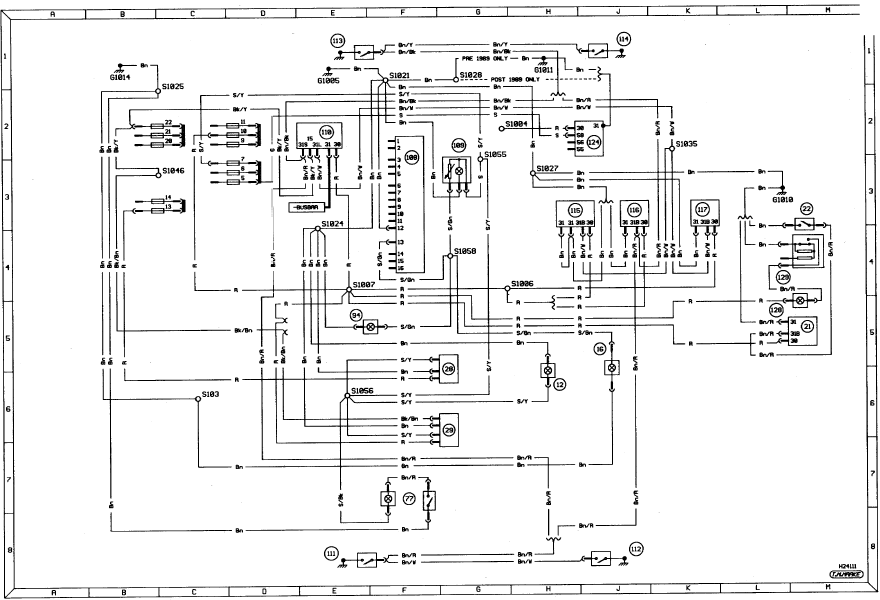 Diagram 2b. Interior lighting. Models from 1987 to May 1989
Diagram 3. Ancillary circuits - horn, heater blower, heated mirrors and screens. Models from 1987 to May 1989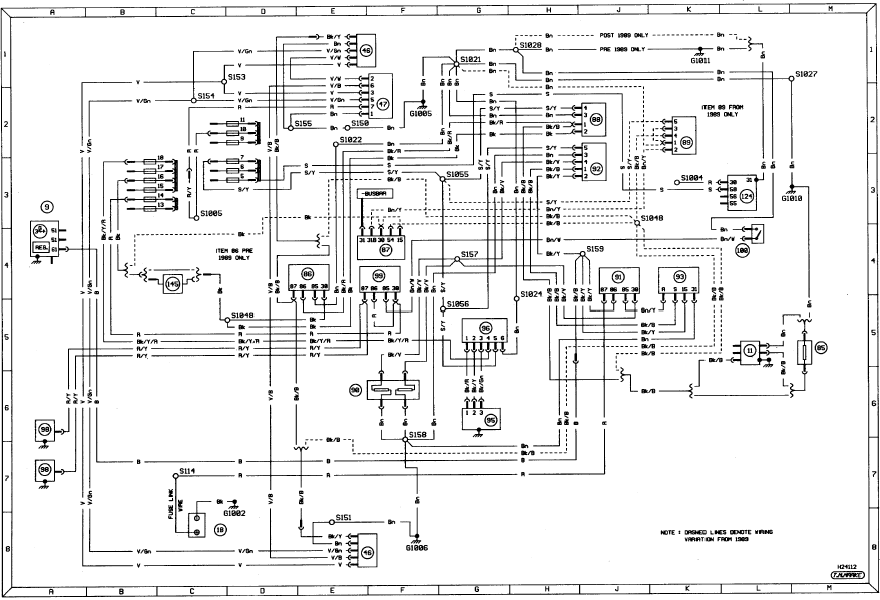 Diagram 3. Ancillary circuits - horn, heater blower, heated mirrors and screens. Models from 1987 to May 1989
Diagram 3a. Ancillary circuits - wash/wipe, central locking and electric windows. Models from 1987 to May 1989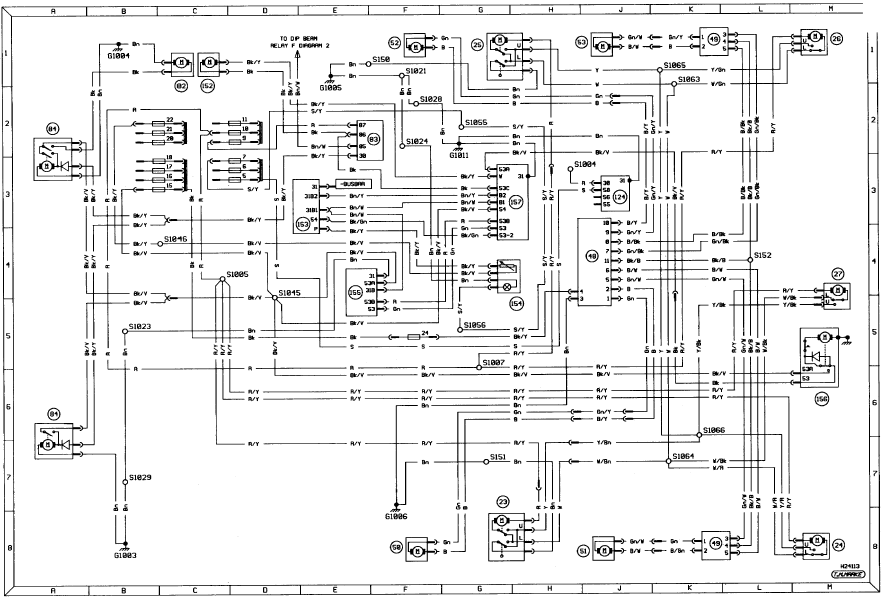 Diagram 3a. Ancillary circuits - wash/wipe, central locking and electric windows. Models from 1987 to May 1989
Diagram 3b. Anti-lock braking system. Models from 1987 to May 1989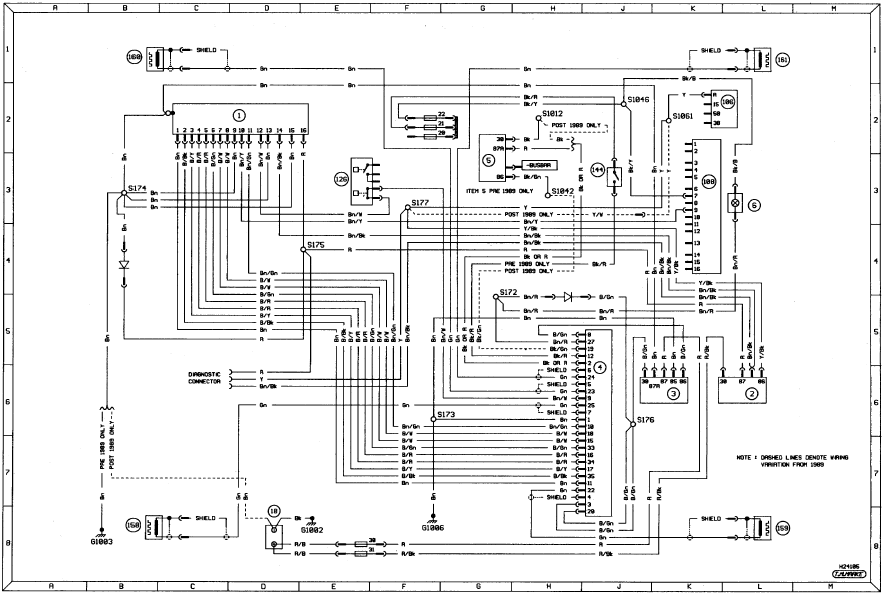 Diagram 3b. Anti-lock braking system. Models from 1987 to May 1989
Diagram 3c. Graphic display system - bulb failure. Models from 1987 to May 1989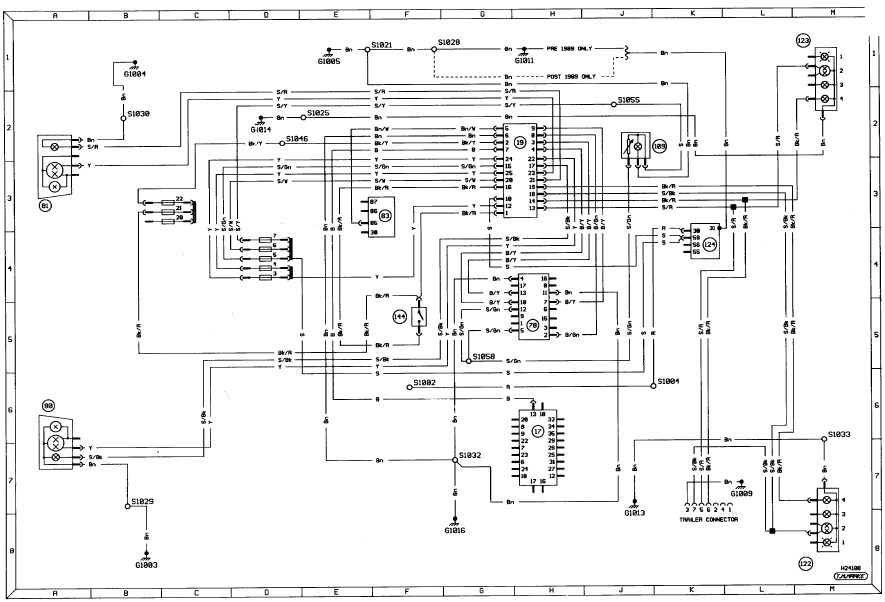 Diagram 3c. Graphic display system - bulb failure. Models from 1987 to May 1989
Diagram 3d. Graphic display system - auxiliary warning, door ajar and fuel computer. Models from 1987 to May 1989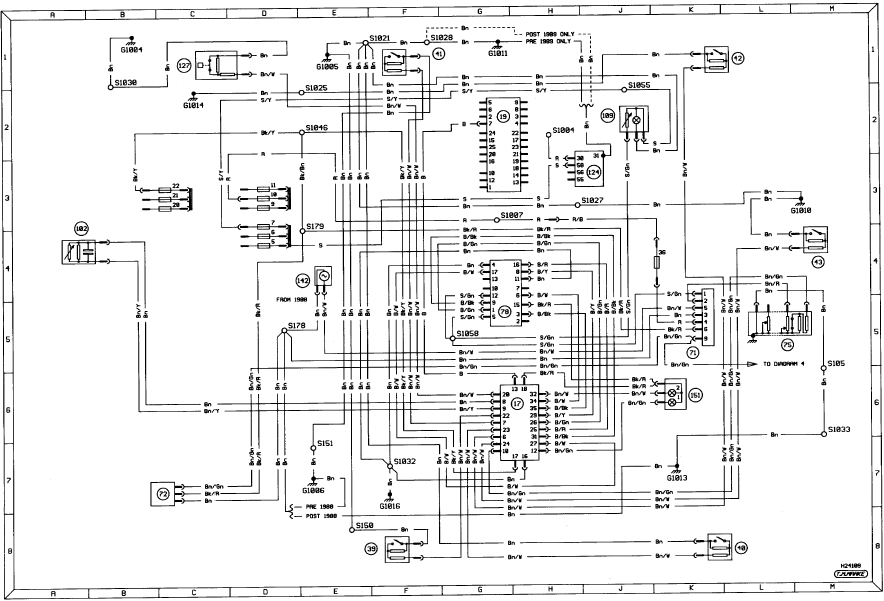 Diagram 3d. Graphic display system - auxiliary warning, door ajar and fuel computer. Models from 1987 to May 1989
Diagram 4. 2.0 Efi fuel injection and ignition. Models from 1987 to May 1989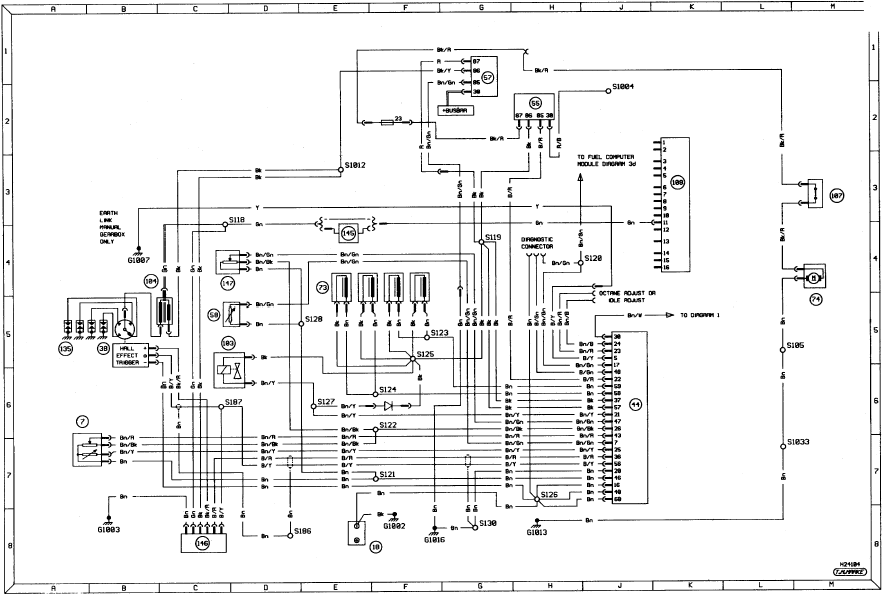 Diagram 4. 2.0 Efi fuel injection and ignition. Models from 1987 to May 1989
Diagram 5. In-car entertainment. Models from 1987 to May 1989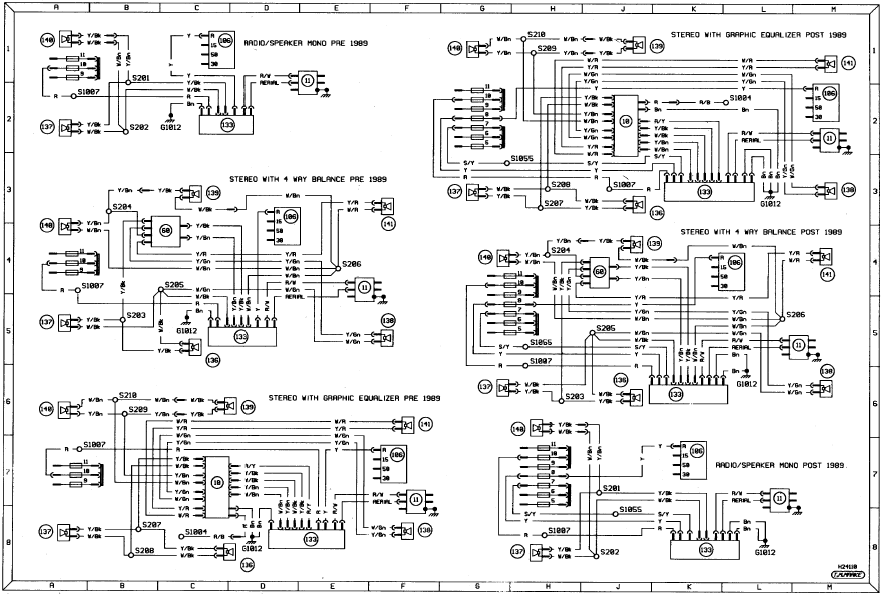 Diagram 5. In-car entertainment. Models from 1987 to May 1989
Notes, tables, wire colours and key to symbols on wiring diagrams. Models from 1990 onwards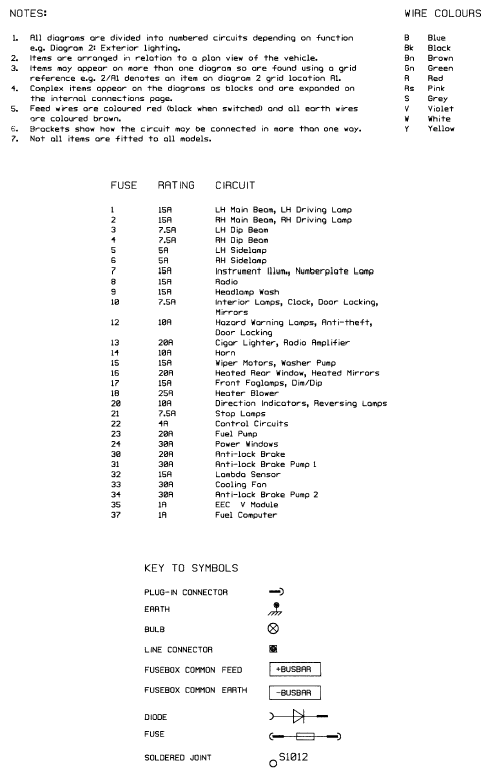 Notes, tables, wire colours and key to symbols on wiring diagrams. Models from 1990 onwards
Key to wiring diagrams. Models from 1990 onwards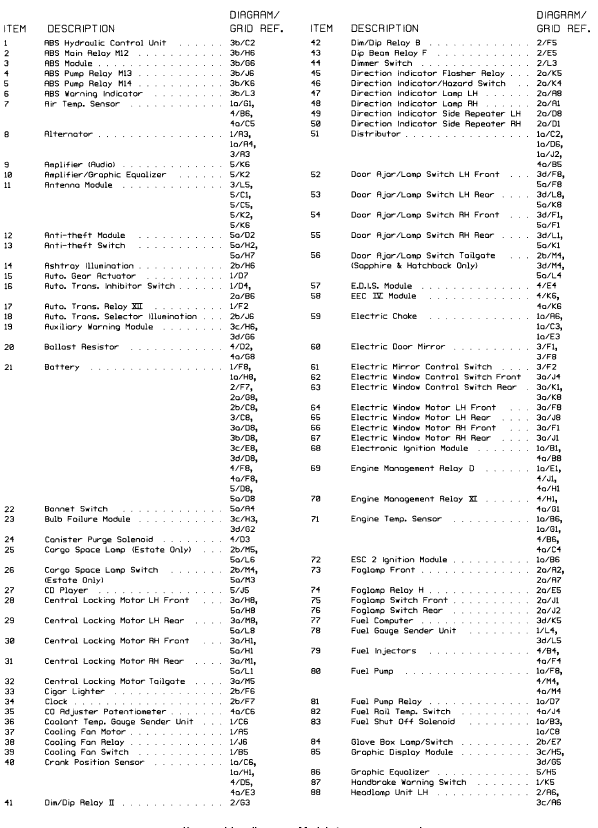 Key to wiring diagrams. Models from 1990 onwards
Key to wiring diagrams (continued). Models from 1990 onwards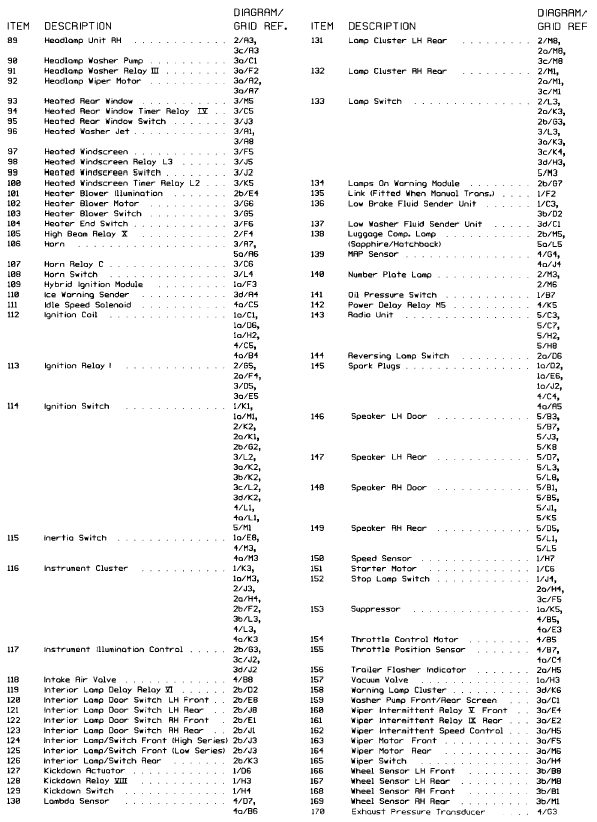 Key to wiring diagrams (continued). Models from 1990 onwards
Internal connection details. Models from 1990 onwards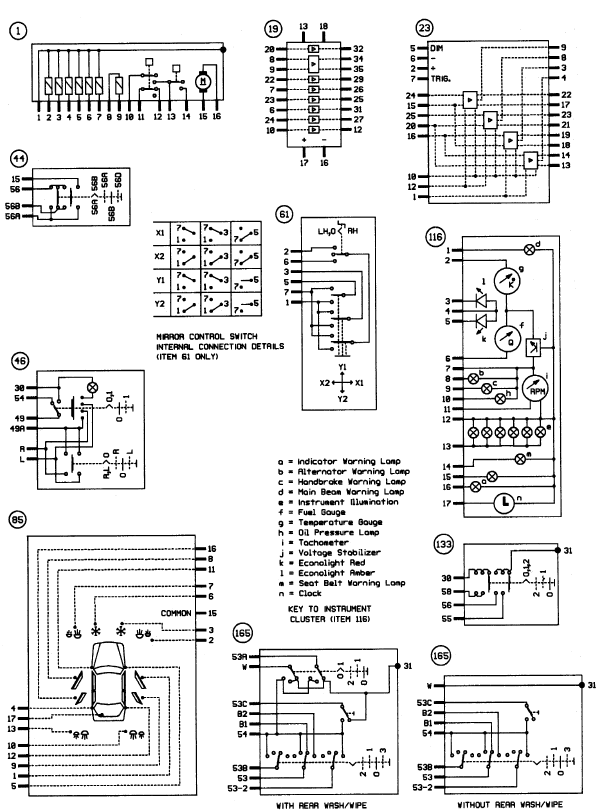 Internal connection details. Models from 1990 onwards
Diagram 1. Starting, charging automatic transmission and warning lamps. Models from 1990 onwards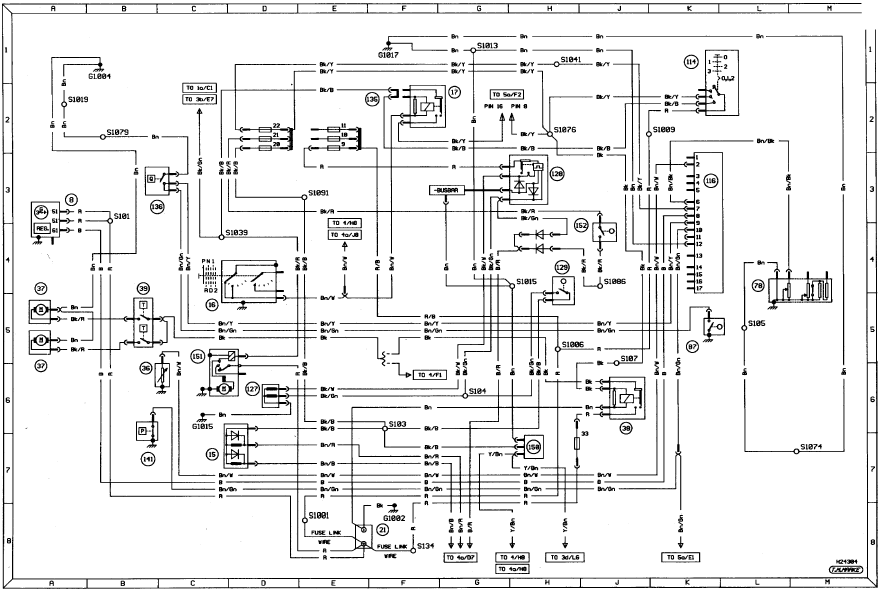 Diagram 1. Starting, charging automatic transmission and warning lamps. Models from 1990 onwards
Diagram 1a. Ignition system for all carburettor models. Models from 1990 onwards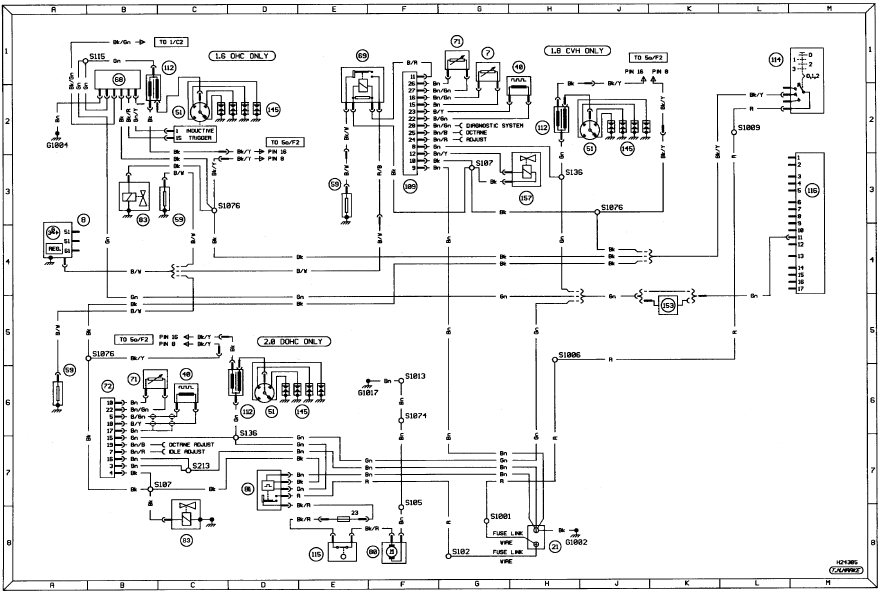 Diagram 1a. Ignition system for all carburettor models. Models from 1990 onwards
Diagram 2. Exterior lighting - head/sidelamps. Models from 1990 onwards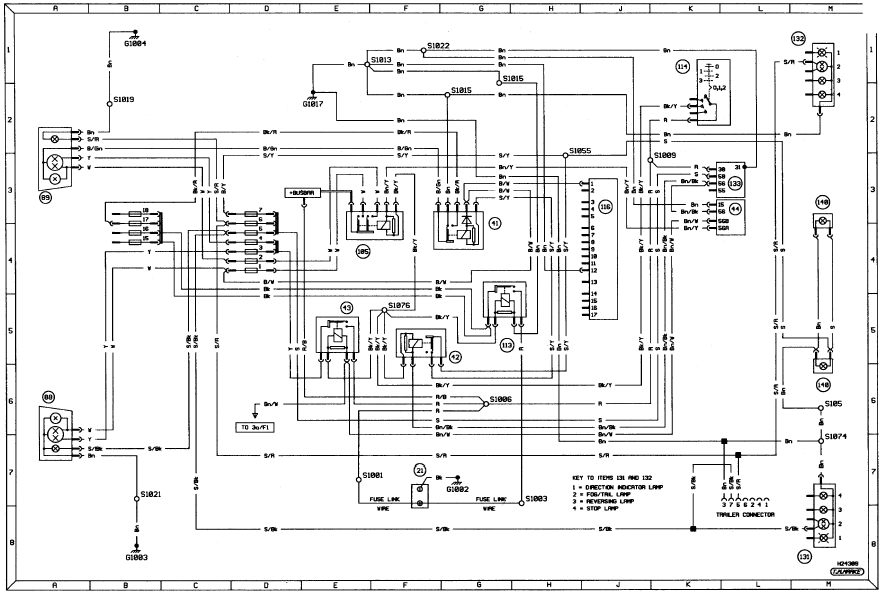 Diagram 2. Exterior lighting - head/sidelamps. Models from 1990 onwards
Diagram 2a. Exterior lighting - signal warning lamps. Models from 1990 onwards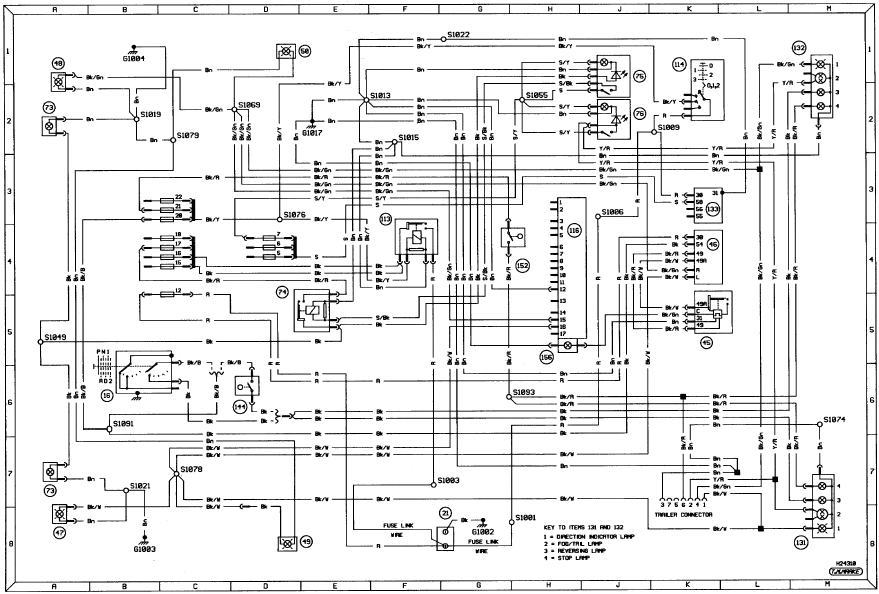 Diagram 2a. Exterior lighting - signal warning lamps. Models from 1990 onwards
Diagram 2b. Interior lighting. Models from 1990 onwards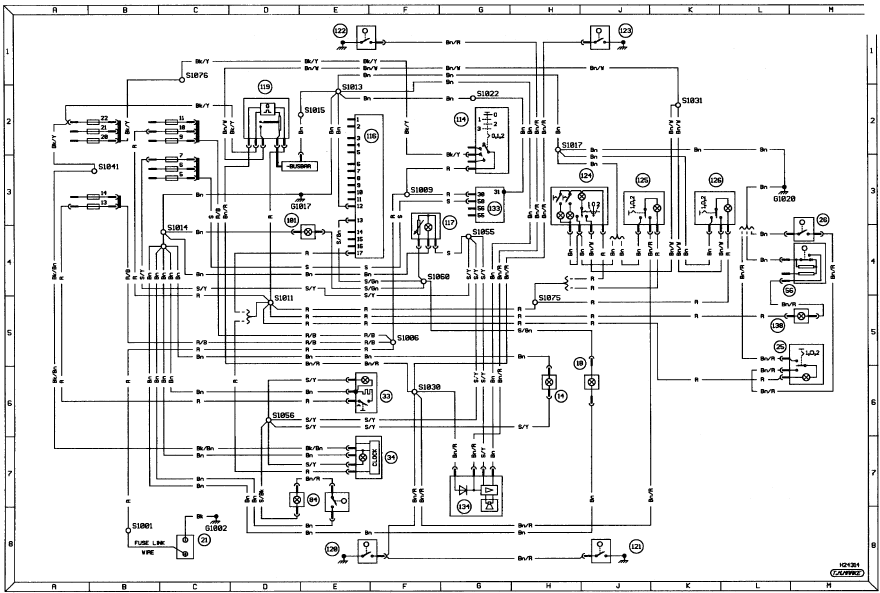 Diagram 2b. Interior lighting. Models from 1990 onwards
Diagram 3. Ancillary circuits - horn, heater blower, heated mirrors and screens. Models from 1990 onwards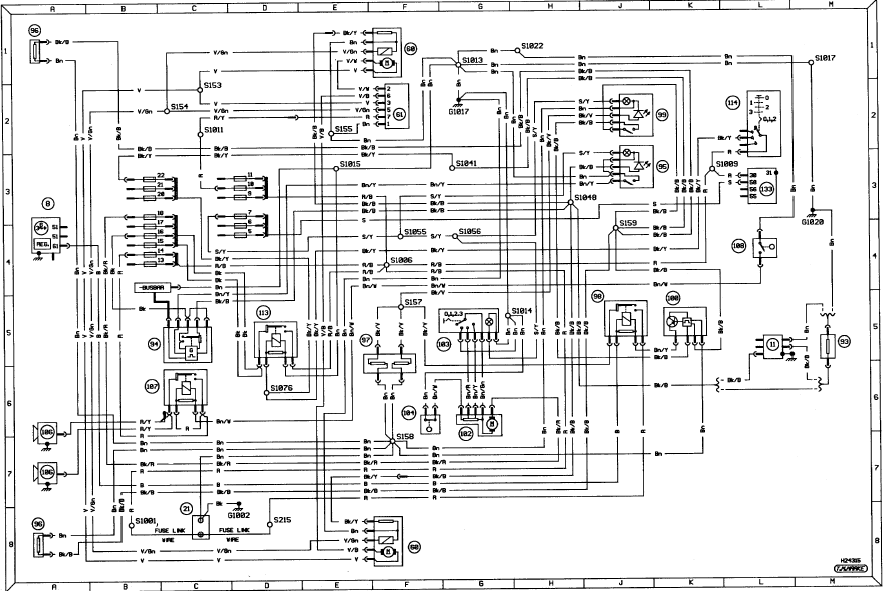 Diagram 3. Ancillary circuits - horn, heater blower, heated mirrors and screens. Models from 1990 onwards
Diagram 3a. Ancillary circuits - wash/wipe, central locking and electric windows. Models from 1990 onwards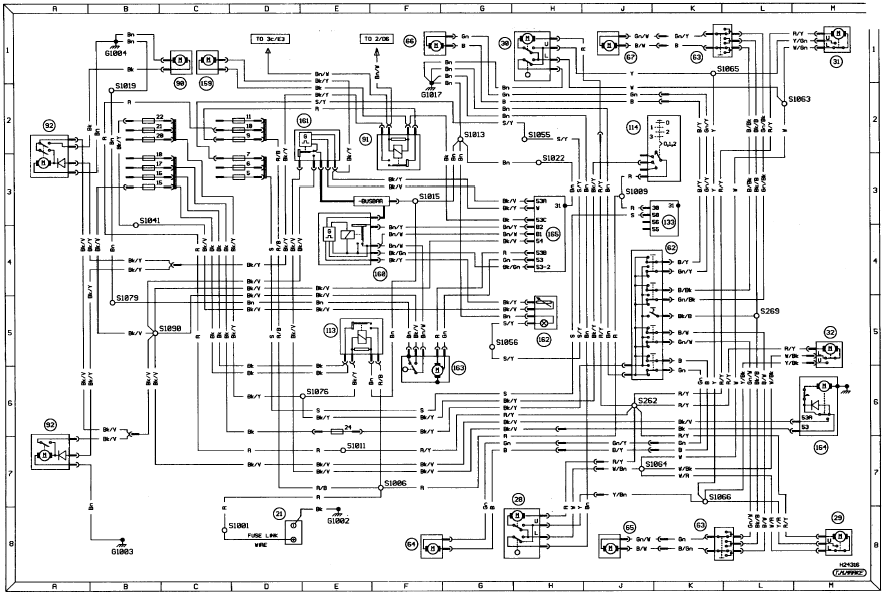 Diagram 3a. Ancillary circuits - wash/wipe, central locking and electric windows. Models from 1990 onwards
Diagram 3b. Anti-lock braking system. Models from 1990 onwards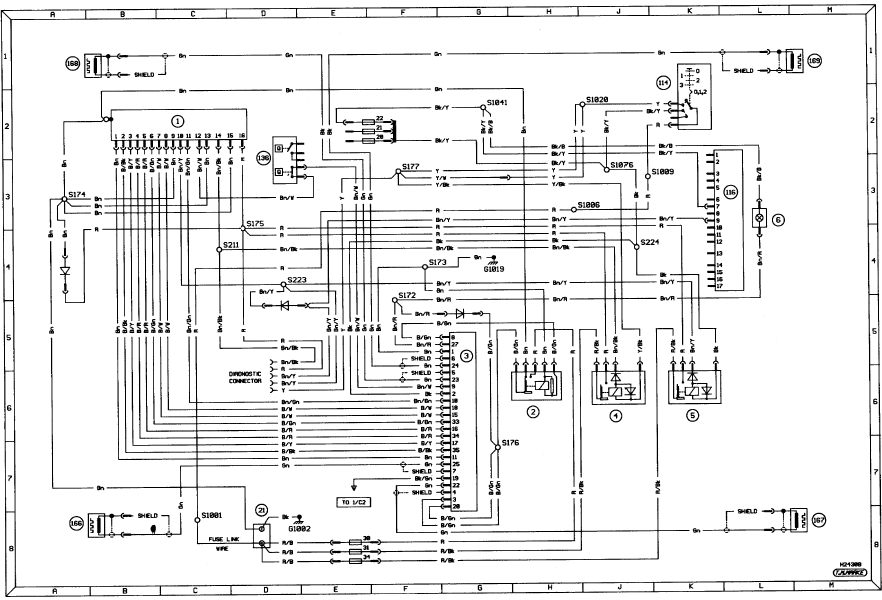 Diagram 3b. Anti-lock braking system. Models from 1990 onwards
Diagram 3c. Graphic display system - bulb failure. Models from 1990 onwards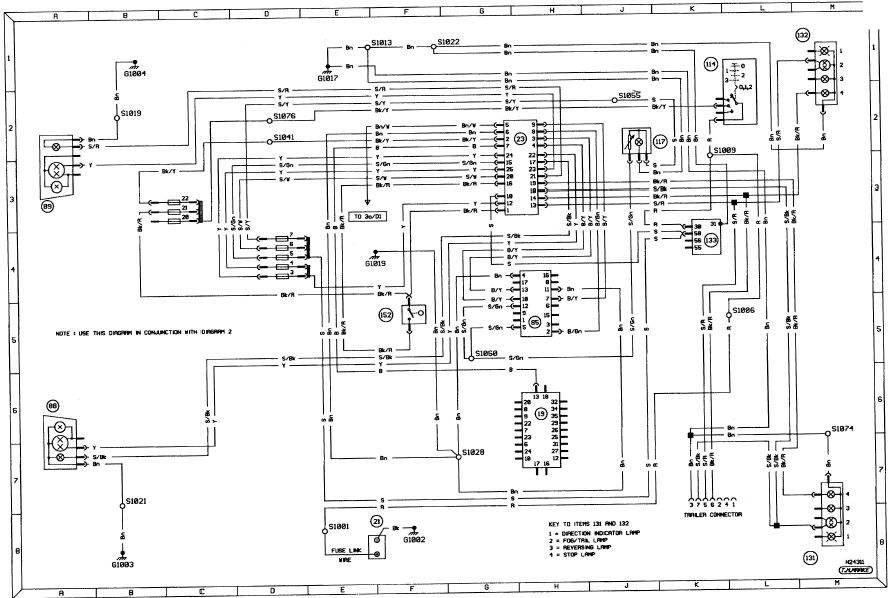 Diagram 3c. Graphic display system - bulb failure. Models from 1990 onwards
Diagram 3d. Graphic display system - auxiliary warning, door ajar and fuel computer. Models from 1990 onwards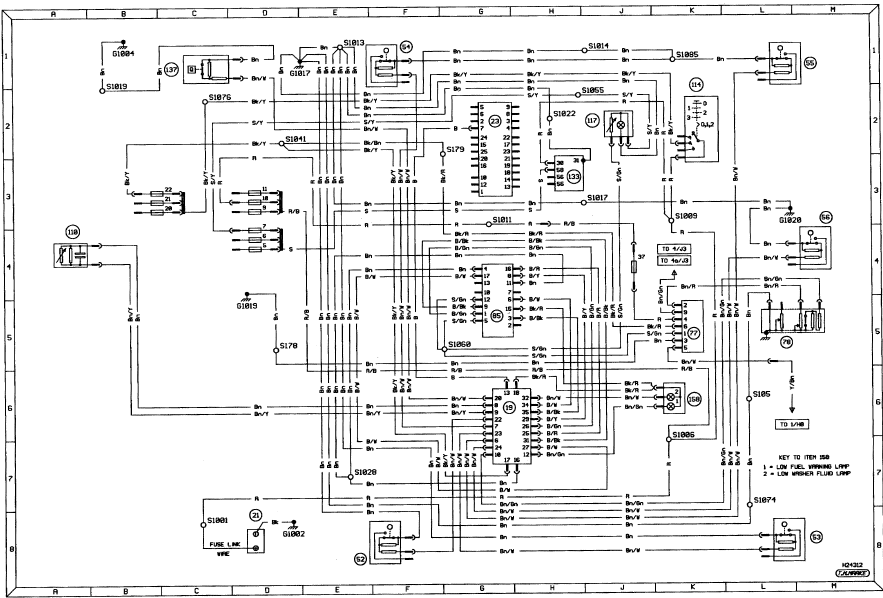 Diagram 3d. Graphic display system - auxiliary warning, door ajar and fuel computer. Models from 1990 onwards
Diagram 4. 1.6 and 1.8 CVH engine CfI fuel injection and ignition systems. Models from 1990 onwards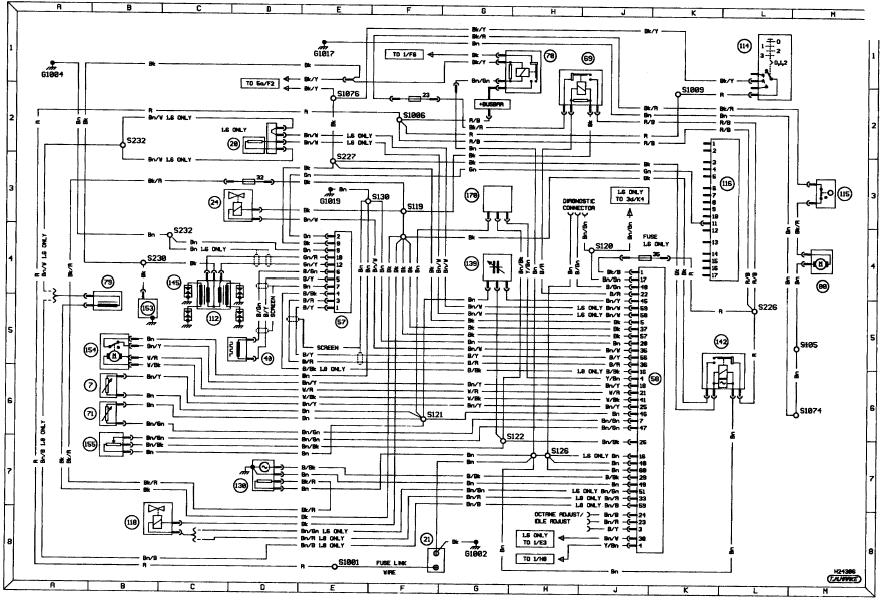 Diagram 4. 1.6 and 1.8 CVH engine CfI fuel injection and ignition systems. Models from 1990 onwards
Diagram 4a. 2.0 litre DOHC engine EFI fuel injection and ignition systems. Models from 1990 onwards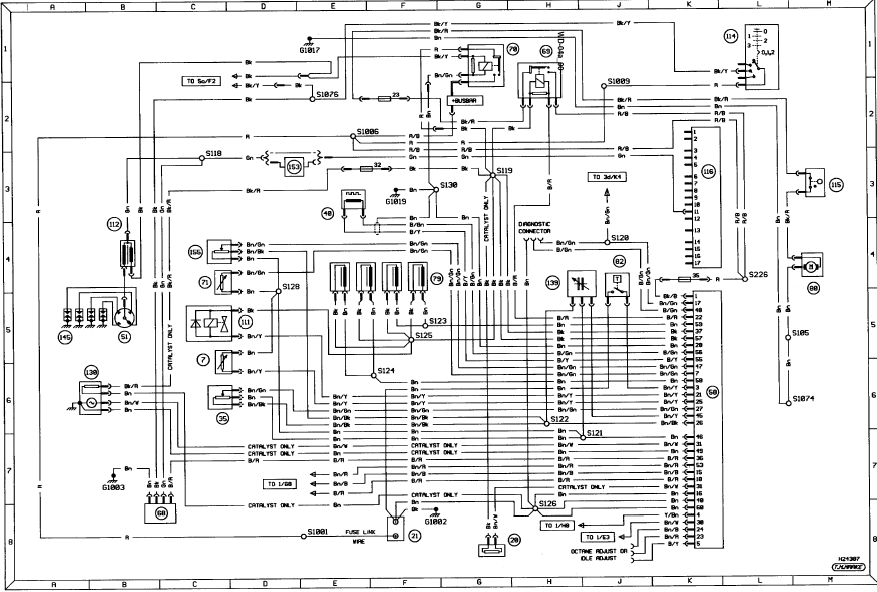 Diagram 4a. 2.0 litre DOHC engine EFI fuel injection and ignition systems. Models from 1990 onwards
Diagram 5. In-car entertainment. Models from 1990 onwards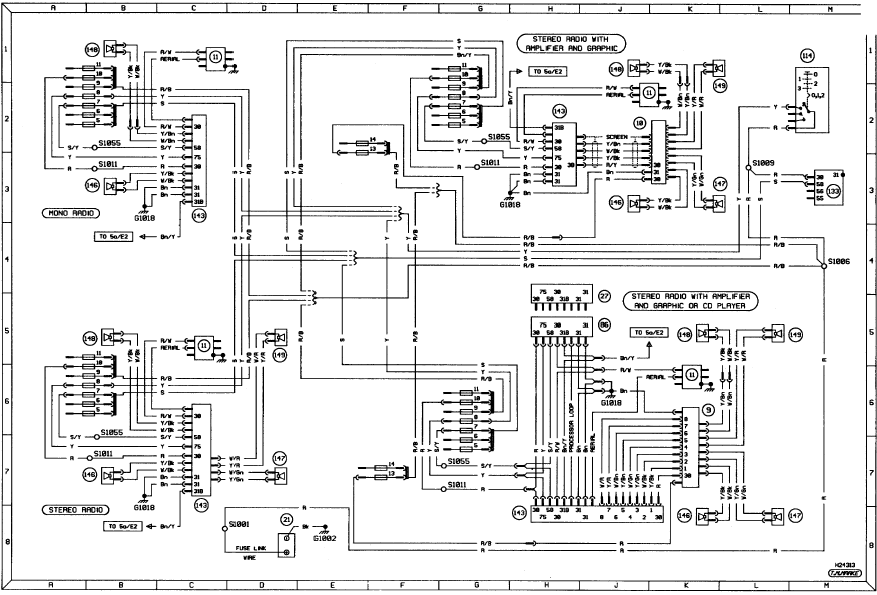 Diagram 5. In-car entertainment. Models from 1990 onwards
Diagram 5a. Anti-theft alarm. Models from 1990 onwards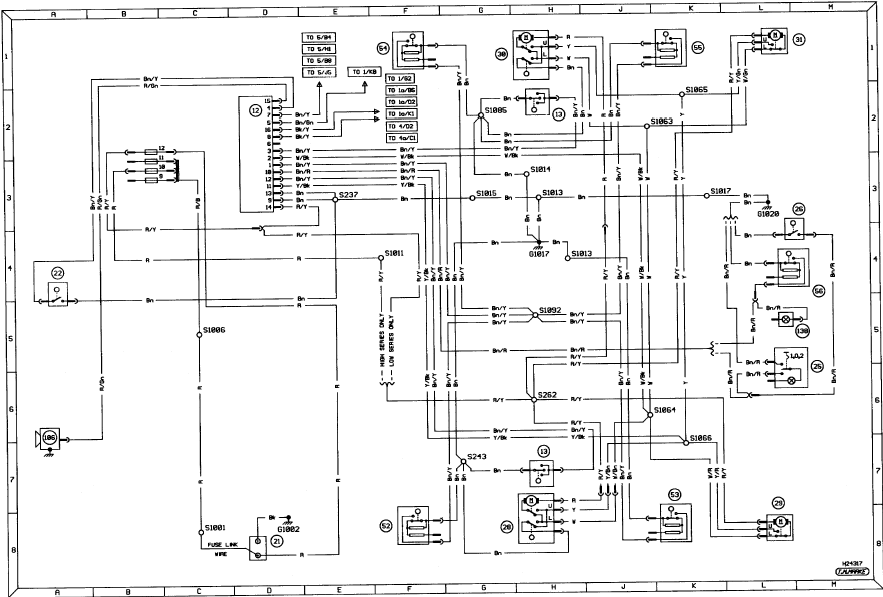 Diagram 5a. Anti-theft alarm. Models from 1990 onwards
Notes, tables, wire colours and key to wiring diagrams. P100 models from 1988 onwards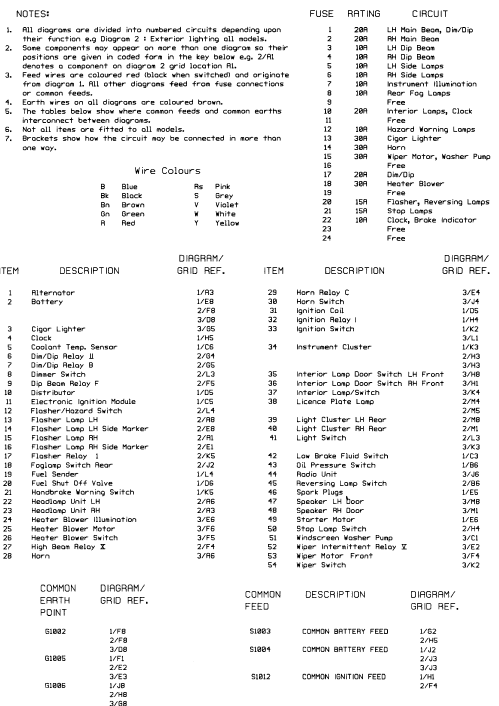 Notes, tables, wire colours and key to wiring diagrams. P100 models from 1988 onwards
Internal connection details. P100 models from 1988 onwards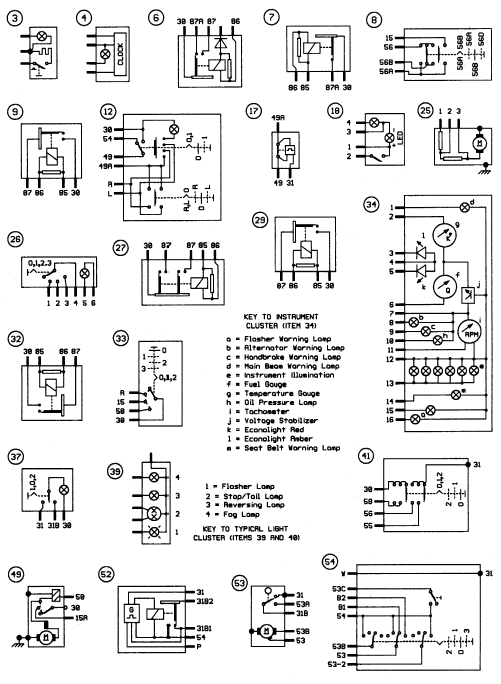 Internal connection details. P100 models from 1988 onwards
Diagram 1. Starting, charging and ignition. P100 models from 1988 onwards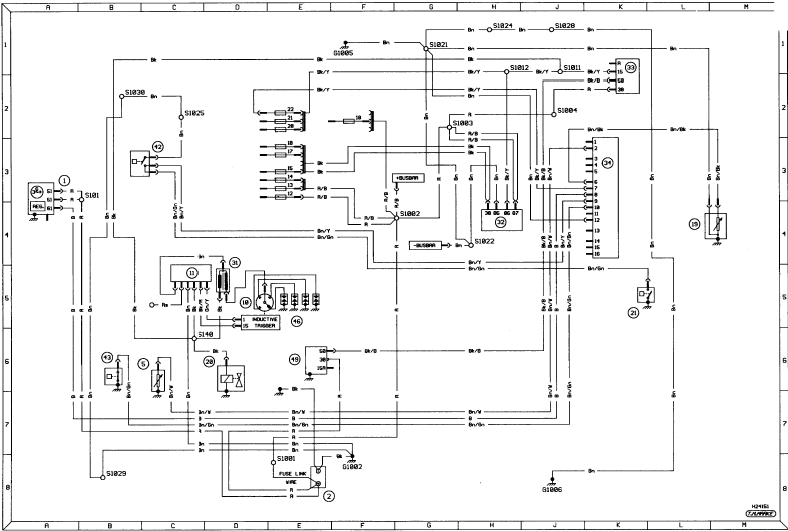 Diagram 1. Starting, charging and ignition. P100 models from 1988 onwards
Diagram 2. Exterior lighting. P100 models from 1988 onwards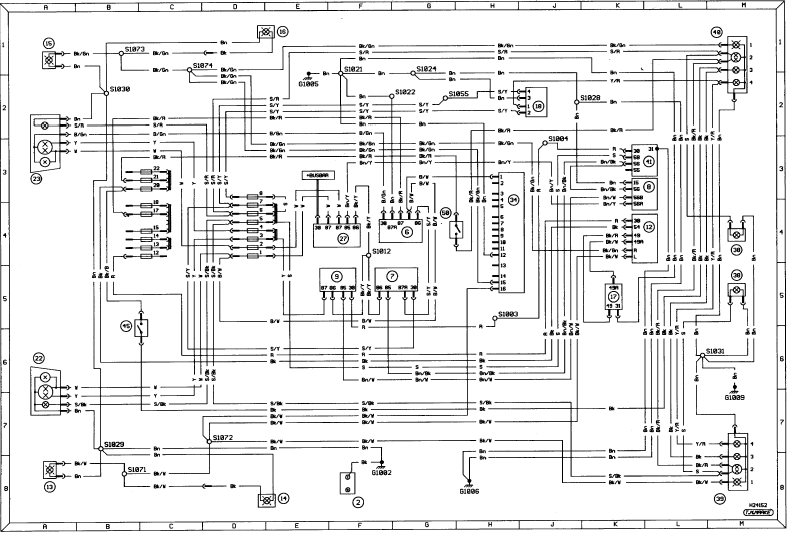 Diagram 2. Exterior lighting. P100 models from 1988 onwards
Diagram 3. Ancillary circuits and interior lighting. P100 model from 1988 onwards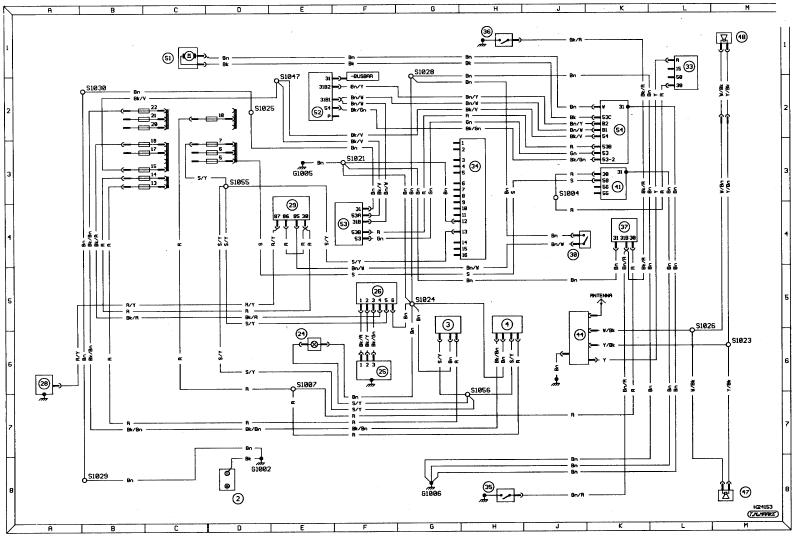 Diagram 3. Ancillary circuits and interior lighting. P100 model from 1988 onwards
See also:
Fuel tank - removal and refitting
Note: Refer to the warning at the end of Section 1 before proceeding. Removal 1 The fuel tank will normally only need to be removed if it is severely contaminated with sediment or other substance ...
Anti-lock Braking System - description
1 From 1986 onward an anti-lock braking system is available as standard or optional equipment on certain Escort models. 2 The system comprises four main components: two modulators, one for each b ...
Brake drum - inspection and renewal
Note: Before starting work, refer to the note at the beginning of Section 2 concerning the dangers of asbestos dust. 1 Whenever a brake drum is removed, brush out dust from it, taking care not to ...