Rear brake shoe lining check (Every 6000 miles or 6 months)
1 Due to the fact that the rear brake drums are combined with the hubs, which makes removal of the drums more complicated than is the case with detachable drums, inspection of the shoe linings can be carried out at the specified intervals by prising out the small inspection plug from the brake backplate and observing the linings through the hole using a mirror (see illustrations).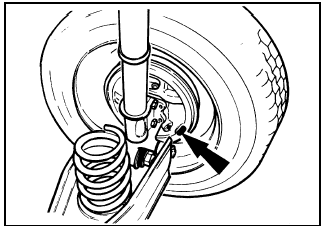 17.1a Brake shoe viewing hole location (arrowed) in backplate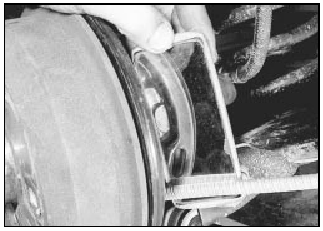 17.1b Checking rear brake lining wear with a mirror
2 A minimum thickness of friction material must always be observed on the shoes. If it is worn down to this level, renew the shoes.
3 Do not attempt to re-line shoes yourself but always obtain factory re-lined shoes.
4 Renew the shoes in an axle set (four shoes), even if only one is worn to the minimum.
See also:
Engine/automatic transmission assembly - removal and separation
Note: A suitable hoist and lifting tackle will be required for this operation. Any suspected faults in the automatic transmission should be referred to a Ford dealer or automatic transmission spec ...
Transmission fluid
Checking automatic transmission fluid Refer to your scheduled maintenance guide for scheduled intervals for fluid checks and changes. Your transaxle does not consume fluid. However, the fluid lev ...
Front wheel alignment - checking and adjusting
1 Front wheel alignment is defined by camber, castor steering axis inclination and toe setting. The first three factors are determined in production; only toe can be adjusted in service. Incorrect ...