Rear brake shoe lining check (Every 6000 miles or 6 months)
1 Due to the fact that the rear brake drums are combined with the hubs, which makes removal of the drums more complicated than is the case with detachable drums, inspection of the shoe linings can be carried out at the specified intervals by prising out the small inspection plug from the brake backplate and observing the linings through the hole using a mirror (see illustrations).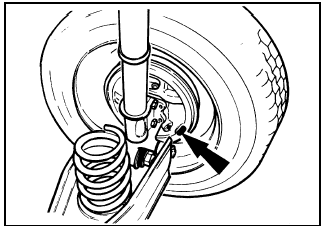 17.1a Brake shoe viewing hole location (arrowed) in backplate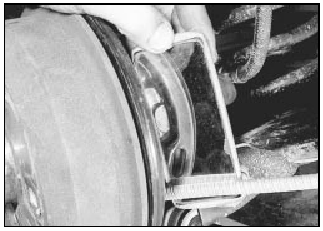 17.1b Checking rear brake lining wear with a mirror
2 A minimum thickness of friction material must always be observed on the shoes. If it is worn down to this level, renew the shoes.
3 Do not attempt to re-line shoes yourself but always obtain factory re-lined shoes.
4 Renew the shoes in an axle set (four shoes), even if only one is worn to the minimum.
See also:
Steering gear bellows - renewal
1 At the first indication of a split or grease leakage from the bellows, renew them. 2 Loosen off the roadwheel bolts, raise the front of the vehicle and support it on stands (see "Jacking and Veh ...
Camshaft - removal and refitting
Carburettor engines Note: Thread locking compound will be required to coat the camshaft sprocket bolt on refitting. Removal 1 Disconnect the battery negative lead. 2 Refer to the relevant Part o ...
Major operations possible with the engine in the car
The following work can be carried out without having to remove the engine: a) Cylinder head - removal and refitting. b) Valve clearances - adjustment (see Chapter 1). c) Sump - removal and refitt ...