Heater motor/fan - removal and refitting
Removal
1 Open the bonnet, disconnect the battery and pull off the rubber seal which seals the air inlet duct to the bonnet lid when the lid is closed.
2 Prise off the five spring clips from the plenum chamber cover and detach the cover at the front.
3 Disconnect the wiring harness multi-plug, and the earth lead at its body connection adjacent to the heater pipe stub cover plate on the engine compartment bulkhead.
4 Unscrew and remove the fan housing mounting nuts and lift the housing from the engine compartment (see illustration).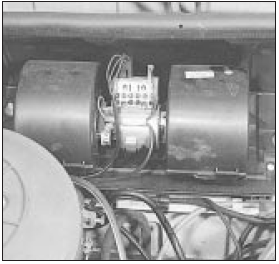 13.4 Heater motor/fan assembly - viewed with cover removed
5 Insert the blade of a screwdriver and prise off the securing clips so that the fan covers can be removed (see illustration).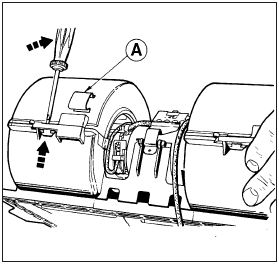 13.5 Prising off a heater fan cover clip
6 Remove the resistor and lift out the motor/fan assembly.
Refitting
7 Reassembly and refitting are reversals of dismantling and removal.
See also:
Using booster cables
CAUTIONS: Connect batteries with only the same nominal voltage. Always use booster cables with insulated clamps and adequate size cable. Do not disconnect the battery from the vehicle's electri ...
Fuel cut-off (inertia) switch - removal and refitting
Removal 1 The fuel cut-off switch is located in the luggage compartment, under the spare wheel (see illustration). 18.1 Fuel cut-off (inertia) switch location (arrowed) - 1.4 CFI engine A Reset ...
Power distribution box
The power distribution box is located in the engine compartment. Refer to the Identifying components in the engine compartment section of the Maintenance and Specifications chapter for the location. ...