Heater motor/fan - removal and refitting
Removal
1 Open the bonnet, disconnect the battery and pull off the rubber seal which seals the air inlet duct to the bonnet lid when the lid is closed.
2 Prise off the five spring clips from the plenum chamber cover and detach the cover at the front.
3 Disconnect the wiring harness multi-plug, and the earth lead at its body connection adjacent to the heater pipe stub cover plate on the engine compartment bulkhead.
4 Unscrew and remove the fan housing mounting nuts and lift the housing from the engine compartment (see illustration).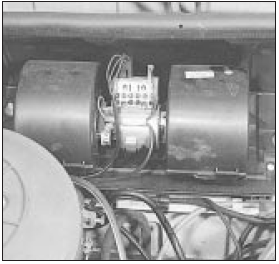 13.4 Heater motor/fan assembly - viewed with cover removed
5 Insert the blade of a screwdriver and prise off the securing clips so that the fan covers can be removed (see illustration).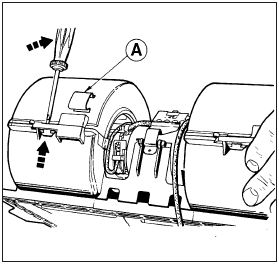 13.5 Prising off a heater fan cover clip
6 Remove the resistor and lift out the motor/fan assembly.
Refitting
7 Reassembly and refitting are reversals of dismantling and removal.
See also:
Maintenance - upholstery and carpets
Mats and carpets should be brushed or vacuum cleaned regularly to keep them free of grit. If they are badly stained remove them from the vehicle for scrubbing or sponging and make quite sure they ...
Load apportioning valve P100 models) - removal and refitting
Caution: Refer to the precautions in Section 1. Removal 1 Chock the front wheels, jack up the rear of the vehicle and support on axle stands (see "Jacking and Vehicle Support"). 2 The load appor ...
Seat belt check (Every 6000 miles or 6 months)
1 Periodically check the belts for fraying or other damage. If evident, renew the belt. 2 If the belts become dirty, wipe them with a damp cloth using a little detergent only. 3 Check the tightnes ...