Heater motor/fan - removal and refitting
Removal
1 Open the bonnet, disconnect the battery and pull off the rubber seal which seals the air inlet duct to the bonnet lid when the lid is closed.
2 Prise off the five spring clips from the plenum chamber cover and detach the cover at the front.
3 Disconnect the wiring harness multi-plug, and the earth lead at its body connection adjacent to the heater pipe stub cover plate on the engine compartment bulkhead.
4 Unscrew and remove the fan housing mounting nuts and lift the housing from the engine compartment (see illustration).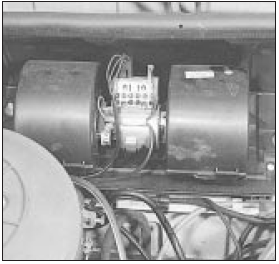 13.4 Heater motor/fan assembly - viewed with cover removed
5 Insert the blade of a screwdriver and prise off the securing clips so that the fan covers can be removed (see illustration).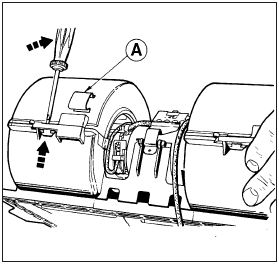 13.5 Prising off a heater fan cover clip
6 Remove the resistor and lift out the motor/fan assembly.
Refitting
7 Reassembly and refitting are reversals of dismantling and removal.
See also:
Fuel distributor - removal and refitting
Note: Refer to the precautions at the end of Section 1 before proceeding. It is important to note that each injection supply pipe connection in the distributor head has a screw adjacent to it. The ...
Battery
Your vehicle is equipped with a Motorcraft maintenance-free battery which normally does not require additional water during its life of service. However, for severe usage or in high temperature ...
Pressure regulating valve (Saloon and Estate models) - removal and refitting
1 The brake pressure regulating valve is located within the engine compartment, just above the aperture in the wing inner panel through which the steering tie-rod passes. On pre-1986 models the va ...