Throttle Position Sensor (TPS) - removal and refitting
Removal
Note: During this procedure, ensure that the sensor wiper is not rotated beyond its normal operating arc
1 Disconnect the battery negative lead.
2 Disconnect the wiring plug from the sensor (see illustration).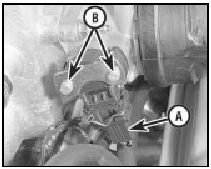 11.2 Throttle position sensor - 1.6 EFI engine
A Wiring plug B Securing screws
3 Remove the two securing screws, and withdraw the sensor from the throttle valve shaft.
Refitting
4 Refitting is a reversal of removal, ensuring that the moulded side of the sensor faces the throttle housing, and that the flat on the sensor wiper engages with the flat on the throttle shaft.
See also:
General information
OHV engines The 1.1 litre and 1.3 litre OHV engines are of four-cylinder, in-line overhead valve type (hence OHV), mounted transversely together with the transmission, at the front of the car. Th ...
Fuel accumulator - removal and refitting
Note: Refer to the precautions at the end of Section 1 before proceeding. Pre-1986 models Removal 1 The fuel accumulator is mounted adjacent to the fuel pump, above the rear left-hand suspension ...
Maintenance - bodywork and underframe
The general condition of a vehicle's bodywork is the one thing that significantly affects its value. Maintenance is easy but needs to be regular. Neglect, particularly after minor damage, can lead ...