Throttle Position Sensor (TPS) - removal and refitting
Removal
Note: During this procedure, ensure that the sensor wiper is not rotated beyond its normal operating arc
1 Disconnect the battery negative lead.
2 Disconnect the wiring plug from the sensor (see illustration).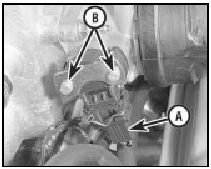 11.2 Throttle position sensor - 1.6 EFI engine
A Wiring plug B Securing screws
3 Remove the two securing screws, and withdraw the sensor from the throttle valve shaft.
Refitting
4 Refitting is a reversal of removal, ensuring that the moulded side of the sensor faces the throttle housing, and that the flat on the sensor wiper engages with the flat on the throttle shaft.
See also:
Exhaust system - renewal
1 The layout of the exhaust system varies considerably according to model and engine. All except the RS Turbo versions can be renewed in sections; coupling sleeves are supplied, enabling an old se ...
Heater controls - removal and refitting
Removal 1 Disconnect the battery negative lead. 2 Remove the securing screws and unclip the lower and upper steering column shrouds. 3 Remove the four securing screws and withdraw the instrument ...
Rear lamp unit - removal and refitting
1 Disconnect the battery negative lead. Saloon and Hatchback models 2 Working inside the luggage compartment, press the plastic retaining tab and remove the bulbholder assembly. 3 Disconnect the ...