Throttle Position Sensor (TPS) - removal and refitting
Removal
Note: During this procedure, ensure that the sensor wiper is not rotated beyond its normal operating arc
1 Disconnect the battery negative lead.
2 Disconnect the wiring plug from the sensor (see illustration).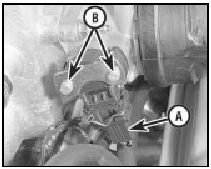 11.2 Throttle position sensor - 1.6 EFI engine
A Wiring plug B Securing screws
3 Remove the two securing screws, and withdraw the sensor from the throttle valve shaft.
Refitting
4 Refitting is a reversal of removal, ensuring that the moulded side of the sensor faces the throttle housing, and that the flat on the sensor wiper engages with the flat on the throttle shaft.
See also:
Brake hydraulic system (ABS) - bleeding
Caution: The rear brake hydraulic circuit may be under considerable pressure, take care not to allow hydraulic fluid to spray into the face or eyes. Refer to the precautions in Section 1. 1 Keep ...
Heater controls - removal and refitting
Pre-1986 models Removal 1 Working inside the vehicle, remove the dash lower trim panel from the right-hand side. The panel is secured by two metal tags and two clips. 2 Detach the air ducts from ...
Auxiliary warning system components - removal and refitting
General 1 This system monitors the fluid levels and front brake pads for excessive wear. In the event of a fluid level dropping below the specified level, or the brake pads wearing down to the mi ...