Thermo-time switch - removal and refitting
Removal
1 Disconnect the battery negative lead.
2 Drain the cooling system as described in Chapter 1.
3 Raise the front of the car and support it on axle stands (see "Jacking and Vehicle Support").
4 Disconnect the wiring multi-plug from the thermo-time switch located on the inlet manifold intermediate flange and accessible from under the car (see illustration).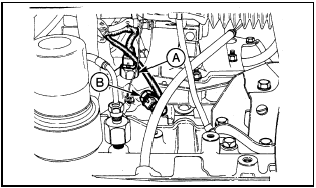 18.4 Thermo-time switch (A) and temperature sensor (B) on the KE-Jetronic system (viewed from under the car)
5 Unscrew the unit and remove it from its location.
Refitting
6 Refitting is a reversal of removal. Refill the cooling system as described in Chapter 1.
See also:
Heater controls - removal and refitting
Pre-1986 models Removal 1 Working inside the vehicle, remove the dash lower trim panel from the right-hand side. The panel is secured by two metal tags and two clips. 2 Detach the air ducts from ...
Bulbs (interior lamps) - renewal
Pre-1986 models Glove compartment lamp 1 This is simply a matter of gently pulling the bulb from its holder. Heater control illumination lamp 2 Slide the heater control levers to the top of thei ...
Cylinder head - removal and refitting (engine in vehicle)
Note: Refer to the warning at the beginning of Section 5 and the note at the beginning of the following Section before proceeding. The cylinder head must not be removed when the engine is warm. R ...