Tailgate wiper motor - removal and refitting
Removal
1 Disconnect the battery and remove the wiper arm/blade assembly.
2 Remove the pivot shaft nut, spacer and outer seals.
3 Open the tailgate and remove the trim panel (refer to Chapter 11).
4 Release the earth lead and unscrew the two, or on later models, three wiper motor mounting bolts (see illustration).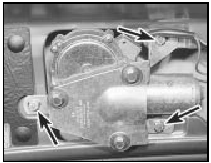 19.4 Tailgate wiper motor retaining bolts (arrowed)
5 Disconnect the multi-pin plug and remove the motor from the tailgate.
6 Take off the pivot shaft seal, spacer and bracket from the motor.
Refitting
7 Refit by reversing the removal operations.