Tailgate wiper motor - removal and refitting
Removal
1 Disconnect the battery and remove the wiper arm/blade assembly.
2 Remove the pivot shaft nut, spacer and outer seals.
3 Open the tailgate and remove the trim panel (refer to Chapter 11).
4 Release the earth lead and unscrew the two, or on later models, three wiper motor mounting bolts (see illustration).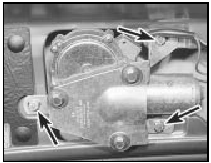 19.4 Tailgate wiper motor retaining bolts (arrowed)
5 Disconnect the multi-pin plug and remove the motor from the tailgate.
6 Take off the pivot shaft seal, spacer and bracket from the motor.
Refitting
7 Refit by reversing the removal operations.
See also:
Wheel sensor (ABS) - removal and refitting
Note: A new O-ring must be used when refitting a sensor. Front wheel sensor 1 Apply the handbrake, loosen the relevant front roadwheel nuts, then jack up the front of the vehicle and support on a ...
Routine maintenance and servicing
Ford Sierra maintenance schedule The maintenance intervals in this manual are provided with the assumption that you will be carrying out the work yourself. These are the minimum maintenance interv ...
Bulbs
Replacing exterior bulbs Check the operation of all the bulbs frequently. Using the right bulbs Replacement bulbs are specified in the chart below. Headlamp bulbs must be marked with an authorized ...