Engine mountings - renewal
1 The engine mountings incorporate hydraulic dampers and must be renewed if excessive engine movement is evident.
2 Working in the engine compartment, unscrew the central nuts securing the engine mounting brackets to the tops of the mountings. Recover the washers.
3 Apply the handbrake, jack up the front of the vehicle and support on axle stands (see "Jacking and Vehicle Support").
4 Working underneath the vehicle, remove the central nuts securing the mountings to the crossmember. Recover the washers.
5 Raise the engine using a suitable hoist and lifting tackle attached to the engine lifting brackets on the cylinder head, or a jack and interposed block of wood under the sump, until the mountings can be withdrawn.
6 Fit the new mountings, then lower the engine onto them. Note that the locating pins on the mountings must engage with the corresponding holes in the engine mounting brackets (see illustration).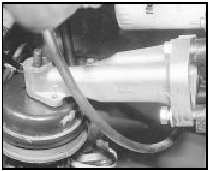 16.6 Locating pin on mounting must engage with hole (arrowed) in engine mounting bracket
7 Fit the nuts and washers securing the mountings to the crossmember and tighten the nuts.
8 Lower the vehicle to the ground and fit the nuts and washers securing the engine mounting brackets to the mountings. Tighten the nuts.
See also:
Steering angles and wheel alignment
1 Accurate front wheel alignment is essential to good steering and for even tyre wear. Before considering the steering angles, check that the tyres are correctly inflated, that the roadwheels are ...
Bodywork and fittings
The body is of welded steel construction available in 3 or 5-door Hatchback, 3 or 5- door Estate, soft-top Cabriolet, or Van configurations. The body is of monocoque construction and is of energy ...
Engine dismantling, examination, renovation and reassembly - general information
Dismantling 1 It is best to mount the engine on a dismantling stand but if this is not available, stand the engine on a strong bench at a comfortable working height. Failing this, it will have to ...