Hydraulic unit pressure switch (ABS) - removal and refitting
Note: To remove the pressure switch from the hydraulic unit in situ, Ford tool No 12-008 or a locally made equivalent will be required. The switch may be removed without special tools after removing the hydraulic unit complete or the pump above. A new O-ring must be used when refitting the switch.
Caution: Refer to the
precautions in Section 1.
Removal
1 Disconnect the battery negative lead.
2 Depressurise the hydraulic system by pumping the brake pedal at least 20 times, or until it becomes hard.
3 Disconnect the multi-plug from the switch, then unscrew and remove the switch.
Refitting
4 Refit the switch using a new O-ring.
Position the plastic sleeve so that the drain hole faces the pump motor, then tighten the switch (see illustration).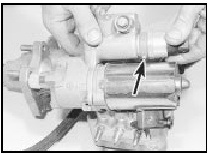 19.4 Refit the pressure switch with the drain hole (arrowed) in the plastic sleeve facing the pump motor - ABS
5 Reconnect the multi-plug and the battery.
6 On completion, bleed the complete hydraulic system and check for leaks around all disturbed components.
See also:
Brake pedal - removal, refitting and adjustment
Removal 1 Working within the vehicle, remove the under-dash cover panel. 2 Extract the spring clip which connects the pushrod to the arm of the brake pedal. 3 Extract the circlip from the end of ...
Cleaning
WASHING THE EXTERIOR Wash your vehicle regularly with cool or lukewarm water and a neutral Ph shampoo, such as Motorcraft Detail Wash (ZC-3-A), which is available from your dealer. Never use st ...
Door trim panel - removal and refitting
Pre-1986 models Removal 1 On Ghia versions only, remove the panel capping by carefully prising out the retaining clips using a forked tool. This can easily be made from a piece of scrap metal. 2 ...